Osella FA1C car-by-car histories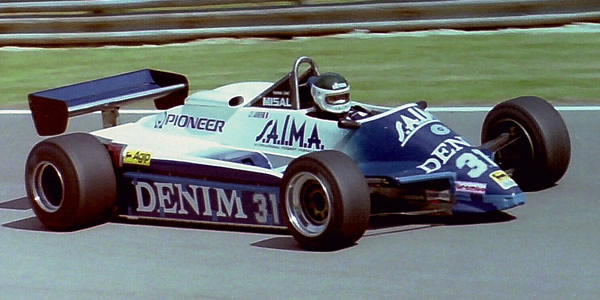 The FA1C, designed by Giorgio Valentini, was the first monocoque Osella and was a much simpler and stronger car than its predecessors. It was also significantly lighter, an urgently needed change after the hefty FA1B.
The Osella FA1B had been a development of Giorgio Stirano's original 1980 FA1, which itself was based on his intended 1980 F2 design. Although it had achieved some good results, it was some way behind the latest thinking in F1 design. For the 1981 FA1C, Giorgio Valentini was brought in to design a car in the latest "English style", a full monocoque built around four bulkheads with outer skins of honeycomb aluminium. The monocoque was very similar to the Arrows A3, but was influenced by the Brabham BT49 at the rear. Aerodynamics had been developed in the Orbassano wind tunnel, the first Osella to benefit from a wind tunnel. The result was a car much closer to the weight limit, and significantly stiffer. Jean-Pierre Jarier drove the FA1C on its debut in the 1981 Italian Grand Prix but results were disappointing, Jarier being no further up the grid than he had been in the FA1B.
Two new FA1Cs were built for the 1982 season and Jarier was joined in the team by Riccardo Paletti. Denim and Saima remained as sponsors. Jarier demonstrated the car's capability by qualifying tenth at Long Beach, but that was a rare highlight. Ex-Ligier designer Hervé Guilpin joined the team from ATS, and produced a fourth FA1C, stiffer than the earlier cars, and eventually produced new Williams-inspired rear suspension. Poor Paletti, who was rarely able to qualify the second FA1C, was killed in a startline accident at the Canadian GP, and Osella continued as a one-car team for Jarier. Guilpin continued to produce minor changes to the car, and they started to be called FA1Ds from the German GP onwards. At the end of the season, Jarier was trying harder to impress potential employers, and was ninth in the first practice session at the Italian GP, leading to suggestions of an oversized engine, but wrote off his FA1C in the race when a wheel came off. That left the team with only one intact car, the original 1981 prototype, which was quickly brought up to the latest specification, but was written off when the front suspension broke in practice at Las Vegas. The remaining components were swept together to form the basis of new FA1Ds for 1983.
None of the FA1Cs remained intact at the end of 1982, but a car exists with a "FA1C/D" chassis plate, which seems likely to be one of the FA1Ds built from the FA1C monocoques.
Please contact Allen Brown (allen@oldracingcars.com) if you can add anything to our understanding of these cars.
These histories last updated on .