Osella FA1D car-by-car histories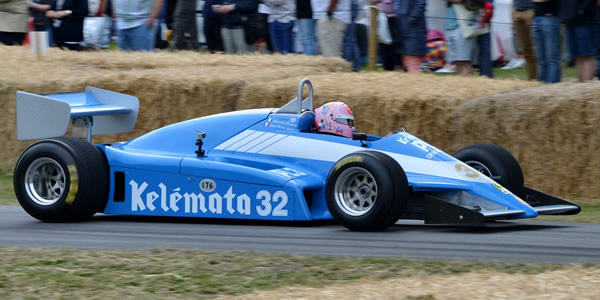 Tony Southgate joined Osella for 1983, and his first job was to construct interim cars based on the remains of the crashed FA1Cs. These interim FA1D/83s were raced by Corrado Fabi and Piercarlo Ghinzani until the new FA1Es were ready.
Jean-Pierre Jarier and Hervé Guilpin had both left Osella, and sponsors Denim and SAIMA also departed. Skincare company Kelémata arrived as main sponsor, and Corrado Fabi, the 21-year-old younger brother of Teo Fabi, and Piercarlo Ghinzani were employed as drivers. Tony Southgate, an independent design consultant since his Shadow and Chevron designs had flopped in 1979, was employed to produce a new car which would be powered by Alfa Romeo's normally aspirated V12 engine. All the FA1Cs had been crashed during 1982, but the surviving monocoques were used as the basis of interim cars to start the season. Southgate stiffened the monocoques, redrew the suspension, changed the rear uprights, and designed new sidepods, but this had little effect, and the FA1Ds were regularly at the very bottom of the time sheets. Ghinzani failed to qualify for the first three races, but was still given the chance to drive the new Alfa Romeo-powered FA1E when it appeared at the San Marino GP. Fabi remained in his FA1D until the British GP, when the all-new Southgate designed FA1Es were ready.
Neither FA1D was seen after the British GP, but one of the cars was sold to Emilio Gabrielli in 1984, and has since moved to the UK where it has been used extensively in historic racing. It bears the chassis plate FA1D/03, which is not a number used by Osella on a FA1D, so its identity is unresolved.
Car
Total
Race
Starts
Grand
Prix
Starts
Grand
Prix
Wins
First Race
Present Location
5
5
Brazilian Grand Prix
(13 Mar 1983)
Unknown
(Brazilian Grand Prix)
(13 Mar 1983)
Unknown
Osella FA1D 'the Emilio Gabrielli car'
(no races recorded)
United Kingdom 2016
Osella were not as rigorous in their type numbering as most teams, so it is worth reviewing how these FA1Ds fit into the broader picture. Osella had used FA1Cs in 1982, a full monocoque car designed by Giorgio Valentini and first seen at the 1981 Italian GP. These cars were modified by new designer Hervé Guilpin during 1982, and from the German GP onwards were called "FA1Ds", although we ignore that renaming here. Guilpin left at the end of 1982 and was replaced by Tony Southgate who produced the definitive FA1Ds for 1983 using the monocoque from the 1982 FA1Cs. Southgate then produced a new car at the 1983 San Marino GP which had an Alfa Romeo V12 engine and was called a FA1E, but this again utilised a FA1C/D monocoque. He then produced a completely new design, first seen at the 1983 British GP, with a much slimmer monocoque and push rod front suspension, which Osella also called the FA1E. So four distinct designs based on two monocoque designs using three different designations over the two seasons.
Please contact Allen Brown (allen@oldracingcars.com) if you can add anything to our understanding of these cars.
These histories last updated on .