Osella FA1E car-by-car histories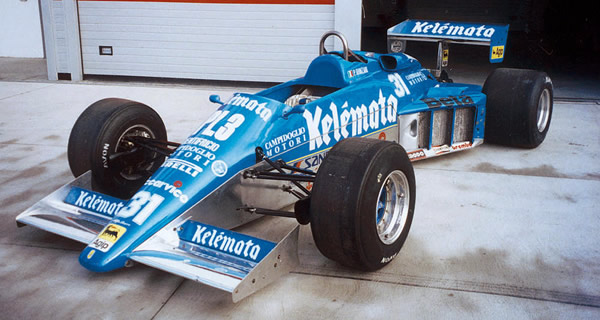 The name FA1E was applied to two entirely different Osella designs in 1983: one interim car built from half a 1982 Osella and half a 1982 Alfa Romeo, and one designed by Tony Southgate and fabricated in England. Both used Alfa Romeo's V12 engine.
Osella had struck a deal with Autodelta to used Alfa Romeo's normally aspirated V12 engine for 1983, and at Autodelta's insistence, an interim car was built which consisted of the front end of an Osella FA1C/D grafted to the rear end of an Alfa Romeo 182. Everything behind the driver was exactly as it had been on the Alfa Romeo, even the rear suspension, but the car had slanted lateral radiators and no sidepods. This car was just a learning exercise for Osella, and Piercarlo Ghinzani was not close to qualifying it at its first three races. He did qualify the car at Detroit, where there were less entries, but retired due to overheating after just six laps of the race. The new Tony Southgate cars were then ready, so this interim car became the spare.
While Osella had been learning on the interim FA1E, two definitive FA1Es were being designed in England by Tony Southgate, and fabricated by John Thompson, his partner in ART, who ran TC Prototypes. The car had very neat pushrod front suspension with the springs mounted on top of the tub, and the monocoque itself was fabricated primarily using honeycomb aluminium but used carbon fibre for the inner inner skins and for the top of the front of the monocoque. This striking new car was first seen at the British GP but was disappointingly off the pace, Fabi failing to qualify. Former Niki Lauda mechanic Ermanno Cuoghi joined the team at the Austrian GP, and Osella finally got both cars into the race and to the finish: 10th and 11th. From there it was downhill again, with Southgate disappearing and the cars remaining slow and unreliable. It would prove to be Southgate's last F1 design, but he would move to Tom Walkinshaw Racing where he would design the team's highly successful Group C Jaguars. Osella's attention turned to the 1984 FA1F, which would be powered by the turbocharged Alfa Romeo engine. The FA1E was seen once more, when Jo Gartner ran it as a second entry at San Marino in 1984, and in the paddock at the French GP where it was Ghinzani's spare.
Of the three FA1Es, the interim FA1E/1 was kept by Piercarlo Ghinzani in his personal collection until 2015, and is now in a private collection in England; FA1E/2 was sold to Fabrizio Violati and retained in his collection until auctioned in 2003; and the other Southgate car FA1E/3 is owned by an Italian and appeared at the Historic Minardi Day in May 2017.
Please contact Allen Brown (allen@oldracingcars.com) if you can add anything to our understanding of these cars.
These histories last updated on .