Palliser WDH car-by-car histories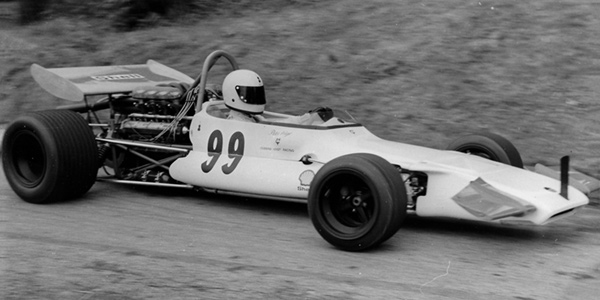 Palliser built two cars specifically for hillclimbing in 1971, both powered by large American V8s. Mike MacDowel's example won two rounds of the British Hill Climb championship.
Palliser had been successful in Formula Ford in Britain in 1968 and 1969 but achieved a higher profile in the US, where their cars were sold under the Winkelmann name for both Formula Ford and Formula B. In 1970 Roger Keele ran Dr Joseph Ehrlich's Formula 3 Palliser and at the end of 1970, Palliser director Hugh Dibley raced a US-bound Formula B car in British Formule Libre, winning races at Lydden and Castle Combe. A further evolution, the Palliser WDB4, was made available for the new Formula Atlantic category in Britain in 1971 and this very effective design attracted the attention of two British hillclimbers. Mike MacDowel had raced for the Cooper Car Company in the mid-1950s and had made a return to racing in 1968, first co-driving Bob Jennings' F2-specification Chevron B10, and then Jennings' purpose-built Brabham BT30X in 1969 and 1970 fitted with a 2-litre ex-Formula 1 Climax FWMV V8 engine. MacDowel then acquired a 3-litre Formula 1 engine to use in 1971, a 1967 Repco 740 V8, and chose the Palliser chassis as the ideal host. The car was called a WDB3 in the press when it first appeared, but Palliser's designation was WDH1. After finishing second in each of the first two championship events, at Prescott and Wiscombe Park, MacDowel won two events and had three more second places to take third position in the RAC championship.
One of MacDowel's competitors in early 1971 was Jack Maurice, who had acquired the four-wheel-drive Marsh Special, but wrecked it in June. With MacDowel's car showing so much speed, Maurice decided to follow his lead and ordered a Palliser to take the 4.2-litre GM engine and transmission from the Marsh Special. This second car was designated WDH2, and differed from the WDH1 in having a full-width nose similar to that developed by Palliser for Vern Schuppan's Formula Atlantic WDB4. Both hillclimb cars reappeared in the late 1980s for historic racing, when they were used with a variety of non-original engines.
It should be noted that neither of these cars was the Palliser WDA1, which was a project acquired by Palliser from Frank Gardner and known originally as the Franklen.
If you can add to our understanding of these cars, or have photographs that we can use, please email Allen at allen@oldracingcars.com.
Chassis
History
Current owner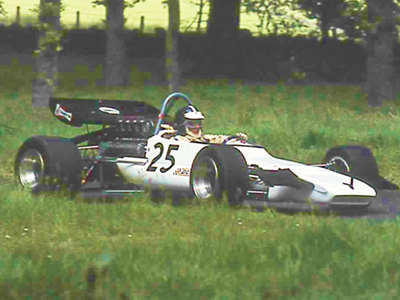 Built for Mike MacDowel (Godalming, Surrey) and fitted with a Repco 740 V8 Formula 1 engine. Raced by MacDowel in British hillclimbs in 1971, winning both the Doune rounds of the RAC championship, in June and in September. For a part of the season the engine capacity was enlarged to 4.2 litres by fitting the crank and rods from the 5-litre version of the engine. MacDowel acquired a new Brabham BT36X for 1972 and the Palliser was sold to Peter Voigt (Haywards Heath, Sussex), who continued to use it in hillclimbs with the 4.2-litre Repco. Voigt advertised the car at the end of 1972, but it was not seen again until the start of the 1974 season, when it had moved to Scotland and was being shared by David Fyfe and Alex Brown, both from Edinburgh. Raced by them in 1974 and 1975. For 1976, the car was acquired by veteran Bryan Eccles (Solihull, Warwickshire), who was returning to the sport ofter quite a few years. He raced it at Wiscombe Park in April 1976, the opening round of the RAC championship, but crashed heavily, severely injuring his legs. The wrecked Palliser chassis was acquired by Tim Cameron and repaired by cutting off the damaged front section and welding on a Formula Ford Palliser. He then ran the car in hillclimbs, still with the Repco engine, until an accident at Shelsley Walsh. He then sold the Repco engine to Dave Bishop, but could not recall who bought the chassis from his advert in Exchange & Mart. A later German HVIF stated that this car was owned by Roger Hurst ("Hourst") and later by "K,Heinz Wagner, Eppelborn-Dirmingen". The car was registered as a "WDA/1" by Helmut Reuscher in December 1999. In June 2015, a F5000 Palliser was raced at Hockenheim by Rolf Kuster (Baar, Switzerland). He was also on the entry list for the Vernasca Silver Flag in 2016, and at the Hockenheim Historic in April 2017. In 2020, Kuster advertised the car on racecarsdirect.com. In April 2021, the Palliser was in the car museum in the Hotel Meilenstein (Langenthal, Switzerland).
Driven by: Mike MacDowel, Peter Voigt, Alex Brown, David Fyfe and Bryan Eccles. First race: Wiscombe Park, 18 Apr 1971. Total of 46 recorded races.
Rolf Kuster (Switzerland) 2017
Built for Jack Maurice (Newcastle, Northwood, Middlesex) and fitted with the 4.2-litre General Motors V8 engine and gearbox from the Marsh Special which Maurice had bought from Johnty Williamson but crashed at Harewood in June 1971. The Palliser-GM was raced by Maurice in British hillclimbs in 1971 and 1972. The GM engine, plus the remains of the Marsh Special, were sold to Mike Harrison in 1977 for an Elva, and by 1974 the Palliser chassis was displayed on the ceiling of Maurice's "Pit Stop" bar. It was later sold, as by 1981 it was being run in hillclimbs by Mark Cummings (Gateshead, Tyne and Wear). In early 1985, it was bought from Cummings by Brian Cocks (Norton, Wiltshire), fitted with a Chevy V8 engine and run as a F5000 car in the HSCC's Pre-70 Championship. In September 1987 it was acquired by Mike Pendlebury (Woodbridge, Suffolk) and restored by Peter Denty, and at this time it seems to have been fitted with a 5-litre Rover engine. According to Brian Speake's notes, it was raced by Mike Littlewood from 1989 to 1992, then by Chris Alford in 1993. It was acquired by Nick Overall in November 1994, and sold by him to Adrian Stoop (Germany) in February 1996. Stoop raced it until 2002, and it then sat in storage until bought by Uwe Zepter (Ampfing, Bavaria, Germany) in June 2017. Run by Zepter at the Schleiz Klassik GP in July 2022.
Driven by: Jack Maurice and Mark Cummings. First race: Harewood (R12), 12 Sep 1971. Total of 8 recorded races.
Uwe Zepter (Germany) 2022
Acknowledgements
My thanks to David McKinney, Steve Wilkinson, Philippe Demeyer, Ewan Cameron, Brian Speake and Locke de Bretteville for their help on these cars, and to Ted Walker and Steve again for the use of their photographs. Thanks also to Steve Waddington for information on Uwe Zepter's car.
For more on Palliser Cars, visit Locke de Bretteville's pallisercars.com.
These histories last updated on .