Penske PC5 history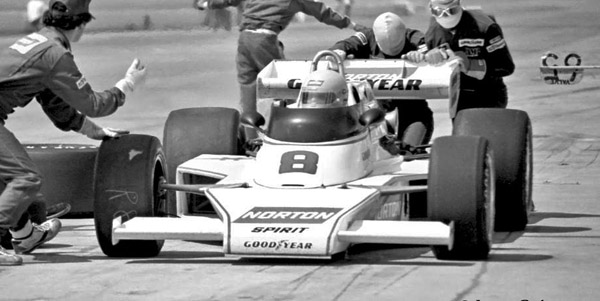 An almost exact copy of the McLaren M24, the 1977 Penske PC5 was a one-off experiment by the Penske team as they prepared to build their own Indy car for 1978.
Roger Penske's operation had been involved in Indy racing since 1968, first with a 1968 Eagle for Mark Donohue to drive on road courses, and then with Lola T150-series cars in 1969 and 1970. For 1971, Penske went into partnership with his old friend Bruce McLaren as McLaren built a series of McLaren M16s, two for McLaren's own new Indy team and two for Penske. Donohue won the Pocono and Ontario 500-mile races that year, and over the next three seasons Penske ran a very successful Indy team with drivers Donohue and then Gary Bettenhausen. In late 1973, Penske bought the McRae Cars factory in Poole, Dorset, and recruited designer Geoff Ferris from Brabham to build a new Formula 1 car, to be called the Penske PC1. Donohue drove the car, starting in late 1974, but it was not a success. A March 751 was bought in 1975 to replace it, but Donohue was tragically killed practicing that car for the 1975 Austrian GP. Penske persevered with F1, and Ferris produced the Penske PC3, based closely on the March, and then the elegant Penske PC4 in 1976, which gave the team its one and only F1 victory when John Watson won the 1976 Austrian GP.
For 1977, Penske pulled out of F1 and focused his efforts on a two-car Indy team with drivers Tom Sneva and Mario Andretti in new McLaren M24s, effectively an Indy version of the Formula 1 McLaren M23, with which Penske would have been very familiar after the 1976 F1 season. Penske kept the F1 team's UK base in Poole, Dorset, where F1 crew chief Derrick Walker now took responsibility for building USAC cars with chief designer Ferris. Ferris initially produced suspension updates to the McLaren M24, and then produced an exact copy of the M24, to be called the Penske PC5. This was used as a testbed as the team integrated the design of the F1 PC4 and the F1-based M24 to produce the team's 1978 design, the Penske PC6.
The PC5 did not actually race very often, as lead driver Sneva appears to have preferred his regular McLaren M24 as he won two races and racked up enough points to win the USAC National Championship. The PC5 was first seen at Michigan in July, where Sneva started from pole position and finished fourth, and was also used in a fifth-placed finish at Texas World Speedway and a third place in the California 500 at Ontario. Penske PC6s were built in sufficient numbers at the start of 1978 that the PC5 could be sold off, and was acquired by property developer Russell Polak, who had entered a McLaren M16E for Larry Dickson to drive in 1976 and 1977. Dickson qualified fourth on his debut in the Penske, and managed four fifth-place finishes in the car during 1978. Polak supported the losing USAC side of the USAC-CART war of 1979, so Dickson did not race often, but had the consolation of being classified third place in the miserable USAC Pocono 500 in June, where only 25 cars were on the grid and just two of those finished. Dickson was entered in the car again for the 1980 Indy 500, but Polak's construction business had been impacted by a downturn in the economy, and the car did not appear. The Penske was next seen in the hands of veteran car owner Joe Hunt, whose driver/engineer Phil Krueger extensively updated it with "ground-effect" sidepods, only to have it comprehensively destroyed in an accident with Ray Lipper in the consolation race for the Phoenix 150 in March 1982. The car was rebuilt on a McLaren M24 chassis, so the Penske PC5 effectively ends its life at that point.
Chassis
History
Current owner
Said to have been present at the 1977 Indy 500, but locked in the team's transporter throughout. First raced by Tom Sneva as Penske Racing's #8 Norton Spirit entry at the Michigan 200 in July 1977. Later raced by Sneva at Texas World Speedway two weeks later, and in the California 500 at Ontario in early September. Sold to Russel Polak (Noblesville, IN) and entered for three-time USAC sprint car champion Larry Dickson to race in 1978 and 1979, with Chuck Looper as crew chief. Last seen when Dickson crashed it in practice at Milwaukee in August 1979. Entered for Indy in 1980, but the car did not arrive. This is presumably the car acquired by Joe Hunt and extensively rebuilt for Phil Krueger to race at the start of 1982. Crashed at Phoenix in March 1982 and very heavily damaged. Its suspension was used to build up new car using McLaren M24 tub, and the resulting car used the identity of the McLaren.
Driven by: Tom Sneva, Larry Dickson and Phil Krueger. First race: Michigan International Speedway (R9), 17 Jul 1977. Total of 16 recorded races.
Wrecked 1982
It should be noted that the "Penske PC5" in the Penske Museum is actually one of the team's McLaren M24s. It appears that both the Penske team's McLarens acquired Penske PC5 chassis plates at some stage, and Bernie King at Penske Restoration reports that the museum's car still had that PC5 chassis tag on it when Penske acquired it at the Walther auction in October 2002.
Acknowledgements
My thanks to Luis Mateus, Michael Ferner, Simmo Iskül, whose extensive photographic library allowed the race history of this car to be determined, and 'gbl', another valued colleague who prefers his contributions to remain anonymous. Thanks also to Bernie King at at Penske Restoration. Maurice Hamilton's article about the Penske UK operation (13 Apr 1978 pp36-27) was useful.
These histories last updated on .