Spokesman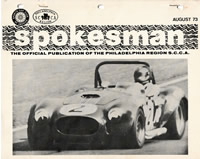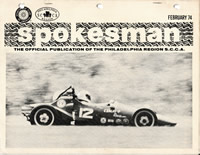 Philadelphia was one of the earliest branches of the Sports Car Club of America, just the third to be formalised, with George C. Caswell being appointed Regional Executive as early as November 1945. Thomas McKean succeeded him in 1947, followed by Otto Linton in 1948. Spokesman, the region's newsletter, started in early 1953. By 1966, Philadelphia was the ninth largest Region in the country, with 398 members, but it declined significantly over the next decade, and was down to just 302 members by 1977, and outside the top 20 regions. The region organised Nationals at Vineland Speedway in the 1960s, but by the 1970s had joined forces with Northeast Pennsylvania Region and South Jersey Region to organise 'Tri-Region' Nationals and Regionals at Pocono.
The Spokesman continued with ever-decreasing regularity until the end of 2012, with issues available online from 2003 onwards. A new phillyscca.com website in 2013 had links to one-off issues in Spring 2013, January 2014 and June 2014, but there was nothing further by 2017, when a further redesign to the website dropped the 'Newsletter' page. Communication thereafter moved to Facebook.
OldRacingCars.com is compiling a collection of Spokeman covering the years 1964 to 1984. Anyone who can help us offset the cost of building this collection by loaning copies or scanning reports would be most appreciated. Contact Allen if you can help.
The International Motor Racing Research Center (IMRRC) at Watkins Glen has a sparse collection of Spokeman from its beginning in 1953 up to 2005, but is missing most editions between 1960 and 1985. Any issues donated to OldRacingCars.com will ultimately be offered to the IMRRC to fill gaps in their collection.