Watson 1967 Indy history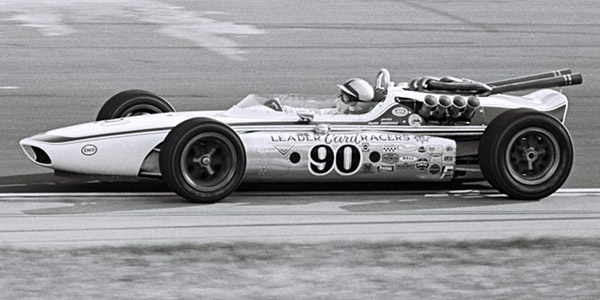 For 1967, AJ Watson returned to the twin-nostril nose famous from his roadsters and also returned to tube-frame construction after the monocoque construction of the 1965 and 1966 cars. Only one 1967 Watson was built; the second car entered at the Indy 500 for rookie Mike Mosley was a rebuilt 1966 car.
In 1966, the Leader Card Racers team had effectively split in two, with Don Branson racing a pair of 1966 Gerhardts with chief mechanic Jud Phillips, while AJ Watson built a new car for Johnny Rutherford and then Chuck Hulse to drive. The veteran Branson died in an accident in November 1966, so Bobby Unser, 32 years old but a relative novice at this level, was brought into the team and Bob Wilke bought a new Eagle for 1967 for Philips to run for him. AJ Watson continued to lead the other half of the operation and built a new tube-frame car for 1967. When originally announced, it was said to have a solid front axle and De Dion rear end, and that Watson was building four of them for the 500. However, the only mention of such a car at the Speedway was the older 1966 Watson that Mike Mosley wrecked during practice. The new 1967 Watson closely followed the lines of the successful 1965 Brawner Hawk, with a chrome-moly tube frame chassis, wishbone suspension, and huge side tanks containing rubber fuel cells. A Ford quad-cam V8 engine was mated to a Hewland two-speed transaxle.
Bob Wilke recruited Grand Prix star Pedro Rodriguez to drive the 1967 car at the Indy 500. Rodriguez had won the South African GP earlier in the year in the hefty Cooper-Maserati T81, but even he could not nurse enough speed out of the Watson, and he was bumped from the starting lineup. As Mosley had wrecked the team's remaining 1966 car during practice at the Speedway, Watson then turned to another veteran, Jim Hurtubise, to take over the drive. When Hurtubise was injured at Illinois Fair and decided to pull out of open-cockpit racing, Watson put Jim McElreath and later Chuck Parsons in the car, but again without any significant success.
Watson built another new car for 1968 with a turbo Offy engine and gave young Mosley another chance to prove himself in it, but the 1967 Watson with its Ford V8 engine was retained for the road races at Mosport Park in June, Continental Divide and Indianapolis Raceway Park in July, Mont-Tremblant in August and Riverside in December. In the second IRP race, it was driven by Bud Tingelstad who was relieved for part of the race by Unser, and at Mont-Tremblant, it was raced by road-racing specialist Lothar Motschenbacher. After Mosley drove it at Riverside, it appears to have been the Chevrolet-engined car that Mosley and George Snider drove at Continental Divide and Indianapolis Raceway Park respectively in 1969. It remained part of the AJ Watson stable for 1970 when Mosley used it as a short track car.
If you can add to our understanding of these cars, or have photographs that we can use, please email Allen at allen@oldracingcars.com.
Chassis
History
Current owner
Pedro Rodriguez had a new #90 Watson-Ford for the 1967 Indy 500 but was bumped. After Rodriguez returned to F1, the new car was raced by Jim Hurtubise, Jim McElreath and Chuck Parsons later that season, an old '66 car only being used a few times. Watson built a new car with an turbo Offy engine for 1968, but the older Ford-engined car was used at most races in 1968, driven by George Snider, Chuck Hulse (in practice for the Indy 500), Mike Mosley, Bud Tingelstad, Bobby Unser and Lothar Motschenbacher. As the last of the Ford-engined cars, it was used primarily on road courses in 1968. Although a further car was built for 1969, the old '67 car was used on road courses with a Chevrolet engine. AJ Watson started running a 1968 Eagle in 1970, but continued to use the 1967 car for Mike Mosley on short tracks, now updated to a turbo Offy engine.
It was not seen during 1971, but was sold for 1972 to Joe Tetz (Middletown, NY), who ran it in a few USAC events in 1972 and 1973 with a Chevrolet engine. The next time it is seen with any certainty is when owned by Cyrus Clark (Katonah, NY) in 1987/88, when it was in F5000 configuration with a small block Chevy engine. Clark advertised in Hemmings in June 1988 as the 1967 ex-Rodriguez car and the wings, tanks, nose, rollbar fairing, paint scheme and exhaust headers all matched the car driven by Joe Tetz in 1972. Sold by Clark to Larry Less (San Francisco, CA) and retained by him for many years. Still owned by Larry Less in September 2021.
Driven by: Pedro Rodriguez, Jim Hurtubise, Jim McElreath, Chuck Parsons, George Snider, Chuck Hulse, Dempsey Wilson, Mike Mosley, Bobby Unser, Bud Tingelstad, Lothar Motschenbacher and Joe Tetz. First race: Milwaukee Mile (R4), 4 Jun 1967. Total of 35 recorded races.
Larry Less (USA) 2021
Acknowledgements
My thanks to Simmo Iskül and 'gbl' for their hard work and remarkable eye for detail working through photographs and other evidence to untangle the histories of these cars. Thanks also to former owner Cyrus Clark and Larry Less, the current owner of the car, for the information he has provided.
These histories last updated on .