ATS D2 car-by-car histories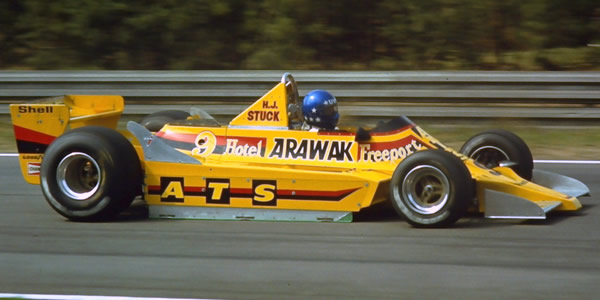 The John Gentry-designed ATS D1 was redeveloped over the 1978/79 winter by Gustav Brunner. It was used for the first half of 1979, but was usually right at the back of the grid.
The changes involved in Brunner's update included revised front suspension, inboard rear suspension, and all-enveloping bodywork similar to that on the state-of-the-art Lotus 79. Only one car was being run, for Hans-Joachim Stuck, and at the South American GPs he used the updated ATS D1, now numbered either D1/2, D2/1 or D2/2 depending on which magazine you read. He was slowest of all in Argentina, failing to qualify, but just scraped on the grid in Brazil. For the South African GP, a completely new car was produced, featuring a stiffer monocoque, new sidepods and steering rack, and a completely revised fuel system. With this, Stuck only just qualified at Kyalami, and again at Long Beach. Testing prior to the European season resulted in revised skirts, modified rear axles, a new wing and the fashionable "flip-ups" that were thought to be the secret of the Ligier JS11's speed. He was 21st in practice and actually made it to the finish, 14th and last. He improved to 20th in Belgium, happy that the car was improving with every race, and ran well to take eighth place. The team had reduced the weight by 10 kg in time for the Monaco GP, and Stuck qualified right up in 12th, and was running eighth when a wheel broke. Team owner Günter Schmid then had a hissy fit at the French GP, withdrawing the car in protest at the qualifying tyres the team had been given. This ridiculous decision triggered the departure of team manager Fred Opert, and Stuck was unable to qualify for the British GP. He scraped on to the back row at the German GP, but the car's suspension broke on the opening lap.
After this low point, the team's new ATS D3 was ready, designed by Nigel Stroud, and the D2 was then only used as a backup.
Car
Total
Race
Starts
Grand
Prix
Starts
Grand
Prix
Wins
First Race
Present Location
1
1
Brazilian Grand Prix
(4 Feb 1979)
United Kingdom 2019
6
6
South African Grand Prix
(3 Mar 1979)
Not disclosed
One of the surviving D2s was part of a group of six cars on display at the ATS factory at Bad Dürkheim for many years. After the cars were sold in 2014, the D2 was exhibited on the Autodiva stand at Salon Epoqu'Auto in Lyon in November 2014, where it was described as "D1-02".
Please contact Allen Brown (allen@oldracingcars.com) if you can add anything to our understanding of these cars.
These histories last updated on .