Cooper T71 car-by-car histories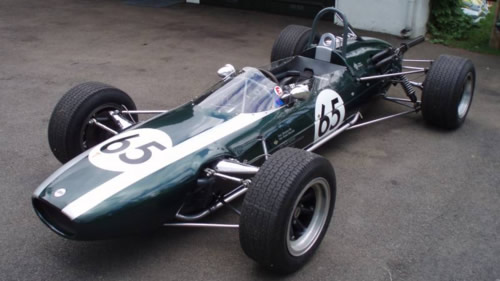 For the newly introduced 1000cc Formula 2 in 1964, Cooper built a new model, the T71. Very similar to the F3 T72 and F1 T73, the T71 used semi stressed-skin construction and were the first Coopers to use rocker arm front suspension with inboard springs.
Cooper had planned a works F2 team run by Ken Tyrrell using a new BMC F2 engine but the engine project was a complete disaster and it never ran. Cooper's only customers for the T71 were Normand Racing who ran a brace for Mike Beckwith and Tony Hegbourne, and John Coombs who bought a car for Graham Hill, both using Cosworth SCA engines. Despite the best efforts of the Normand team to modify the suspension, the T71 struggled to keep up with the Brabham BT10s and Lotus 32s and the only win for the model was Hegbourne's victory at Avus in May. However, with less power to deal with, the sister T72 design worked quite well as a F3.
Of the three F2 cars, one of the Normand cars was wrecked in early 1965 and its sister had a few races in 1965 before being converted to 1600cc libre specification and then being sent off to the US for SCCA Formula B. The third car, the very rarely-used Coombs car, enjoyed a long career in Scandinavian F3.
If you can add anything to these histories, please contact Allen Brown (allen@oldracingcars.com).
Chassis
History
Current owner
New to Normand Racing Team for Mike Beckwith to race in F2 in 1964. Then sold to Frank Williams and converted to F3 specification to replace the Brabham he had wrecked at the Nürburgring at the end of 1964. Hired to Gustave "Taf" Gosselin for the Zolder race in May 1965 but crashed in practice and "completely destroyed". Williams bought the sister car, F1-3-64, from John Coombs to replace it.
Driven by: Mike Beckwith and Gustave Gosselin. First race: Pau, 5 Apr 1964. Total of 22 recorded races.
Wrecked 1965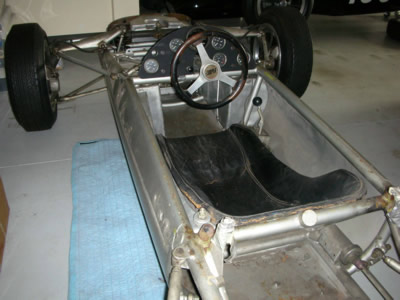 New to Normand Racing Team for Tony Hegbourne to race in F2 in 1964. Then to Frank Lythgoe for 1965 and entered for Alan Rollinson in a few F2 races at the start of 1965 until their new Brabham BT16 was ready. Then fitted with a 1600cc Ford twin cam engine and raced by David Bridges in several libre races in June 1965 before being sold to Robin Darlington who raced it in libre in September and October 1965. To Robs Lamplough who advertised it in February 1966 and, to the best of his recollection, sold it to Robert Winkelmann in California. According to the history given by restorer Joe Cavaglieri to later owner David Woodhouse, the car went to the US via Fred Opert and was owned by Lyman Morton (brother of John Morton), Charlie Eddy and Charles Underwood in California before being acquired by Cavaglieri (Sherman Oaks, CA), who sold it to Woodhouse (London), the Director of Design at Lincoln Motor Company, in late 2005/early 2006. Still with Woodhouse in 2014.
Driven by: Tony Hegbourne, Warwick Banks, Adam Wyllie, Alan Rollinson, David Bridges and Robin Darlington. First race: Pau, 5 Apr 1964. Total of 32 recorded races.
David Woodhouse (UK) 2014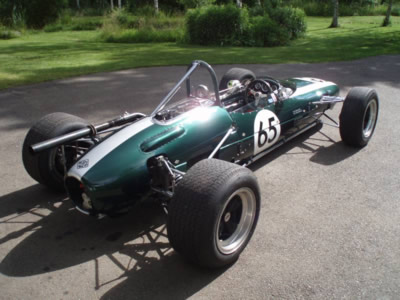 Entered by John Coombs Racing for Graham Hill in two Formula 2 races in 1964 and used briefly as a spare car in 1965 before being sold to Frank Williams and converted to Formula 3 specification. Raced by Williams through the 1965 season and then to Åke Lindberg in September 1965. Raced only briefly by Lindberg at the end of that year and then to Hans Sjöstedt for 1966. Later to Bror-Erland Carlsson for 1967 and 1968, then Erkki Salminen for 1969. Then "put away" until located by Magnus Ahlqvist and Hjortsjö Norregård of Motorima (Rydaholm, Sweden) and restored to original F2 specification with Cosworth SCA engine. Raced by Ahlqvist at the Classic Race Aarhus in May 2013. Still with Ahlqvist in September 2014.
Driven by: Graham Hill, Frank Williams, Åke Lindberg, Hans Sjöstedt, Bror-Erland Carlsson and Erkki Salminen. First race: Crystal Palace, 18 May 1964. Total of 27 recorded races.
Magnus Ahlqvist (Sweden) 2014
The Cooper T71/73
As well as the three T71 Formula 2 cars and the two T73 Formula 1 cars, a further car was built up by Bob Gerard using a very similar chassis but fitted with a 1500cc Ford twin cam engine allowing it to be used in Formula 1. For more on this car, see Cooper T71-73.
These histories last updated on .