Elfin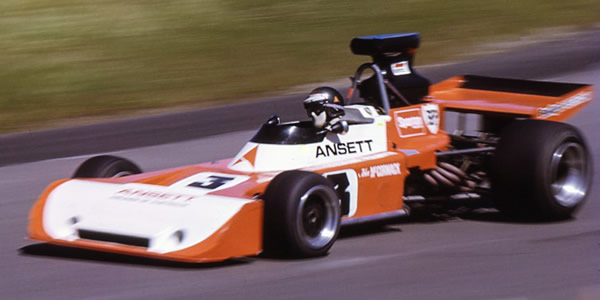 Garrie Cooper's Elfin Sports Cars is one of the great successes of Australian motor racing history. After a series of specials in the late 1950s and then a highly successful range of sport-racing 'Elfin Streamliners' starting in 1960, Cooper designed and built his first Formula Junior in 1961. This was followed by a first monocoque in 1964, built for the new Australian 1.5-litre racing category, and then the classic Elfin 600 in 1968. Elfin 600s won the Australian 1.5-litre and F2 Championship in 1968, 1971 and 1972 as well as Formula Ford titles in 1970 and 1971.
Cooper entered F5000 in 1971 with the Elfin MR5 and John McCormack won the Australian Gold Star in 1973 with his sister car. He followed this with a second title in 1975, this time driving the one-off MR6. The MR8 followed in 1976 but F5000 was starting to stagnate and it was three years before Larry Perkins won Elfin's next major honours, the 1979 Rothmans International Series.
The final Elfin, and indeed the final F5000 car, was the ground-effect MR9 but by the time it was sorted, F5000 had less than a year to live. So, unfortunately, did Garrie Cooper, who died suddenly in April 1982. The MR9 joined the other exhibits in the Birdwood Mill Museum.
All and any help would be gratefully received. Please e-mail Allen at allen@oldracingcars.com if you can add anything.
Type
Years
No.
built
Notes
Elfin 600
1968-1971
26
A steel space frame, returrning to this form of construction after the earlier Elfin Mono. Initially fitted with 1500cc Ford twin came, later 600C and 600D designs were equipped with 2.5-litre Climax and Repco engines. In addition, 17 Formula Ford 600s were built between 1969 and 1972.
Elfin MR5
1971-1972
4
An entirely new design interrupted when Cooper was hospitalised to replace a heart valve in March 1971. Debut at Sandown 17 Sep 1971. Four built.
Elfin ML6
1974
1
Wheelbase 100.5" with Leyland or 102.5" with Holden; track 61.5" front and rear; weight 1250 lb with Leyland or 1400 lbs with Holden. Gearbox: Hewland DG300. One built.
Elfin MR8
1976-1978
3
Aluminium monocoque. Wheelbase 104"; maximum track 65"; length 182.5"; weight 1475 lbs. Gearbox: Hewland 5-speed DG300. Three built.
Elfin MR9
1980
1
The only ground-effect F5000 car ever built. Wheelbase 2690mm; front track 1755mm; rear track 1630mm; weight aproximately 618 kg dry. Gearbox: Hewland DG300. One built.
These histories last updated on 6 November, 2018 .
Sources
Sources used for this page include Australia's Elfin Sports and Racing Cars by John Blanden and Barry Catford (1997).