Fittipaldi F7 car-by-car histories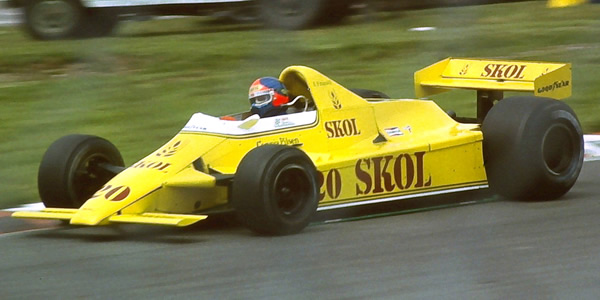 After struggling to make their own ground-effect car work, Fittipaldi Automotive bought Walter Wolf Racing at the end of 1979, and raced Wolf's WR7/8/9 design in 1980, renamed as Fittipaldi F7s.
The merger of the two teams resulted in Fittipaldi's Peter Macintosh taking the role of Director of Administration, Wolf team manager Peter Warr taking over the same role in the new team, and Wolf designer Harvey Postlethwaite becoming Chief Designer. Emerson Fittipaldi was joined as driver by Wolf's Keke Rosberg. Team principal Wilson Fittipaldi secured sponsorship from Skol, a sub-division of Labatt's, to replace the team's long-standing relationship with Brazilian sugar and ethanol trader Copersucar. Fittipaldi's former base in Slough was closed and the new operation was based at Wolf's premises in Reading. It would now run as a "typical English F1 team", instead of trying to manufacture the car in Brazil, a requirement of former sponsor Copersucar. The Wolf WR7/8/9 design formed the basis of an interim Fittipaldi F7 to start 1980 until Postlethwaite could design a new Fittipaldi F8. The F7 only retained the monocoque, gearbox and oil tank of the Wolf; the rest of the car was said to be all new.
The season started well with Rosberg storming through the field to finish third in Argentina. Although neither driver was on the pace during qualifying, both were great racers and Emerson took his F7 from last on the grid to third place at the finish at Long Beach. However, these efforts could not disguise the age of the design, and the cars filled the last row of the grid at the French GP in late June, and Rosberg failed to qualify for the British GP, where his team mate had the first F8. One of the F7s continued to serve as a backup for the rest of the year.
One of the F7s had left the factory before the ADA takeover, and was sold to Italy. The other two were then sold off by ADA. One is a museum piece, now in Wolf livery and on display at the Brooklands Museum; the other was sold to a French owner in 1984, and has been with its current owner since 1989.
Please contact Allen Brown (allen@oldracingcars.com) if you can add anything to our understanding of these cars.
These histories last updated on .