Wolf WR7-WR9 car-by-car histories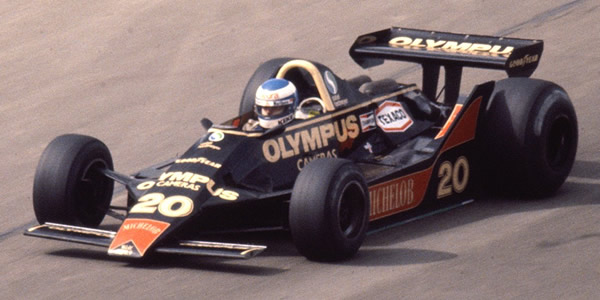 Wolf's final season of F1 was a disappointment, past champion James Hunt and future champion Keke Rosberg being unable to score a single point in the Wolf WR7 design.
Wolf designer Harvey Postlethwaite was never afraid to innovate, as he showed with his rubber-sprung Hesketh 308B in 1975, and his shallow monocoque 308C. Not all his experiments worked, the 308C being the most obvious failure, but he refined the Hesketh concept into the race-winning Wolf WR1 in 1977. However, his Wolf WR5-WR6 'wing car' design of 1978, with its ugly scuttle-mounted radiator, was a setback for the Wolf team, and he had no option but to copy the Lotus 79 concept for 1979. Although the new Wolf WR7 was recognisably Lotus 79-like, its construction was highly innovative as Postlethwaite had the monocoque constructed from sheets of an aluminium honeycomb composite material, cut to shape, folded and stitched together down the centre of the car. This made the WR7 immensely strong, but it took a couple of seasons for Postlethwaite to really master the technique.
Jody Scheckter had left Wolf at the end of 1978, and been replaced by James Hunt. The Englishman was well off the pace at the opening race where the car had dramatic oversteer, the sidepods generating too much downforce at the front. Redesigned sidepods and revised suspension settings had him up to tenth place on the grid at the next race, but he was an early retirement in both races. Straight line speed remained a problem, especially on Kyalami's long straight, but Hunt was increasingly pleased with the car and was up to eighth on the grid at Long Beach. As the car improved, Hunt ran fourth in Belgium until a suspected tyre failure pitched him heavily into the barrier. Another mid-grid qualification and early retirement in Monaco was finally too much for Hunt, and he abruptly announced his retirement.
Young Keke Rosberg was rescued from the Can-Am series to take over Hunt's seat, but the Finn was unable to get the Wolf as far up the grid as Hunt had managed. Postlethwaite kept working away, and the car was much improved at Zandvoort, allowing Rosberg to qualify eighth and run in fourth place for much of the race, until engine failure intervened. That turned out to be a false dawn, and the last three races were a bit of a disaster, Wolf ending the season without a single championship point.
Three cars were built to this design, WR7, WR8 and WR9. The first two of these were sold off at the end of the season, when Walter Wolf agreed to sell his team to Fittipaldi Automotive. They were rebuilt and renamed as Fittipaldi F7s, replacing Ralph Bellamy's awful Fittipaldi F6/F6A design until Postlethwaite could produce a replacement design. The other car, WR9, remained with Walter Wolf until it was sold into private hands and survives in impressively original condition to this day.
Please contact Allen Brown (allen@oldracingcars.com) if you can add anything to our understanding of these cars.
These histories last updated on .