Gerhardt 1968 Indy car-by-car histories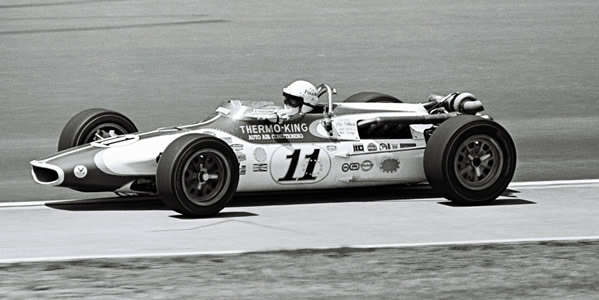 The 1968 Gerhardt was an evolution of the 1967 design and is mainly distinguished by a shorter, more sloped nose. Three 1968 cars were present at that year's Indy 500: a house car, and two customer cars for Gordy Johncock. Three more cars were built to a similar pattern later in the year.
The two cars that ran at the 1968 Indy 500 had the same inboard front springs and rocker arms as seen on all previous Gerhardts. However, when Mel Kenyon's new car appeared in August, its front suspension had outboard springs with top wishbones, a layout similar to the Brabham-based Hawk and Mongoose designs, and also recently adopted by Eagle for their 1968 car. Two further cars were built to this pattern in late 1968 or early 1969, one for Bulldog Stables and one for Federal Engineering. This suspension layout would also be used on the 1969 wedge design.
If you can add anything to these histories, please contact Allen Brown (allen@oldracingcars.com).
Chassis
History
Current owner
Other non-wedge Gerhardts probably new in 1969 and 1970
Another Gerhardt appeared later in 1969, for Max Dudley, and evidence currently suggests that it was built new for him. In 1970, another Gerhardt was built up for Darrell Dockery by his crew chief Larry Burton, using an unfinished monocoque acquired from Fred Gerhardt. Photographs of both these cars indicate that their monocoques followed the structure of the 1968 model.
Chassis
History
Current owner
Max Dudley (Auburn, WA) raced a Chevrolet-powered Gerhardt in Indy racing from 1969 to 1971, and then reappeared briefly in 1974. The car replaced a 1965 Halibrand Shrike that Dudley had raced in 1968 and early 1969, and which he sold to Bob Cavanaugh. Cavanagh's recollection is that the Gerhardt was new. (Curiously, Dudley was reported by Autoweek to be running the Halibrand Shrike at the Seattle USAC Road Racing Championship race in Sep 1971.) The only other time he appeared was at Trenton in early 1974 with a Gerhardt-Chev again. The Gerhardt was then unknown until seen fully restored at the 2009 Seattle Historic Races when it was said to be a 1968 Gerhardt. Also at the Classic Car Races at Sears Point in June 2011. Believed to be the car owned by William Watkins. At the Victory Lane Historic Champ/Indy Car Showcase in June 2012.
Driven by: Max Dudley. First race: Continental Divide (R7), 6 Jul 1969. Total of 16 recorded races.
Unknown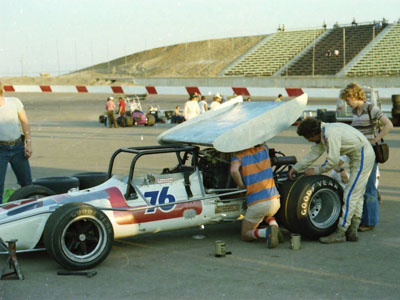 Acquired from Fred Gerhardt by Darrell Dockery (Phoenix, AZ) as an unfinished monocoque, and built up by Dockery's chief mechanic Larry Burton at the Gerhardt race shop in Fresno, CA, using parts that were "lying around". Burton recalled that the tub had been intended for a turbo Offy engine, so Burton modified it to fit a Chevrolet V8 engine. However, photographs of the car in later life indicate that it was intended for a Ford engine, and is similar in construction to a 1967 Gerhardt. Like the 1969 Gerhardts, it had outboard front suspension. Dockery appeared in the #62 Gerhardt-Chev on a number of occasions in 1970, generally failing to qualify or going out with an oil leak. The 1970 Indy 500 entry list gives the engine as a 312 ci V8, but Burton recalls fitting a Ford quad cam engine during practice. The car was put to one side until 1976, when it was acquired by veteran supermodified driver Larry Beard (Los Banos, CA), a distant cousin of Dockery, and his sponsor Dave Buchanen. He first raced the Gerhardt in May 1976 in Open Competition racing at Clovis Speedway in northern California. Despite the car's unreliability, Beard led an Open Competition race at San Jose Speedway in August 1977, and led again at San Jose two weeks later. Beard was killed in a sprint car accident at Calistoga on 27 October 1979, and the Gerhardt was sold off to Bob Beck. Subsequent history unknown.
Driven by: Darrell Dockery and Lloyd Beard. First race: Phoenix International Raceway (R1), 29 Mar 1970. Total of 14 recorded races.
Unknown
The Louis Seymour mystery Gerhardt
Previous versions of this page showed Toney Edwards as the owner of the second Bulldog Stables car, the #26 car that Rick Muther had so nearly qualified for the 1969 Indy 500. However, the Seymour Daily Tribune (Seymour, Indiana) of 6 May 1970 quoted Al Loquasto's crew chief Frank Curtis saying "The Gerhardt chassis was new last year when Rick Muther qualified it as first alternate". So this means Toney Edwards' car, which has bodywork similar in shape to a 1967 car, but monocoque construction more in line with a 1966 car, plus the much later front suspension, is currently a mystery. At present, it seems most likely to be the Bob Hurt 1966 car, and its history is covered on the 1966 Gerhardt page.
Acknowledgements
Given how little was known of the histories of individual Gerhardt cars when this research project began in 2009, the progress made is remarkable. Much of the early work was conducted by Michael Ferner and Allen Brown, but credit for the recent discoveries must go to Simmo Iskül, through his forensic analysis of the cars using old photographs.
These histories last updated on .