Gerhardt 1968 Indy car-by-car histories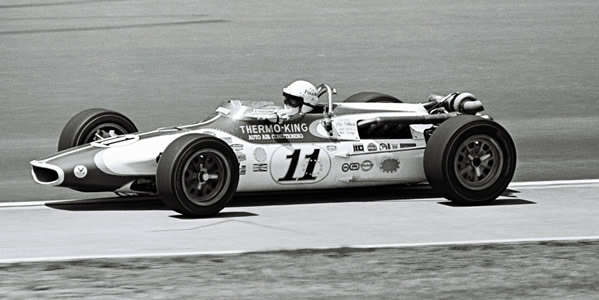 The 1968 Gerhardt was an evolution of the 1967 design and is mainly distinguished by a shorter, more sloped nose. Three 1968 cars were present at that year's Indy 500: a house car, and two customer cars for Gordy Johncock. Three more cars were built to a similar pattern later in the year.
The two cars that ran at the 1968 Indy 500 had the same inboard front springs and rocker arms as seen on all previous Gerhardts. However, when Mel Kenyon's new car appeared in August, its front suspension had outboard springs with top wishbones, a layout similar to the Brabham-based Hawk and Mongoose designs, and also recently adopted by Eagle for their 1968 car. Two further cars were built to this pattern in late 1968 or early 1969, one for Bulldog Stables and one for Federal Engineering. This suspension layout would also be used on the 1969 wedge design.
If you can add anything to these histories, please contact Allen Brown (allen@oldracingcars.com).
Chassis
History
Current owner
Gerhardt 68
'the Gerhardt house car'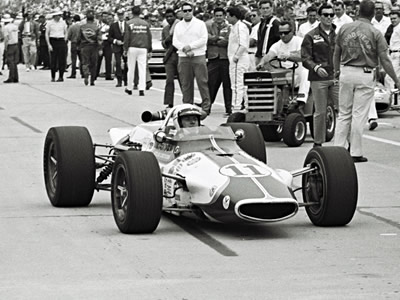 Don Gerhardt had a new #11 Thermo King Auto Air Cond entry from the start of 1968 and it is assumed that this Gerhardt-Offy turbo was new at Hanford in April, replacing the #16 car used in 1967. Art Pollard continued as driver for the opening races of the season but during practice for the Indy 500, he was poached by the Granatelli STP team to drive one of the new Lotus 56s. Gary Bettenhausen took over the Gerhardt drive for the Indy 500 and for the rest of the season. Bettenhausen drove the '68 car again at the start of 1969 before the team's new wedge design was ready. The '68 car was then driven by Bruce Walkup as the team's #16 entry at the 1969 Indy 500, by which time the car had a lower, flatter nose cone and had been converted to outboard front suspension. Bettenhausen raced it again at Langhorne in June and Trenton in July, but at the latter race it was crashed heavily. Its movements over the next couple of years are not yet understood, but in late 1971 or early 1972, it became #99 Joe Hunt Magneto Spl entered by Joseph B. Hunt (Los Angeles, CA). It was driven in practice by Bob Harkey and Jerry Karl at the 1972 Indy 500 in highly modified form, but did not attempt to qualify. It continued to evolve even further over the next three seasons, and was the car that Harkey tried to qualify for the California 500 as late as 1975. The two Gerhardts were retained by Hunt until he died in June 1985, and about a year later they were sold by his widow Mary to Jack Thompson (Doylestown, PA). Both cars were still in the Thompson Collection in early 2019.
Driven by: Art Pollard, Gary Bettenhausen, Bruce Walkup, Bob Harkey, Jerry Karl, Bill Simpson and Mike Hiss. First race: Indianapolis Motor Speedway (R5), 30 May 1968. Total of 15 recorded races.
Thompson Collection (US) 2019
Gerhardt 68
'the Gordon Johncock car'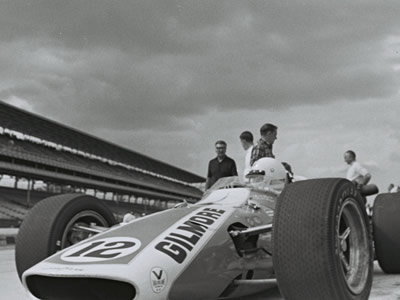 After starting the season with his existing stable of one 1966 Gerhardt and two 1967 Gerhardts, Gordy Johncock had two new 1968 Gerhardts in time for the 1968 Indy 500. He used one of these at the Indy 500, and at Milwaukee, and later at Langhorne, Michigan, and Phoenix, but acquired a 1968 Eagle for road racing, and the backup 1968 Gerhardt appears to have remained unused that season. As Johncock's 1969 Gerhardt and 1970 Eagle were both flops, at least one of these 1968 Eagles remained in his stable until well into 1970, after which he acquired a McLaren M15A. Late in 1971, Lawrence S. McCoy of Eastern Racing Associates, announced that a Gerhardt-Offy would be entered in Indycar racing for his son Larry McCoy. The press material included a picture of Johncock's #5 Gerhardt, as used at the 1970 Indy 500, and this would appear to be the car McCoy had acquired. McCoy qualified for Michigan, Milwaukee and Trenton in 1972. Subsequent history unknown. According to Jack Murray, Jim Mann (Elkhart, IN) owns the 1968 Johncock Gerhardt.
Driven by: Gordon Johncock, Roger McCluskey and Larry McCoy. First race: Indianapolis Motor Speedway (R5), 30 May 1968. Total of 14 recorded races.
Jim Mann (USA) 2016
Gerhardt 68
'the Gordon Johncock backup car'
Gordon Johncock had two new 1968 Gerhardts in time for the 1968 Indy 500, but the second one appears to have had very little use that season as Johncock acquired an Eagle for road races. This backup was used for a couple of races in early 1969, but its usage thereafter is unclear. It is assumed it was the short track car. One of Johncock's two turbo Offy cars was destroyed in a fire during the Jimmy Bryan 150 at Phoenix in March 1970. As his 1970 Indy 500 car was the same one he had raced in 1968, the car destroyed must have been this backup.
Driven by: Gordon Johncock. First race: Phoenix International Raceway (R1), 30 Mar 1969. Total of 7 recorded races.
Destroyed 1970
Gerhardt 68½
'the Mel Kenyon car'
A new 1968 Gerhardt built for Mel Kenyon after his City of Lebanon 1967 Gerhardt was wrecked at Milwaukee in June 1968. This car had the same overall shape as the early-season 1968 cars but had outboard front suspension. Entered as the #15 in 1968, becoming #9 Krohne Grain Transport Spl at the 1969 Indy 500 where Kenyon finished in a fine fourth place. Driven by Sonny Ates as the #59 at Trenton later that year and by Kenyon at both Milwaukee races. This car then became Joseph B. Hunt's #99 'Joe Hunt Magneto Spl' from the start of 1970. Denny Zimmerman failed to qualify it for the 1970 Indy 500 but Bob Harkey put it in the 1971 Indy 500. It was then replaced by an ex-Bettenhausen 1968 Gerhardt, but may have continued in use as a short track car. Hunt died in June 1985, and about a year later both Gerhardts were sold by his widow Mary to Jack Thompson (Doylestown, PA). Both cars were still in the Thompson Collection in early 2019.
Driven by: Mel Kenyon, Sonny Ates, Bruce Walkup, Denny Zimmerman and Bob Harkey. First race: Milwaukee Mile (R20), 18 Aug 1968. Total of 12 recorded races.
Thompson Collection (USA) 2019
Gerhardt 68½
'the third Bulldog Stables car'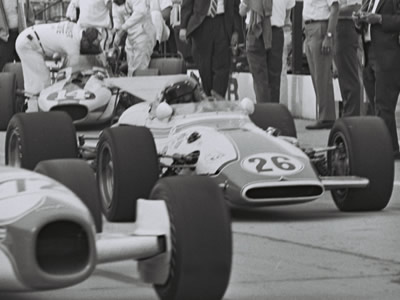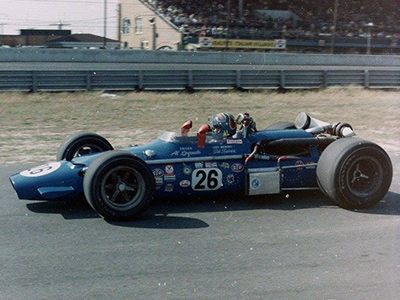 Arthur W. 'Buzz' Harvey's Bulldog Stables Inc (Hardwick, Mass) entered what was later claimed to be a new Gerhardt turbo Offy as their #26 entry at the 1969 Indy 500 for Rick Muther, who narrowly failed to qualify the car. It was the same shape as Gerhardt's own #16 entry, with the same outboard front suspension. After 1969, it was then sold to Al Loquasto (Manchester, PA), who ran it in 1970 and 1971 as the very popular Indy-On-A-Shoestring #26 Gerhardt turbo Offy. The car was entered by Bob Raines (New York, NY) and filmmaker Judd Maze at the 1970 Indy 500 with Frank Curtis as crew chief, but blew two engines during practice and then damaged its front suspension when the throttle on its sole remaining engine stuck open, so could not qualify. Loquasto started at Michigan and Trenton later in 1970, and had another attempt to qualify for the 500 in 1971. On this occasion he crashed again during practice, on 23 May, and the car was extensively damaged. Repaired and sold to Carl Gehlhausen (Jasper, IN) and Jim Masson (Kansas City, KS), and entered for Jerry Karl (Manchester, PA) in 1972, with Eddie Baue (Sparta, IL) as chief mechanic. After Karl was released, it was driven by Tom Bigelow later in the season. The team acquired a 1972 Kingfish for 1973, and the subsequent history of the Gerhardt is unknown.
Driven by: Rick Muther, Al Loquasto, Jerry Karl and Tom Bigelow. First race: Milwaukee Mile (R4), 8 Jun 1969. Total of 7 recorded races.
Unknown
Gerhardt 68½
'the Federal Automotive car'
A late-1968-style Gerhardt that first appeared as part of the Federal Automotive team at the 1969 Indy 500 as the #31 Federal Engineering entry for Bobby Johns. Johns did not qualify and Bud Tingelstad took over the #31 for the rest of 1969. This car returned to Indy in 1970 as Federal's #31 Stearns Transi-Tread entry with Paul Brooks as chief crew for driver Jim Malloy who qualified. The 1969 car is presumed to be the #31 car from then until the team disappears at the end of 1971. Subsequent history unknown until Hurricane Charley in August 2004 damaged a building in Florida, revealing the little-known car collection of real estate developer Walter Medlin. The #31 Gerhardt, in apparently original condition, was visible in pictures of the damaged building. In April 2007, the car was pictured on an open transporter on Interstate 65 heading north of Nashville, TN. With it were the 1979 Cicada and an unidentified #99 car. Rumoured to be in a private museum in Indianapolis (and the I-65 through Nashville is exactly on the route from Florida to Indianapolis). Photographed in Indiana in July 2014.
Driven by: Bobby Johns, Bud Tingelstad, Jim Malloy, Greg Weld and Sammy Sessions. First race: Milwaukee Mile (R4), 8 Jun 1969. Total of 21 recorded races.
Walter Medlin (USA) 2014
Other non-wedge Gerhardts probably new in 1969 and 1970
Another Gerhardt appeared later in 1969, for Max Dudley, and evidence currently suggests that it was built new for him. In 1970, another Gerhardt was built up for Darrell Dockery by his crew chief Larry Burton, using an unfinished monocoque acquired from Fred Gerhardt. Photographs of both these cars indicate that their monocoques followed the structure of the 1968 model.
Chassis
History
Current owner
Gerhardt
'the Max Dudley car'
Max Dudley (Auburn, WA) raced a Chevrolet-powered Gerhardt in Indy racing from 1969 to 1971, and then reappeared briefly in 1974. The car replaced a 1965 Halibrand Shrike that Dudley had raced in 1968 and early 1969, and which he sold to Bob Cavanaugh. Cavanagh's recollection is that the Gerhardt was new. (Curiously, Dudley was reported by Autoweek to be running the Halibrand Shrike at the Seattle USAC Road Racing Championship race in Sep 1971.) The only other time he appeared was at Trenton in early 1974 with a Gerhardt-Chev again. The Gerhardt was then unknown until seen fully restored at the 2009 Seattle Historic Races when it was said to be a 1968 Gerhardt. Also at the Classic Car Races at Sears Point in June 2011. Believed to be the car owned by William Watkins. At the Victory Lane Historic Champ/Indy Car Showcase in June 2012.
Driven by: Max Dudley. First race: Continental Divide (R7), 6 Jul 1969. Total of 16 recorded races.
Unknown
Gerhardt
'the Darrell Dockery car'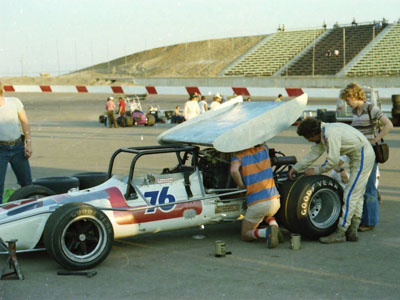 Acquired from Fred Gerhardt by Darrell Dockery (Phoenix, AZ) as an unfinished monocoque, and built up by Dockery's chief mechanic Larry Burton at the Gerhardt race shop in Fresno, CA, using parts that were "lying around". Burton recalled that the tub had been intended for a turbo Offy engine, so Burton modified it to fit a Chevrolet V8 engine. However, photographs of the car in later life indicate that it was intended for a Ford engine, and is similar in construction to a 1967 Gerhardt. Like the 1969 Gerhardts, it had outboard front suspension. Dockery appeared in the #62 Gerhardt-Chev on a number of occasions in 1970, generally failing to qualify or going out with an oil leak. The 1970 Indy 500 entry list gives the engine as a 312 ci V8, but Burton recalls fitting a Ford quad cam engine during practice. The car was put to one side until 1976, when it was acquired by veteran supermodified driver Larry Beard (Los Banos, CA), a distant cousin of Dockery, and his sponsor Dave Buchanen. He first raced the Gerhardt in May 1976 in Open Competition racing at Clovis Speedway in northern California. Despite the car's unreliability, Beard led an Open Competition race at San Jose Speedway in August 1977, and led again at San Jose two weeks later. Beard was killed in a sprint car accident at Calistoga on 27 October 1979, and the Gerhardt was sold off to Bob Beck. Subsequent history unknown.
Driven by: Darrell Dockery and Lloyd Beard. First race: Phoenix International Raceway (R1), 29 Mar 1970. Total of 14 recorded races.
Unknown
The Louis Seymour mystery Gerhardt
Previous versions of this page showed Toney Edwards as the owner of the second Bulldog Stables car, the #26 car that Rick Muther had so nearly qualified for the 1969 Indy 500. However, the Seymour Daily Tribune (Seymour, Indiana) of 6 May 1970 quoted Al Loquasto's crew chief Frank Curtis saying "The Gerhardt chassis was new last year when Rick Muther qualified it as first alternate". So this means Toney Edwards' car, which has bodywork similar in shape to a 1967 car, but monocoque construction more in line with a 1966 car, plus the much later front suspension, is currently a mystery. At present, it seems most likely to be the Bob Hurt 1966 car, and its history is covered on the 1966 Gerhardt page.
Acknowledgments
Given how little was known of the histories of individual Gerhardt cars when this research project began in 2009, the progress made is remarkable. Much of the early work was conducted by Michael Ferner and Allen Brown, but credit for the recent discoveries must go to Simmo Iskül, through his forensic analysis of the cars using old photographs.
These histories last updated on .