Gerhardt 1968 Indy car-by-car histories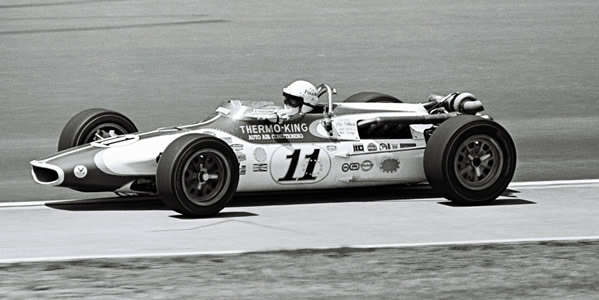 The 1968 Gerhardt was an evolution of the 1967 design and is mainly distinguished by a shorter, more sloped nose. Three 1968 cars were present at that year's Indy 500: a house car, and two customer cars for Gordy Johncock. Three more cars were built to a similar pattern later in the year.
The two cars that ran at the 1968 Indy 500 had the same inboard front springs and rocker arms as seen on all previous Gerhardts. However, when Mel Kenyon's new car appeared in August, its front suspension had outboard springs with top wishbones, a layout similar to the Brabham-based Hawk and Mongoose designs, and also recently adopted by Eagle for their 1968 car. Two further cars were built to this pattern in late 1968 or early 1969, one for Bulldog Stables and one for Federal Engineering. This suspension layout would also be used on the 1969 wedge design.
If you can add anything to these histories, please contact Allen Brown (allen@oldracingcars.com).
Chassis
History
Current owner
Other non-wedge Gerhardts probably new in 1969 and 1970
The Gerhardts raced by Max Dudley and Darrell Dockery were previously thought to be 1968 Gerhardts, but more detailed photographs have shown them to be 1967 'Type C' Gerhardts.
The Louis Seymour mystery Gerhardt
Previous versions of this page showed Toney Edwards as the owner of the second Bulldog Stables car, the #26 car that Rick Muther had so nearly qualified for the 1969 Indy 500. However, the Seymour Daily Tribune (Seymour, Indiana) of 6 May 1970 quoted Al Loquasto's crew chief Frank Curtis saying "The Gerhardt chassis was new last year when Rick Muther qualified it as first alternate". So this means Toney Edwards' car, which has bodywork similar in shape to a 1967 car, but monocoque construction more in line with a 1966 car, plus the much later front suspension, is currently a mystery. At present, it seems most likely to be the Bob Hurt 1966 car, and its history is covered on the 1966 Gerhardt page.
Acknowledgements
Given how little was known of the histories of individual Gerhardt cars when this research project began in 2009, the progress made is remarkable. Much of the early work was conducted by Michael Ferner and Allen Brown, but credit for the recent discoveries must go to Simmo Iskül, through his forensic analysis of the cars using old photographs.
These histories last updated on .