Hawk 1965 Indy history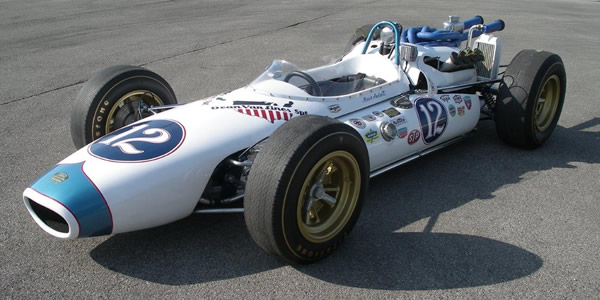 Built as a copy of the Brabham BT12, the original 1965 Brawner Hawk took Mario Andretti to the 1965 USAC Championship. The following season he used this car to take pole position at the Indy 500 and then a second successive USAC title.
The original Brabham BT12 had been ordered by John Zink for 1964 and had been raced by Jack Brabham at the 1964 Indy 500, where it was let down by its F1 springs, which were much too light for the Speedway. It was then raced by Jim McElreath for Zink for the rest of 1964 and stronger springs transformed it into a race winner. A series of accidents in September and October rendered the car unusable so Zink commissioned Clint Brawner, the chief mechanic on Al Dean's highly successful team, to build a replica of the BT12 for 1965. Brawner's deal allowed him to build a second replica for the Dean Van Lines team, to be raced by team driver Mario Andretti in 1965. The frames were all made by Brawner at his workshop in Phoenix, AZ, using TIG-welded SAE 4130 chrome-moly steel, instead of the braze-welded mild steel used in the Brabham frame. Bodywork was fabricated by Eddie Kuzma, engines supplied by Ford, and the car was prepared by Brawner and his 27-year-old assistant Jim McGee. Brawner initially called his car a Brabham, for example in his Motor Trend article in March 1966, but used the name Hawk in 1966 and then Brawner-Hawk in 1967. Hawk is preferred here.
The new car made its debut at the 1965 Indy 500, where Andretti qualified fourth and finished third, winning the Rookie of the Year award. After finishing fourth at Milwaukee, he took pole position at Langhorne and finished second, and then took his first win at Indianapolis Raceway Park in June, where he again started from pole. He followed this with second place at Milwaukee in August and second again at Phoenix in November - again from pole - to secure USAC's national championship.
Dean had a Lotus 38 on order for 1966 but before this was delivered, Andretti continued his run of form in the Hawk, taking pole position at Phoenix and Trenton at the start of the season. The Hawk proved quicker than the Lotus at the Indy 500 as well, and Andretti used the Hawk to take a fourth successive pole position, although a broken valve put him out of the race. Speed was finally matched by reliability in the next three races, at Milwaukee, Langhorne and Atlanta, where Andretti won all three from pole position. He also won at Indianapolis Raceway Park in July, from pole at Milwaukee in August and from pole at Trenton in September, and completed the season with another win from pole in the Hawk at Phoenix in November. Such was the dominance of the Brabham BT12 design that his most consistent competitor over those two seasons was Jim McElreath in the sister car built by Brawner for the Zink team. A new Hawk II was built for 1967.
If you can add to our understanding of these cars, or have photographs that we can use, please email Allen at allen@oldracingcars.com.
Chassis
History
Current owner
The first Hawk appeared at the 1965 Indianapolis 500 as the #12 Dean Van Lines entry for Mario Andretti. Andretti used this car for seven other races in 1965, and also used it with great success in 1966, taking pole position nine times and winning seven times from ten race starts. The car was rebuilt for the 1967 season along the lines of the new 1967 Hawk but was damaged in practice at Phoenix. It was then Andretti's #64 backup car at the Indy 500, and then became the regular road racing car, being used by Andretti at Mosport Park in July, Mont-Tremblant in August, where it won both races, Hanford in October, Riverside in November, and finally Las Vegas in March 1968. It was entered at Indy again in 1968, this time as the #57, but did not appear on track. When the second 1968 Hawk was complete, the 1965 car was redundant, and its final appearance in Andretti's hands was at the Pikes Peak Hill Climb at the end of June. It was then sold to aircraft dealer Jack Adams, and it was raced as the #38 by Jim McElreath at four races from August onwards. It was entered by Adams for McElreath at the 1969 Indy 500 and although he qualified it, he retired early due to an engine fire. McElreath then left the Adams team and his replacements focused on the team's 1967 Lola, and the Hawk was not seen again until Indy the following May, when it was one of the team's three entries and had been rebuilt with wedge-shaped bodywork. Rick Muther qualified the car and went on to a most impressive eighth place. The Adams team by now was focused on a turbine car, but the Hawk was raced at Michigan and Ontario later in 1970. It returned yet again to the Indy 500 in 1971 and as the team's turbine car was again unable to get up to speed, Muther climbed into the ancient Hawk, now wearing inelegant bodywork crafted by chief mechanic Howard Millican, and qualified for its fifth Indy 500 in its seventh season of racing. Muther crashed out on this occasion. The car was still in Millican's workshop in February 1972 and it was sold for 1973 to Fred Graves (Hastings, NY) to be used as a Supermodified at Oswego and Lancaster Speedways in northern New York State in 1973, still wearing the 1971 Millican bodywork. Graves crashed while leading at Lancaster on 25 July 1973 and the car was very badly damaged in the ensuing fire. The history of the car is then unknown for 16 years until 1990, when Steve Forristall (Houston, TX) was reported to own its remains. Nearly 25 years later it was acquired by Ray Evernham in 2014 in a very dilapidated condition and with many of its original components long gone. Evernham was aware that a replica that had been built by Tom Brawner, nephew of the late Clint Brawner, which he had created using the template from the long-abandoned Brabham BT12 frame and had completed using all the redundant parts found in his uncle's workshop. Evernham bought this replica and took both the heavily modified ex-Supermodified car and the replica to the Hawk's original mechanic Jim McGee and Steve Panarites of Steve's Auto Fab (Jamestown, IN) for restoration. They carefully restored the original 1965 frame and built up the car using the original parts taken from the replica. It reappeared in early 2016 at the Amelia Island Concours where it took first in class, was driven at the Speedway by Andretti in May 2017, and was at the 2017 Pinehurst Concours and the 2018 Pebble Beach Concours. Sold by Evernham at the Mecum Auction in May 2022 to Ray Skillman (Greenwood, IN).
Driven by: Mario Andretti, Jim McElreath, Wally Dallenbach and Rick Muther. First race: Indianapolis Motor Speedway (R3), 31 May 1965. Total of 35 recorded races.
Ray Skillman (USA) 2022
The 'winningest' Indy car of its era?
Although there can be no indisputable definition of the eras of Indy car racing, one era that can be defined with some clarity is from the rear-engined revolution in the early 1960s to the beginning of mass-produced cars from March, Lola and Reynard in the early 1980s. That just happens to be the era of Indy racing covered by OldRacingCars.com. Bearing in mind the difficulty of identifying the race histories of each individual car, the car that appears to have notched up the most wins in this era is the 1965 Hawk, with ten wins between 1965 and 1967, narrowly beating Al Unser's Lola T150 which scored nine wins between 1968 and 1970. However, this would not have been an all-time record nor even the Dean Van Lines team's own record, as Al Dean and Clint Brawner had also combined to run the 1953 Kuzma-Offy that had taken Bob Sweikert and Jimmy Bryan to 18 wins in the 1950s.
Acknowledgements
Thanks to Gerr Measures, Michael Ferner, 'gbl', Mike Welland and Denis Lupton for their help with this history. What we know about the way the 1965 car was used as a road racer in 1967 and 1968 is the result of 'gbl's forensic examination of photographs. The restoration of the car by McGee was described in Speed Sport in November 2016. Gordon Kirby's book 'Jim McGee: Crew Chief of Champions' gives very useful background to the Brawner-Hawk cars. John Bisci, author of "Lancaster Heroes: A Look Back at the Golden Age of Racing in Western New York" contributed information about Graves' crash in July 1973.
I should also apologise to British readers for the use of the non-OED word 'winningest', and thank Michael Ferner again for working out which car from the front-engined era(s) deserved that title.
If you can add to our understanding of these cars, or have photographs that we can use, please email Allen at allen@oldracingcars.com.
These histories last updated on .