Hawk 1967 Indy history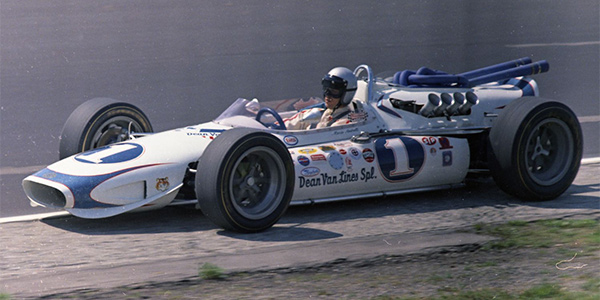 Clint Brawner built an improved Hawk for 1967 and with Mario Andretti in the seat, this was again the most successful rear-engined car of the year with seven race wins.
Mario Andretti had dominated the USAC "trail" in 1965 and 1966 with the original Hawk, even though the English-built Lotuses and Lolas had proved more successful at the Indianapolis 500. For the 1967 season, Brawner fabricated a new Hawk II, with a chassis very similar to the 1965 Hawk I but with slightly improved aerodynamics. Jim McGee continued as Brawner's assistant, and the car continued to use Ford's quad-cam V8 engine.
The new car was due to have its first race at the 1967 Indy 500 but when Andretti damaged the older car at Phoenix in early April, the 1967 car was prepared for him to drive at Trenton two weeks later, where he won. At the Indianapolis 500 the following month he repeated his success of 1966 by taking pole position, but this time was an early retirement from the race. Andretti again had a period of invincibility on paved tracks, winning five successive such races at Indianapolis Raceway Park, Langhorne, Mont-Tremblant and Milwaukee, but AJ Foyt won three dirt track races to take over the championship lead. Despite another win for Andretti and third place at the final race at Riverside, Foyt hung on to win the title by a narrow margin.
Team owner Al Dean was taken ill while watching the 1967 Indy 500 and died four months later. In January 1968, Mario Andretti bought the two existing Hawks plus two new 1968 monocoque Hawks being built by Eddie Kuzma from Al Dean's estate and created a new team, Andretti Racing Enterprises, with financial backing from Ford and Firestone as before plus additional sponsorship from Overseas National Airways, an executive jet company. Brawner and McGee remained in charge of the cars as co-chief mechanics. The new 1968 cars allowed the 1965 Hawk to be sold off and relegated the 1967 Hawk to a backup role. By mid-season, it was clear that the new turbocharged Offy engine had a huge power advantage over the Ford so the 1967 Hawk was fitted with an Offy as an experiment. Andretti drove this car for the first at Trenton in September and won, putting him back within reach of championship leader Bobby Unser. Second and third placed finishes in the next two races saw Andretti lead the title race but when he swapped back to the Ford-powered 1968 Hawk for the last race the V8 let him down, and despite frantic swapping into other cars he fell just 12 points short of Unser's total.
If you can add to our understanding of these cars, or have photographs that we can use, please email Allen at allen@oldracingcars.com.
Chassis
History
Current owner
Built new for 1967 by Al Dean's Dean Racing Enterprises for Mario Andretti to drive as the #1 Dean Van Lines entry. First raced at Trenton in April, where Andretti won. He then used the new car at the Indy 500, where he took pole position again but was an early retirement. He generally used the old 1965 car for road courses in 1967 and the new car for oval tracks, and won four more races using the new car at Indianapolis Raceway Park, Langhorne, Milwaukee in August, and Phoenix in November. The 1967 car was retained for 1968 as a backup to the team's two new monocoque cars and in mid-season it was fitted with a turbo Offy engine, which had a significant power advantage over the Ford. Andretti raced the Hawk-Offy at Trenton, where he won, and at three more races, before it was refitted with the Ford for Jerry Titus to drive at Riverside in November. Andretti's ex-Al Dean equipment was then acquired by STP for 1969, but whether the old 1967 car was included in the deal is unknown. It was next seen in early 1972 when Jim McElreath entered it as a "Brabham-Chevrolet" at Phoenix in March and at Trenton in April. He used it in practice at Trenton but elected not to race, and it was not seen in it again that season. Three years later, McElreath ran it in practice for the USAC race at Trenton in April 1975, again failing to start. In December 1976, McElreath donated the car to the Indianapolis Motor Speedway Museum and it has remained in the collection ever since. It was restored in the early 1990s.
Driven by: Mario Andretti, Larry Dickson, Jerry Titus and Jim McElreath. First race: Trenton Speedway (R2), 23 Apr 1967. Total of 19 recorded races.
Indianapolis Motor Speedway Museum (USA) 2022
Acknowledgements
Thanks to Gerr Measures, Michael Ferner, 'gbl', Mike Welland and Denis Lupton for their help with this history. What we know about the way the Hawk II was used in 1967 and 1968 is the result of 'gbl's forensic examination of photographs. Gordon Kirby's book 'Jim McGee: Crew Chief of Champions' gives very useful background to the Brawner-Hawk cars.
If you can add to our understanding of these cars, or have photographs that we can use, please email Allen at allen@oldracingcars.com.
These histories last updated on .