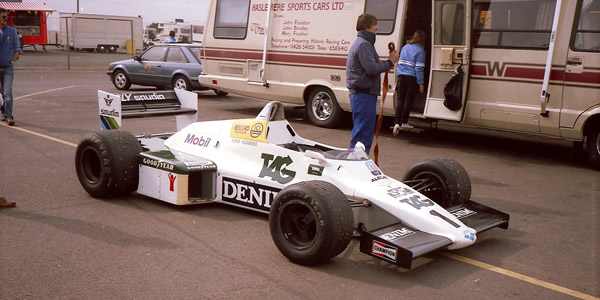 HSCC Historic F1
The Historic Sports Car Club (HSCC) was formed in 1966, catering initially for 1950s and 1960s sports cars. Its scope soon grew from the original "Griffiths Formula" races to include 1960s Formula Junior and then Formula 1 cars with a Pre '65 Grand Prix Car Championship. In the late 1970s and 1980s, the club was under pressure from some prominent members to expand from its 1945-1968 period to include more modern machinery. This led to the HSCC's very successful GT series being expanded in 1982 to include a new 1968-1970 class. John Foulston sponsored the new series through his Atlantic Computer Leasing company and as Foulston also had post-1965 F1 cars in his collection, races for such cars were also considered.
As a number of other senior HSCC members also had newer cars in their collections, the HSCC experimented with a race for "Historic Grand Prix Cars" at Donington Park in 1982. That increased to four races in 1983, and despite the odd blip, the series increased in size and quality through the 1980s. A separate series for cars built between 1966 and 1970 was later added.
By the early 1990s, the main Historic F1 series was sufficiently stable and high-profile to attract official FIA status, and became the Thoroughbred Grand Prix (TGP) championship in 1994. A year later, the HSCC outsourced its management to a separate company, with the HSCC's club manager Steve Lydon moving over to the new organisation to run the series. TGP continued very successfully for nearly 20 years, until finally the competition from Ron Maydon's Masters series became too great, and it was absorbed into Maydon's empire in 2014.