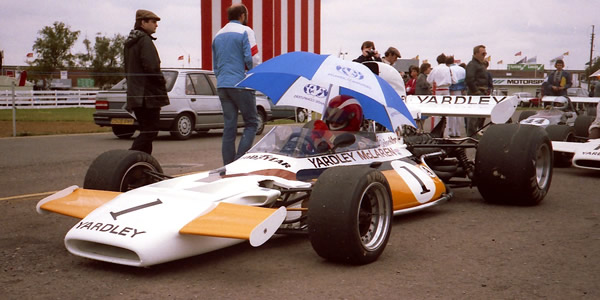 HSCC Historic F1 1982
At the club's Donington Park meeting on 1 August 1982, a race was included for "Historically Interesting F1 cars", to test the level of interest in more modern Formula 1 cars. The entry list included two pre '65 cars in John Narcisi "F1" Brabham BT6, a Formula Junior car which had run in the Springbok F1 series with a 1500cc Ford engine, and John Foulston's Lotus 24. Also present were Foulston's 1971 McLaren M19A, and Mike Littlewood in Ken Moore's 1972 McLaren M19C. Three significantly more modern cars also appeared: a 1978 Tyrrell 008, a 1977 BRM P207 and a 1977 Lotus 78, all newly redundant from the 1978-1980 Aurora British F1 series. John Brindley was driving one of the two Tyrrell 008s that Nick Mason's Ten Tenths had bought from Melchester Racing. As well as this "historic" race, Brindley also raced the car in the British F1 Championship that season.
The races
01 Aug 1982 > A Race for Historic Grand Prix Cars at Donington Park
Although only five cars started and four finished, the HSCC would return to this idea in 1983.