Leda LT22 history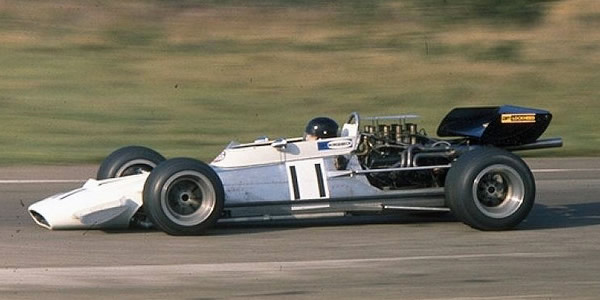 In August 1970, following the abject disaster of the LT20 design, Len Terry produced a modified LT22 design. This replaced the LT20's rear suspension with more normal lower wishbones, top links and radius rods. But it still didn't work.
Apart from the more conventional rear suspension, the LT22, was the same as the LT20, and its awful handling merely proved that there was more to the LT20/22's failure than the experiment with its suspension. Roy Pike was an excellent development driver, and the car was also tested by Graham McRae and Frank Gardner, but nothing would improve it and it was quickly abandoned. Terry designed a smaller, slimmer and lighter LT25 for 1971 but this continued to dent Terry's previously excellent reputation as a designer.
Please email Allen at allen@oldracingcars.com if you can add anything.
Chassis
History
Current owner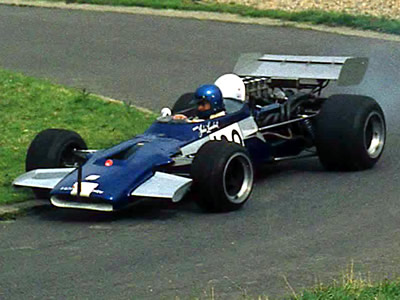 Revised car built in time for Snetterton 31 Aug 1970. Qualified fourth and raced by Pike to sixth at Snetterton, and sixth again at Hockenheim two weeks later, but crashed in practice for Oulton Park in 19 September. Rebuilt but not ready in time for the final race of season. Subsequently sold to David Lazenby and renamed "Hawke DL7" as a planned F5000 project for 1971. The project was abandoned and the Leda "sold to a sprinter".
---
To Allan Mountain 1972 and fitted with the 289ci Ford engine from Mountain's old Cooper-Cobra T66. Raced by John Lambert (York, UK): first raced in Croft libre 19 Mar 1972 (retired), took fourth in a Top 10 run-off at the Wharfedale Trophy hill climb at Castle Howard in late March 1972; retired with "death rattle from the old Ford engine" at Croft on Easter Monday 3 Apr 1972; Ford engine rebuilt with ex-Bob Miller bits and took third in class at Harewood May 1972 but dropped a valve in practice at Croft at the end of that month. Later fitted with an Alan Smith/Bartz Chevrolet V8 engine for sprints and libre racing in late 1972; and in 1973, also winning BTD at the new Norfolk Park (Sheffield) hill climb that season. The car was then described as a "LT27" at Scammonden in September 1974; second in class at Cadwell Park hill climb in August 1975 and again as a Leda "LT27" in hillclimbs in 1976. Subsequent history unknown.
Driven by: Roy Pike. First race: Snetterton (UK R17), 31 Aug 1970. Total of 2 recorded races.
Unknown
In a letter to Phil Henny dated 29 Dec 1971, Len Terry said that Malaya Garage still had the original LT22 ('that was going to be the Hawke') plus two complete LT22 tubs. The existence of these two extra tubs do confuse matters as Allan Mountain's car, when it first appeared, was thought to be a car only previously used for testing. Maybe the car rebuilt after Oulton Park was regarded as a new car, in which case it would fit this description. The fate of the two tubs is unknown.
On Whit Sunday 28 May 1972, the Cuff brothers (Frome, Somerset) drove a Leda F5000 at the Tregrehan hill climb, Stephen winning with Chris just 0.3s behind him. The report implies Stephen had driven the car before. Two "new" 1971 Ledas were then advertised by Stephen Cuff (Nunney, Somerset) in October 1972. Note that Lambert's LT22 was already racing before the Cuffs' car appeared and the surviving LT25 was still running at that time in F5000. Raced by Stephen Cuff at Wiscombe Park 13 May 1973. In March 1973, while Lambert and the Cuff brothers were still running their respective Ledas, a new, unraced, and 90% completed Leda LT22 was advertised <!—AS 22 Mar 1973 p66 -->from Wickford, Essex, a long way from either Lambert or the Cuffs. This might be the Leda that was "cannibalised (corners, drivetrain, etc) to make John Turner's fabulous Skoda-Chevrolet Super Saloon", which debuted at Mallory Park in April 1974 (source: Marcus Pye). Turner was from Stalbridge in Dorset.
In October 1980, Keith Cox (Halesowen, West Midlands) advertised his LT25, noting that he also had a monocoque and suspension parts for a LT22. In January 1984, Jonathon Bradburn had the LT25 and a 'kit' of a LT22. He sold all this to Lawrence Sufryn who kept the LT25 but sold the LT22 'kit' via Alan Baillie to dealer Roger Hurst in 1987. It then went from Hurst to Graham Williams (Stratford-on-Avon, UK) 1989, then to Barry and Richard Line, and then to Graham Galliers (Shrewsbury, UK) in Sepember 1999. Galliers still had it in March 2000 but nothing more is known of it after this. Galliers died in October 2013.
These histories last updated on .