Leda LT25 car-by-car histories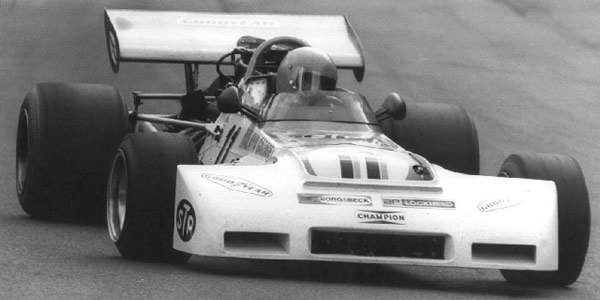 Despite the disastrous LT20 design of 1970, Malaya Garages were willing to stick with Len Terry for 1971 and his new LT25 design proved much more competitive.
Trevor Taylor had won five F5000 races for Surtees over the preceding seasons for Team Surtees, so his move to the Malaya Garages team was something of a coup. Despite failing to start at the opening race after a clutch failure, Taylor started the season well, qualifying fourth at Snetterton in April and third at Mondello Park in May, equalling the pole position time. When the second car arrived, in June, Taylor finished a fine second at Monza and later took fourth places at Thruxton in August and Hockenheim in September. The season was a definite step forward and Malaya Garages planned to run two cars for 1972. Graham McRae joined the team and laid out the design of the LT27, which was detailed and completed by Terry. These cars were later renamed McRae GM1.
Please email Allen at allen@oldracingcars.com if you can add anything.
Chassis
History
Current owner
Malaya Garages for Trevor Taylor UK 1971: raced up to R7 and then again from R13 to end of season. Raced by Steve Matchett in 1972 but crashed in practice at his debut race, R6 Silverstone 22 Apr 1972, and not seen again. Next seen when Chris Shaw (Lower Beeding, West Sussex?) appeared at R6 Oulton in 1973 with 001 but DNS. To Bob Ellice who appeared at R13 Brands but DNQ. The car is not seen in 1974, 1975 or 1976. Godfrey Crompton ran a LT25 in hill climbs and sprints in 1977: British Sprint Championship 1977 (5th at Brighton 10 Sep; 1st at Weston 1 Oct); crashed at the 1978 Loton test day. It passed to Keith Cox (Halesowen) who rebuilt it with a wide, flat nose and McLaren M23-style sidepods. He ran the car in hillclimbs and sprints later in 1978. During 1980 and 1981, he scored points in the British Sprint Championship (9th at Oulton Park 12 Apr 1980; 7th at Curborough 27 Apr 1980; 10th at Curborough 1 Jun 1980; 6th at Blackpool 28 Jun 1981 and 10th at Lydden Hill 16 Aug 1981.
Advertised by Jon Bradburn (Wolverhampton) in January 1984 and later sold to Lawrence Sufryn (then Switzerland, now Tagsdorf, France) [date unknown but before 1992]. Sufryn had the car restored by Alan Baillie some time before 1992. Sold to Ian Jacobs (Hornchurch) February 2006 and raced in HSCC Derek Bell Trophy events. To Stefano Rosina (Italy) in March 2015 and repainted in original livery for the 2015 HSCC season. Sold to Rasim S. Tugberk (Fairfax, VA) in October 2016, and shipped to the US. Raced by Tugberk in the SVRA US Vintage Grand Prix at Watkins Glen in September 2021.
Driven by: Trevor Taylor, Graham McRae, Steve Matchett, Chris Shaw, Bob Ellice, Godfrey Crompton and Keith Cox. First race: Snetterton (UK R2), 9 Apr 1971. Total of 25 recorded races.
Rasim Tugberk (USA) 2021
Entered by Malaya Garages for Trevor Taylor in the 1971 European F5000 series. New at Monza in June 1971, where Trevor Taylor finished second. Used at the next four races but then heavily damaged in an accident at Oulton Park in October and written off.
Driven by: Trevor Taylor. First race: Monza (UK R8), 20 Jun 1971. Total of 5 recorded races.
Written off 1971
In addition to the above, unknown Leda LT25s were driven by Stephen Cuff and Chris Cuff.
These histories last updated on .