Ligier JS5 car-by-car histories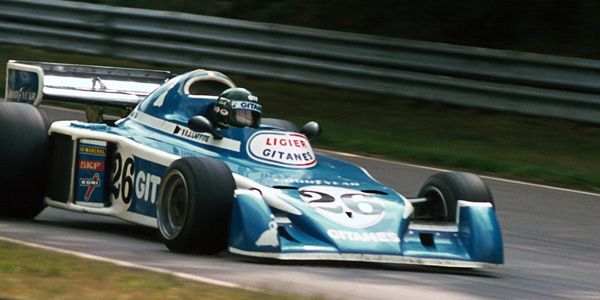 In what looked very much like a continuation of the Matra F1 project under a new name, the Ligier JS5 was raced by Jacques Laffite in 1976, using Matra V12 engines.
The Ligier F1 project grew out of a 1974 plan by SEITA, the French state-owned tobacco company, to finance a DFV-powered F1 car for their favoured driver Jean-Pierre Beltoise using its Gitanes cigarette brand. With Matra's parent company, Chrysler France, having withdrawn from motor racing, SEITA struck a deal with sports car maker Ligier. In March 1975, Matra team manager Gerard Ducarouge moved across to Ligier to oversee the project, and convinced Guy Ligier to use Matra engines. Ducarouge was soon followed across by Matra's chief designer Paul Carillo and engineer Michel Beaujon. The first car was ready for testing in November 1975, when Beltoise discovered that he had competition for the drive from the new French F2 champion Jacques Laffite. Laffite proved much the quicker in testing, and secured the drive.
The Matra V12 was impressively powerful, and Laffite achieved early success for the team with a strong drive to fourth place at the Long Beach GP. He was right on the pace in Belgium, qualifying sixth and finishing third behind the two Ferraris, and also ran strongly in Sweden, finishing fourth. As the Ligier continued to improve, Laffite qualified fifth in Austria, where he had a fabulous drive to second place. Laffite took Ligier's first pole position at Monza, and in a very close race finished a fine third. This lifted Ligier to fourth place in the Constructors Cup, and Laffite to sixth in the Drivers Championship, although both would slip a place before the end of the season.
Car
Total
Race
Starts
Grand
Prix
Starts
Grand
Prix
Wins
First Race
Present Location
11
11
Brazilian Grand Prix
(25 Jan 1976)
Rebuilt as JS7/01
5
5
German Grand Prix
(1 Aug 1976)
Rebuilt as JS7/02
For 1977, Ligier built new JS7s and it appears that the two JS5s were consumed in their construction. Many years later, when a Ligier JS5 was displayed in the museum at the Magny-Cours circuit, it was found to be JS5 bodywork mounted on a chassis that had been built during 1975 as a bodywork buck. The information provided by the museum is quite clear on this, despite rumours of a JS5 having existed in Italy in the mid-1990s.
Please contact Allen Brown (allen@oldracingcars.com) if you can add anything to our understanding of these cars.
These histories last updated on .