Lotus 34 car-by-car histories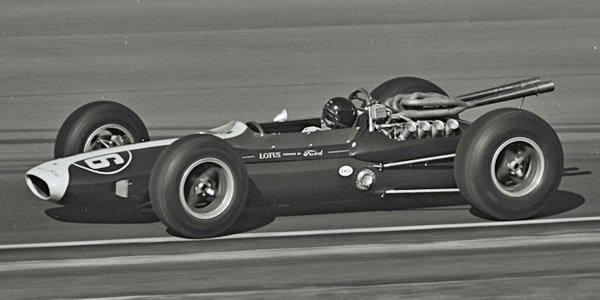 Lotus built three revised cars for the 1964 Indianapolis 500, and Jim Clark took pole position and led until a tyre collapsed. Parnelli Jones then won easily at Milwaukee in August when he drove Clark's car, and won again at Trenton in the sister car, marking the end of the roadster era.
After the Lotus 29's impressive debut in 1963, Ford and Lotus quickly agreed on a second attempt at the Indy 500, with Jim Clark and Dan Gurney again as drivers. The chassis was clearly superior to its rivals so while designer Len Terry tidied up the design, most of the development effort went into the production of a significantly more powerful Ford engine to replace the pushrod unit used in the Lotus 29s. The fuel-injected quad-cam V8 initially developed 400 bhp on gasoline - the Offy producing slightly more than that on methanol - but its head design was a rough copy of the Offy, and had valves and ports far larger than ideal. The main changes to the chassis of the Lotus 34 were to accommodate the new engine, but at the rear the Colotti gearbox of the 29 was replaced by a ZF 2DS20 two-speed 'box, with a casing designed by Terry, and Richard Parker designed new rear suspension, offset as before. Six rubber fuel tanks provided by FPT in Portsmouth held a total of 42 Imperial gallons (just over 50 US gallons).
The three cars were completed and air freighted to the US at the end of April, but with Clark and Gurney busy at the Monaco GP, the early running in practice at Indy was made by Bobby Marshman, driving a Lotus 29 that Ford had given to Lindsey Hopkins. Clark was quickly up to speed and took pole with a new record speed of 158.828 mph, 7 mph over the previous record. Marshman put Hopkins' Lotus 29 into second place, with Gurney on the second row. Marshman led until his car bottomed and broke an oil plug, and then Clark led for 14 laps until a Dunlop tyre threw a tread, wrecking the rear suspension. Colin Chapman had chosen the soft compound for qualifying, but rules dictated the same tyres had to be used for the race, where their wear rates were too high. Gurney's car was withdrawn from the race before further disaster ensued. AJ Foyt won in an old roadster, and made disparaging comments about both Ford and the rear-engined 'funny cars' he had just beaten. In Ford's view it was a complete debacle, but Lotus were given the chance to redeem themselves at the Tony Bettenhausen 200 at Milwaukee in August and at Trenton in September.
The Milwaukee race clashed with the Austrian Grand Prix, so both Clark and Gurney wriggled out. Walt Hansgen took over Gurney's car, but Ford were not impressed by the substitution so secured the signature of Parnelli Jones to drive the other car. Jones, who had beaten Clark at the 1963 Indy 500 in contentious circumstances, had been a vocal critic of rear-engined cars, but in his first test in a Lotus, at Trenton a week before the Milwaukee race, he became the first man to beat the 32-second mark on any mile track. As he put it after the test, "it's simply a better car than the roadster". Hansgen crashed the Gurney car in the same test at Trenton and then crashed it again at Milwaukee on the Thursday, this time more seriously. With that car and driver out of action, Ford turned to Foyt, the clear leader in the USAC championship, and he took over the spare Lotus 34 for Milwaukee. He tried it for two hours on the Friday and decided to race it. Foyt's car only lasted a couple of laps, but Jones started from pole position, led all but seven laps of the race, and won by nearly 2½ laps. Clark was back for Trenton in September and took over his green Indy 500 car, but Jones swapped over to the white ex-Foyt spare car and won from pole position again.
The Lotuses were now dominant, a point the Lotus 38 would reinforce in 1965 when 27 of the 33 qualifiers for the Indy 500 would be rear-engined cars. Following similarly successful British "invasions" in pop music, fashion and film between 1963 and 1965, British racing cars would have a major influence on American motor racing for many years to come. It was not one-way traffic however, as USAC's higher safety standards flowed in the other direction.
If you can add to our understanding of these cars, or have photographs that we can use, please email Allen at allen@oldracingcars.com.
Chassis
History
Current owner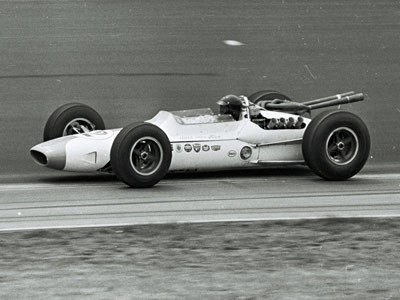 New for Dan Gurney to drive at the 1964 Indianapolis 500 as the #12 entry. Gurney qualified sixth and ran as high as third during the race but his car had to be withdrawn due to concerns about its tyres. Next outing for the car was at Milwaukee on 23 August but both Gurney and teammate Jim Clark were committed to the Austrian Grand Prix, so to drive Gurney's car Lotus recruited sports car racer Walt Hansgen, who had impressed in the Indy 500 driving one of the MG Liquid Suspension Huffaker Indy cars. He had an introductory test in Gurney's Lotus 34 at Trenton on the Monday before the Milwaukee race, but crashed the car. It was rebuilt in time for the start of practice on the Thursday, but Hansgen crashed again, this time hitting the wall after the throttle stuck and extensively damaging the Lotus. Hansgen was taken to hospital with concussion and burns to his right arm. The car was returned to Lotus at Cheshunt where it was decided it was too badly damaged to repair. It disappeared from the record when its salvageable parts were shipped to Ford at Dearborn.
Driven by: Dan Gurney and Walt Hansgen. First race: Indianapolis Motor Speedway (R3), 30 May 1964. Only one recorded race.
Destroyed 1964
New for the 1964 Indianapolis 500 as the #36 backup car and used in practice by Jim Clark. Then assigned to AJ Foyt when the cars were next seen at Milwaukee in August. Foyt qualified third but retired with transmission problems. Then for Parnelli Jones to race at Trenton where the car was entered as #98, the usual number of Jones' backer J.C. "Aggie" Agajanian. Jones had won from pole in the other Lotus 34 at Milwaukee five weeks earlier, and repeated that performance at Trenton. The car was sold by Lotus to Sheraton-Thompson for Foyt to race in 1965 and was one of the fastest cars of the season, qualifying on pole position seven times and winning three races, but ultimately losing the championship to the new Brabham-based car of Mario Andretti. Used once by the Foyt team early in 1966 but then retained by Foyt until 1992 when sold at auction to Patrick S. Ryan (Montgomery, Alabama, later Fletcher, North Carolina) who displayed it in his Automobile Museum of the Southeast (Montgomery, Alabama) until 1997. The car was then retained by Ryan as part of his Prisma Collection in Asheville, North Carolina. Walter Goodwin started a full restoration of the car in 2016, and in May 2017 it was on display at the Indianapolis Motor Speedway Museum as part of a Foyt exhibition. It was sold at Bonham's Quail Lodge Auction in August 2017 for $1.15M. After the sale, the car remained on display at the Indy Museum in early 2018, but had moved to the World of Speed Museum (Wilsonville, OR) by the following year, and was exhibited there until the museum closed in March 2020. On display at Monterey in August 2021.
Driven by: Jim Clark, AJ Foyt, Parnelli Jones and George Snider. First race: Milwaukee Mile (R8), 23 Aug 1964. Total of 20 recorded races.
United States 2021
New for Jim Clark at the 1964 Indianapolis 500 as his #6 car. Clark qualified on pole position but retired early with broken suspension. Next used at the August Milwaukee but Clark was not available so a deal was done with 1963 Indy 500 winner Parnelli Jones and his car owner JC Agajanian for Jones to drive it as the #98 entry. Jones qualified on pole and won the race. It was driven at Trenton in September by Clark and then at Phoenix in November by Jones. The car was then sold to Agajanian for Jones to race in 1965, and extensively rebuilt by Agajanian's veteran chief mechanic Johnny Pouelsen and "body man" Eddie Kuzma, who reported that they had replaced every inch of English metal with stronger and heavier American metal. Its weight increased by 200 lbs to 1250 lbs. Despite this rebuild, a rear wheel came off during practice, which was still blamed on the "funny car". Jones finished second in the Indy 500 in the Lotus, and won at Milwaukee a week later. After being retained unused by Agajanian during 1966, the car became part of Parnelli Jones' new team for 1967 when it was raced a few times as a backup car but was heavily damaged in the multi-car accident at Langhorne in July in which driver Arnie Knepper was badly burnt. The car was retained in boxes for many years at Vel's Parnelli Racing until it was restored by Phil Reilly & Co (Corte Madera, CA) in 1998. Then retained as part of the Vel's Parnelli collection in Torrance but also on display at other museums on occasion, such as the Petersen Automotive Museum (Los Angeles, CA) in 2006. Sold with the rest of the VPJ collection to the Indianapolis Motor Speedway Museum in May 2012 and the Lotus was on the podium in the entrance of the museum in 2012 and 2013. The Lotus 34 was the centrepiece of the museum during the 2013 running of the Indy 500. On display in the museum from 2012 to 2016. It then appeared at the Art of the Concours car show in Kansas City in June 2017. On display in the Barber Vintage Motorsports Museum in June 2019. Displayed with other Indy Lotuses at the Speedway in May 2020, and back in the museum in August 2021. Part of the museum's "Invasion" exhibition in April 2022.
Driven by: Jim Clark, Parnelli Jones, George Snider, Masten Gregory and Arnie Knepper. First race: Indianapolis Motor Speedway (R3), 30 May 1964. Total of 10 recorded races.
Indianapolis Motor Speedway Museum (USA) 2022
The Lotus 34s in 1965
Jones and Foyt grabbed the chance to buy the two remaining Lotus 34s for 1965. Foyt took pole position at the opening two races of the season but retired from both races. He and Clark, the Scot in the new Lotus 38, were fastest during practice at the Indy 500 and Clark broke the 160 mph barrier in qualifying, only for Foyt to top that with a 161.233 mph pole position. Jones started from the second row with only Mario Andretti's Brabham-based Hawk getting among the Lotuses. Clark led nearly all the way to record Lotus's first Indy 500 win, with Jones in second place and Andretti third, as Foyt dropped out with gearbox trouble. Foyt took pole at Milwaukee a week later as well, but again retired, leaving Jones to reinforce the Lotuses superiority with another win. Foyt did win eventually, twice at Trenton and once at Phoenix, but his reliability problems were such that despite his seven pole positions the title went to Andretti and the Hawk.
After serving as backup cars in 1966 and 1967, both surviving cars were retained in the collections of Jones and Foyt. Jones' collection was eventually sold to the Indianapolis Motor Speedway Museum and Foyt's 34 was sold at auction in 1992 to Pat Ryan.
Acknowledgements
Much of the story of the Lotus 34 comes from Andrew Ferguson's book 'Team Lotus, The Indianapolis Years' (Haynes Publishing, 1996), which gives Ferguson's fascinating personal account of Lotus's time at the Indy 500 from 1963 to 1969. Thanks also to Pat Ryan, the longtime owner of 34/2, and to Lotus historian Michael Oliver.
These histories last updated on .