Lotus 59 (Formula B 1969) car-by-car histories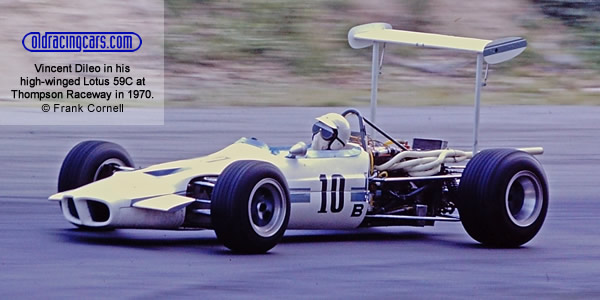 Lotus built the Lotus 59 for Formula 3 in 1969, and the 59B for Formula 2, but during the year some cars were also sold to the US in Formula B configuration.
Lotus had been very successful in Formula B with the Lotus 41C, and Fred Stevenson's Lotus/East Inc in Salisbury, Connecticut soon took orders for Formula B versions of the new Lotus 59. The first to arrive went to Malcolm Starr, previously a Brabham customer, and he raced it in the SCCA Continental Championship from June onwards. Stevenson's own car and that of Jacques Couture made their debuts in July, followed by a fourth car for Don Merriman which appeared at Lime Rock at the start of August. Stevenson was immediately competitive, finishing second at Road America in July, then winning the SCCA National at Lime Rock a week later and the Pro race at the same circuit the next weekend. Couture also had several victories, but these were in the Quebec Regional series, where he faced limited opposition.
The official designation of this model of Lotus is unclear. Malcolm Starr's car was only ever called a 59. Fred Stevenson's car was referred to as a 59B, but Autosport referred to it being "one of three newly delivered 59Cs", and also when he took pole at Mosport said it was in a "Lotus 59C - the Formula B version of the Lotus 59B". As the Team Lotus archive goes, 59C was not the official designation either. The other car included here, as it had a 'FB' prefix to its chassis number, is chassis FB-14 which was produced for Leo Geoghegan for use in Australian Gold Star events. This car was referred to both as a 59 and as a 59B in Australia. A study of race results in North America suggests that the number of Lotus 59s that raced there is significantly lower than the number of 59s that had FB prefixes in their chassis numbers, so the prefix may not be critical. As research continues into both the Formula B cars and the Formula 3 cars, the picture will become clearer.
Lotus Components built a similar model for 1970 Formula B, also simply called Lotus 59.
If you can add to our understanding of these cars, or have photographs that we can use, please email Allen at allen@oldracingcars.com.
Chassis
History
Current owner
Unidentified Formula B Lotus 59s in 1969
The only Lotus 59s known to have raced in the US in 1969 were those of Malcolm Starr, Fred Stevenson, Jacques Couture and Don Merriman.
It would be an understatement to say that Lotus records for the Lotus 59 range lack clarity. They start well, with chassis 59-FB-9 being shown going to Lotus East and Fred Stevenson, and the next FB car in the list is 59-FB-12 to Duchess Auto. Fred Stevenson advised in February 2013 that chassis 59-FB-12 was his car and that 59-FB-9 went to Starr. The next Formula B cars are shown as 59-FB-13 and 59-FB-15, but the buyers or agents are not shown. We now know that 59-FB-15 went to Vincent Dileo and John Sirmons, so it would seem likely that 59-FB-13 was the car of either Jacques Couture or Don Merriman. After those two, it is unclear whether chassis 18 was FB or not. The three F2 cars appear next in the list but they were clearly numbered out of sequence. Following them is 59-FB-23 going to Bill Brack, presumably as an agent, and Joe Griffin has made a strong argument in favour of this being Don Merriman's car. If he's right, then it follows that 59-FB-13 was probably Couture's.
Next in the list are 59-FB-24 and 59-FB-27, both with blank records, which are likely to have been late-season builds. Study of the records of Formula 3 Lotus 59s during the same period show that the cars were not sold in chassis number order, or anything even close to it, so there is a limit to what we can deduce.
In 1970, Lotus offered a revised 59A in Formula 3, which was described as having Lotus 69 bodywork and a "Rindt nose", and it appears the same specification was made available in the US for Formula B; these cars were entered in the US as 69Bs. Their chassis numbering was still in the 59 sequence, including known cars F2/XB-40, F2/XB-41 and F2/XB-42. It is possible '32 was also used for a US import, making the fate of '24 and '27 even harder to determine.
Chassis
History
Current owner
Jacques Couture (Laval, Montréal, Quebec, Canada) raced a Lotus 59 in Formula B in 1969, appearing in the Quebec Region's Molson Championship events in Canada, and in two SCCA Pro events at Lime Rock. He won four Molson Championship races, finishing second in the championship. In 1970, Couture raced one of the pair of new Lotuses entered by the new Jim Russell Racing Driver School which had just opened at Mont Tremblant, but may have used his 1969 car in one or two races at the start of the year. Subsequent history unknown.
Driven by: Jacques Couture. First race: Mont-Tremblant (R3), 20 Jul 1969. Total of 11 recorded races.
Unknown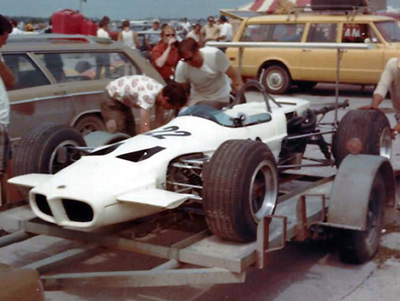 Donald G. Merriman (Willowdale, Ontario, Canada) raced a Lotus 59 (or 59C) in Formula B in 1969, appearing in both SCCA and Canadian races. He was second at the Grand Prix de Trois-Rivières in September, and picked up several other good placings. He returned with the car in 1970, but his last known appearance was at Westwood at the end of May. Merriman told later owner Joe Griffin that he sold the car to Jack (Jackie) Burnett, so this would be the car Burnett drove at Trois-Rivières in August 1971. It was then in Brian Stewart's shop for a while, showing signs of race damage, perhaps from Trois-Rivières, and was then bought by Tommy Meecham (Oshawa, Ontario), who converted the car some time around 1973 to Formula Ford specification, and fitted Lotus 69 bodywork. He raced the car in the Bulova Formula Ford Series in Canada in 1974 and 1975. Meecham later crashed the car at Shannonville, and it was still in rough condition when bought from him by Ron Fellows in 1977. He had the car rebuilt by Wayne Pinney, of ASH Engineering, who designed his own bodywork for the car and named it ASH 001. Fellows and Pinney's customer Randy Packham raced the car from 1978 to 1980, until Packham crashed the car heavily at Shannonville, and Pinney rebuilt it again as the ASH 002. Fellows started to rebuilt it again, but this was not completed and the car hung in the rafters of Derek Harkema's workshoip in Toronto from 1981 to 1986. It is then unknown until John Lindsey acquired it in the 1990s, and he retained it until his death in 2015. Lindsey's widow sold the part-restored car to Joe Griffin in 2018. Still with Griffin in November 2021, when he was restoring the car.
Driven by: Don Merriman, Jackie Burnett and Tommy Meecham. First race: Mosport Park, 27 Jul 1969. Total of 14 recorded races.
Joe Griffin 2021
Formula B Lotus 59s in 1970
Of the four Lotus 59s that raced in the US in 1969, Malcolm Starr's went to William Woodbury of Springfield, Virginia; Fred Stevenson's went to Bob Hebert of Monterey, Massachusetts; Jacques Couture's may have been retained briefly until his "69B" arrived; and Don Merriman's was also retained, at least for the start of the season. Vincent Dileo acquired FB-15 for 1970 and Pierre Lambert acquired an unidentified car. Both of these had 1969 "twin-nostril" bodywork so are likely to be the 1969 late-season cars. Photographs show Lambert's being delivered new via Montréal's Dorval airport. The chassis number of his car is likely to be from the group FB-18, FB-24, FB-27 and FB-32, if Jacques Couture's and Don Merriman's are FB-13 and FB-23.
These were joined for 1970 by three new 1970 Formula B Lotus 59s, all with Lotus 69 bodywork. Distinguishing the 1969 cars from the 1970s cars after that is particularly difficult.
Chassis
History
Current owner
Pierre Lambert (St-Bruno, Quebec, Canada) acquired a new Lotus 59 for the 1970 season, which was delivered to Montréal's Dorval airport via BOAC cargo. The car had the original Lotus 59 "twin-nostril" bodywork, suggesting it was one of the late-1969 cars. Lambert raced it in Molson Championship races at Mont-Tremblant and Trois-Rivières during 1970, but crashed heavily at Mont-Tremblant in late September, and the car was described as "a total loss". Lambert reappeared in 1971 with an unidentified Formula Ford Lotus, which might have been the 59 rebuilt. Nothing more known.
Driven by: Pierre Lambert. First race: Mont-Tremblant (R2), 28 Jun 1970. Total of 3 recorded races.
Unknown
Formula B Lotus 59s from 1971 onwards
It would appear that six Formula B specification Lotus 59s went to North America: four in 1969 for Malcolm Starr, Fred Stevenson, Jacques Couture and Don Merriman, and then two more in 1970 for Vincent Dileo and Pierre Lambert.
Four of these now have fully established history through at least the next 20 years: Malcolm Starr's FB-9 can be tracked to the present day, Fred Stevenson's FB-12 to 1995 at least, Vincent Dileo's FB-15 to 1990 at least; and Don Merriman's to the present day. That leaves only Jacques Couture's car which by this time had not been seen since early 1970, and Pierre Lambert's which had been wrecked in September 1970, to explain any unresolved Lotus 59s that appeared through the 1970s and 1980s. Note that any of these 1969 Lotus 59s could have been updated with 69 bodywork and would then have become intermingled with the Lotus 69-bodied Formula B cars that were sold for 1970 (see the 1970 FB Lotus 59s) and the 1971 FB Lotus 69s. Among these unresolved cars are the "69" of Pat Phalan (Wilmington, DE) between 1974 and 1976, and the Lotus 59/69 raced by Victor Larose in Canada in 1975. Also potentially relevant to this picture is the unidentified Formula B Lotus raced by New York Region's Robert Nevins at Lime Rock in August 1973.
Lotus 59s and Formula Ford
It has been suggested that these 59s were ideal for conversion to Formula Ford, and several of them may have ended up in that category, but Simon Hadfield has pointed out that this may underestimate the number of changes that would have been required. As well as the engine and probably the gearbox, the uprights, hubs, brakes and wheels would all have needed to be changed.
Lotus 69s, whether they were built as FF 69s or were converted 59s, were very popular in Canadian Formula Ford. Louise Roberge (Cap Rouge, Quebec), with the help of mechanic and business partner Louis Germain, raced a new Formula Ford Lotus 69 in the Molson series in 1970. Roberge also raced her 69 in the 1971 Molson Eastern Canadian Championship, as did Pierre Lambert (St-Bruno, Quebec) in his own car and Maurice Beauregard (Montréal, Quebec), R. Gould, E. Samson and S. Edgrin in Jim Russell entered Lotus 69s. Gilles Léger and Cliff Dawson were also shown as DNSs in Lotus 69s that season. In 1972, Lambert, Beauregard, Richard Doran, Victor Larose and Serge Fournier are all recorded racing in the opening round of the Championnat de Formule Ford du Quebec. In 1973, Larose continued to race his Lotus 69 in Formula Ford, and was joined at the Trois-Rivieres Formula Ford race in September by Dawson, Fournier, Jacques Lagourgue, Daniel Campagna, David Houston, Peter Ananny and Tom Brown. Peter Dragffy (spelt Dradffy in results) had a FF Lotus 69 as late as 1976.
Acknowledgements
Thanks to Fred Stevenson for confirming that he had chassis FB-12 and that Malcolm Starr had chassis FB-9; and to Samuel Brown for advising that Dileo and Sirmons shared their Lola T240 in 1971, which gave the clue that their Lotus 59C was also shared the year before, and to Pearce Raeder for then confirming that his late father's car had been that Dileo/Sirmons car and for his further help on this model. Thanks also to Chris Townsend for his usual meticulous research into these cars; Bryan Miller and David McKinney for the history of the Leo Geoghegan car; Lotus historian Michael Oliver; Clive Chapman of Classic Team Lotus; Jerry Bensinger for the later history of FB-12; Joe Griffin for his dedicated research into these cars; regular collaborators Ted Walker, Simon Hadfield, Philippe Demeyer; and owners Chuck Sieber, Peter Studer and Clay Lescalleet.
These histories last updated on .