Lotus 59 (Formula B 1970) car-by-car histories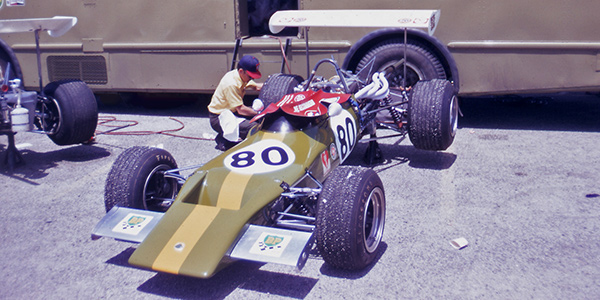 Lotus built three cars for Formula B in 1970, for Canadian customers Craig Hill, Jacques Couture and David McConnell.
Towards the end of Lotus's 59 records, three cars appear that are indicated as having been produced for Formula B in 1970. These were chassis 59-F2/XB-40 sold to dealer Lotus East, chassis 59-F2/XB-41 sold to Bill Brack as a Lotus agent, and chassis 59-F2/XB-42 sold to the Jim Russell Racing Driver School (JRRDS). Jacques Couture was chief instructor at Russell's new school at Mont Tremblant, so it makes sense that he was the driver of that car. Bill Brack and Craig Hill were teammates in a Castrol-funded team for 1970, with Brack in a Formula A Lotus 70, and Hill in the Lotus 59. Process of elimination would suggest that the third car, Lotus East's chassis 59-F2/XB-40, was the car driven by Dave McConnell. McConnell was one of the partners with Couture and general manager Lucien Lecompte in the new school, which opened on 18 May using six Formula Ford Lotuses.
The parent arm of the Jim Russell school in England had run a Lotus 59 in F3 for Emerson Fittipaldi in 1969, and in 1970 were already running a pair of 59s for Carlos Pace and Wilson Fittipaldi in early-season F3 races. In between Craig Hill's Lotus 59 making its debut in Canada on 10 May and the debut of Couture's car at Laguna Seca on 14 June, major developments had taken place to the F3 cars in England, where the two works F3 Lotus 59s had appeared at Thruxton on 24 May in bodywork derived from the new Formula 2 Lotus 69. Within a couple of weeks, the two JRRDS F3 Lotus 59s had acquired the same bodywork, and when the Canadian arm of the team unloaded their new Formula B cars from the team's impressive transporter at Laguna Seca on 14 June, they also sported Lotus 69 bodywork. The JRRDS FB cars were generally entered in 1970 as 69Bs, the 'B' indicating a Formula B version of the Lotus 69, but they had the same spaceframe chassis as Craig Hill's car, and it makes more sense to refer to them as 59/69s. The Hill car had 69 bodywork by 1971, but exactly when it acquired it is unclear.
By the time the three 1970 Formula B cars had been through a couple of owners, it would not be easy to distinguish them from earlier 1969 Lotus 59s or later 1971 Lotus 69s. The popularity of Lotus 59 and Lotus 69 Formula Fords in Canada adds to the difficulty.
If you can add to our understanding of these cars, or have photographs that we can use, please email Allen at allen@oldracingcars.com.
Chassis
History
Current owner
New to David McConnell (Montréal, Quebec, Canada) and raced in the SCCA Continental Championship for Formula B series and the Quebec Region Molson Championship during 1970. The car was entered by Jim Russell RDS (Canada) Ltd, and generally wore #86. McConnell then took the car out to New Zealand for the start of the 1971 Tasman Cup, where the car was described as a Lotus 69. After a run of poor results in New Zealand, he fitted an 1800cc Cosworth FVC engine for the Australian rounds, but failed to qualify for the Warwick Farm race. Local Lotus agent Leo Geoghegan tried the car in practice at that event. After one more race, McConnell abandoned the series. The subsequent history of the Lotus 59/69 is unknown.
Driven by: David McConnell and Leo Geoghegan. First race: Mont-Tremblant (R2), 28 Jun 1970. Total of 17 recorded races.
Unknown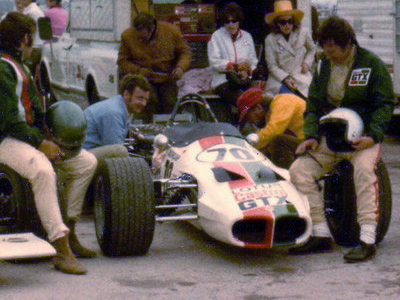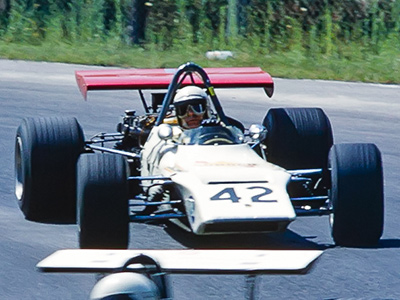 New to Craig Hill (Mississauga, Ontario) and run in the Canadian Road Racing Championship and the SCCA Continental Championship for Formula B, entered by Bill Brack Racing Enterprises. Hill ran in a team with Brack's Formula 5000 Lotus 70, with both cars in marching Castrol GTX livery. Unlike the two JRDS cars, which were entered as Lotus 69Bs, Hill's car first raced in Lotus 59 bodywork and was generally billed through the season as the "Castrol GTX Lotus 59". For 1971, the car was sold to Max Nerrière (Toronto, Ontario), who raced it in the Players Canadian Formula B series. Retained by Nerrière for 1972 and for 1973. Subsequent history unknown.
Driven by: Craig Hill and Max Nerrière. First race: Harewood Acres (R1), 10 May 1970. Total of 29 recorded races.
Unknown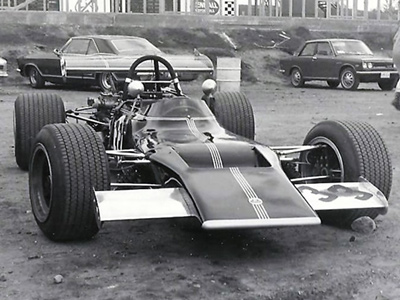 New to Jacques Couture (Laval, Montréal, Quebec) and raced in the SCCA Continental Championship for Formula B series and the Quebec Region Molson Championship during 1970. The car was entered by Jim Russell RDS (Canada) Ltd, and generally wore #86. Sold to Eligio Siconolfi (Montréal, Quebec) for 1971 and raced in the Players Canadian Formula B series and the Quebec Region Molson series. The car was acquired from Siconolfi by Mauro Lanaro (Montréal, Quebec) who took some time restoring it, and then raced it in regional events in Canada in 1973. Lanaro recalled to Joe Griffin in 2021 that "after a bad accident at Mosport, I sold what was left it to Peter Draggfy". Peter Dragffy is known to have had several Lotus 59/69s in the 1980s.
Driven by: Jacques Couture, Eligio Siconolfi and Mauro Lanaro. First race: Laguna Seca (R4), 14 Jun 1970. Total of 23 recorded races.
Unknown
All three of these cars were sold off at the end of 1971, Couture's to Eligio Siconolfi in Montréal, Hill's to Max Nerrière in Toronto, and it would appear that McConnell's car went to Don Adley in Connecticut. Siconolfi ran his for a year, then it went to Mauro Lanaro for at least two more years. Nerrière stayed with his car for a total of three seasons, and then it too disappears. Adley retained his car for 1972 when it was crashed and badly damaged, but he understands it was repaired and raced on.
Chassis
History
Current owner
Donald A Adley (Hamden, CT) bought a Formula B Lotus 69 with Hart twin cam engine from Jacques Couture for 1971, and raced it in the Formula B class of the SCCA North Atlantic Road Racing Championship that season. This is likely to have been Dave McConnell's 1970 Lotus 59/69. Adley was first seen in a race at Thompson in August 1971, where he won overall, and then raced it in two rounds at Lime Rock in October. He reappeared with the car in 1972, racing in the opening two Nationals of the NEDiv season at Lime Rock in May and Thompson in June. He was then entered in the Pro FB race at Lime Rock in July, but his car was hit at the start. The Lotus sustained rear end damage and Adley suffered spinal injuries. He sold the car not long after and recalls that the new owner repaired it and did well with it. Subsequent history unknown.
Driven by: Donald A. Adley. First race: Thompson Speedway, 15 Aug 1971. Total of 5 recorded races.
Unknown
In 1989 or 1990, well-known English racing car dealer Bobby Howlings acquired three Lotus 59s from Brian P Cook (St Catharines, Ontario, Canada). The origin of this group of cars has not yet been determined, but they may have come from Peter Dragffy around 1986, and may have come to him from the Jim Russell Racing Drivers School that had existed in Canada. According to John Arnold, who bought a complete 69 from him, Dragffy had acquired most of the spares and cars from the Russell School. Howlings sold one of the cars to Michael Schryver and the other two to Peter Aylett. Aylett sold one of his pair to Chris Beauvoisin and kept the other, the subject of this history, until 1994, when he sold it to Barry Smith. Smith sold it to Sandy Watson in 2004, and it went from him to Anthony Ross in 2007. Ross ran it in the HSCC Classic Racing Car championship in Castrol livery. At some point during this time, contact was made with Brian Cook, and the car was identified as "59-F2-41", indicating that it was the former Craig Hill car, last seen with Max Nerrière in 1973. In 2015, Ross sold it to Mark Goodyear (Great Witley, Worcestershire) who raced it in HSCC Historic F2. Sold to Clive Buffey (Droitwich Spa, Worcestershire) for 2022, and used in hillclimbs.
Clive Buffey (UK) 2022
Acknowledgements
Thanks to Chris Townsend, Joe Griffin, Don Adley, Lotus historian Michael Oliver, and preparation specialist Simon Hadfield for their work on this model, and to Mark Manroe and Bruce Stewart for the use of their pictures. Chris has put a large amount of work into the three cars imported to England from Canada by Bobby Howlings around 1989 or 1990, and I am grateful for being able to use the results of his research.
These histories last updated on .