Lotus 69 (Formula B 1971) car-by-car histories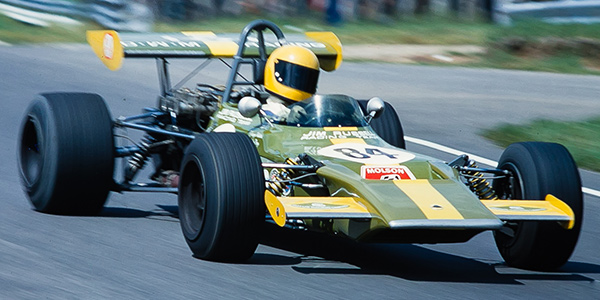 A new Lotus 69 model was built for Formula B in 1971, comprising a spaceframe chassis, Hart Ford twin cam engine, F2-style Lotus 69 bodywork and uprated front suspension.
The model number "Lotus 69" was used for a range of distinct but related cars in 1970 and 1971, for Formula 2, Formula 3, Formula B, Formula Atlantic and Formula Ford. It had started in 1970 when designer Dave Baldwin "metaphorically" cut the spaceframe centre section out of the F2 Lotus 59B and replace it with a monocoque section, incorporating bulbous sides containing the bag tanks. This car was successful in 1970 in the hands of Jochen Rindt, who won four of his first five F2 races in it, Tetsu Ikuzawa and Emerson Fittipaldi, so for 1971, Lotus Racing continued with the same monocoque Lotus 69 in F2 but also used the same name for their F3, F/Atlantic, FB and FF cars, despite these being spaceframe cars based on the Lotus 59 disguised with the bodywork and beefed-up front suspension from the F2 car.
The Formula B cars were sold to the Jim Russell Racing Team in Canada, and to Castrol for Craig Hill; and others were sold via agent Fred Stevenson's Lotus Racing East. William Monson in the US Pacific northwest also acquired a car but that still only brought the total to seven, and Lotus Racing had unfortunately laid down a run of 12 cars. Tetsu Ikuzawa acquired one to use in Japanese racing but the others had to be sold off cheaply when Lotus Racing was closed down.
Jim Russell teammates Jacques Couture and Dave McConnell were very successful in the Canadian FB series in their Lotus 69s, Couture winning the Players national series and McConnell the Molson Quebec regional series. Fred Stevenson won the SCCA Northeast Division title but could only finish fifth in the Runoffs, behind March 71BMs and Brabham BT35s. In later seasons it became very difficult to tell these Lotus 69s from the preceding Lotus Formula B models, as it was straightforward to fit Lotus 69 bodywork onto a 1969 FB Lotus 59 or a 1970 FB Lotus 59.
If you can add to our understanding of these cars, or have photographs that we can use, please email Allen at allen@oldracingcars.com.
Chassis
History
Current owner
Formula B Lotus 69s in 1971
Of the 12 cars built, only eight had been used or sold by the end of 1971, and all of these can now be accounted for: 71/69.1.FB and 71/69.3.FB were raced by Jacques Couture and David McConnell, 71/69.2.FB by William Monson, 71/69.4.FB by Bob Hebert, 71/69.5.FB by Craig Hill, 71/69.6.FB by Fred Stevenson, 71/69.7.FB by Ted Coconis and 71/69.8.FB by Tetsu Ikuzawa and Reine Wisell. However, we do not know who of Couture and McConnell drove 71/69.1.FB and who drove 71/69.3.FB.
Don Adley's red "69B" previously listed on this page is now know to be a 1970 car.
Chassis
History
Current owner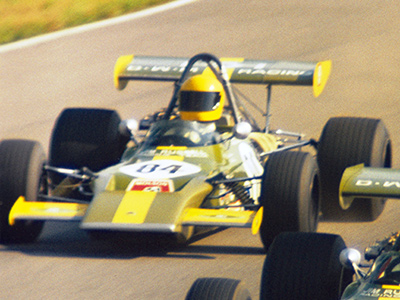 Raced by Jacques Couture as part of the Jim Russell Racing Team in the Players Formula B Championship and the Molson Formula Championship in Canada in 1971, winning rounds of both, and in the Seattle round of the SCCA Continental Championship. Unknown in 1972, but advertised by Fred Opert in October 1972 and again in February 1973. Thought to be the car driven by Opert customer Julio César Hidalgo in the FB race at Autodromo de San Carlo, Caracas in March 1973. Subsequent history unknown, but may be the Victor Gagliano/Bob Silvestro car from 1974 onwards.
Driven by: Jacques Couture and Julio César Hidalgo. First race: Mont-Tremblant, 16 May 1971. Total of 12 recorded races.
Unknown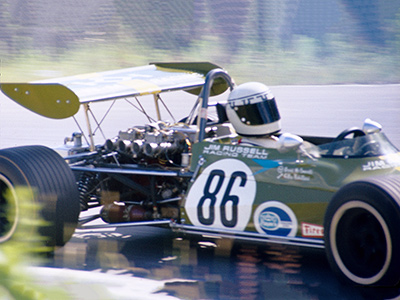 Raced by David McConnell (Montréal, Quebec) as part of the Jim Russell Racing Team in the Players Formula B Championship and the Molson Formula Championship in Canada in 1971. McConnell won one round of the Players series and four rounds of the regional Molson Championship, which he easily won. McConnell bought a new GRD for the 1972 Tasman championship, and the subsequent history of the Lotus 69 is unknown.
Driven by: David McConnell. First race: Mont-Tremblant, 16 May 1971. Total of 13 recorded races.
Unknown
Formula B Lotus 69s in 1972
In 1972, William Monson's 71/69.2.FB went to Gary Gove, Bob Hebert retained 71/69.4.FB, Craig Hill retained 71/69.5.FB, Ted Coconis retained 71/69.7.FB and the ex-Tetsu Ikuzawa/Reine Wisell 71/69.8.FB went to Ian Mawby for libre racing. The other three cars, Jacques Couture's and David McConnell's 71/69.1.FB and 71/69.3.FB and Fred Stevenson's 71/69.6.FB all disappear after 1971.
Two mystery cars appear in 1972: the Coconis family's second Lotus 69 which is likely to have been the ex-Fred Stevenson's 71/69.6.FB, and Derek Johnson's car which was seen just once at Sanair in May 1972 and is likely to be either Couture's 71/69.1.FB or McConnell's 71/69.3.FB. Note that one of the Coconises appeared in Formula Ford in 1972, presumably the son, and that car was also said to be a Lotus 69, so maybe the team's second Lotus 69 was actually a Formula Ford.
It is important to note that a significant number of other Lotus Formula B cars remained unidentified. These include the cars of Harold Miller (Reseda, CA), which is almost certainly an older model; Jackie Burnett at Trois-Rivières in August 1971; Robert Rickard (New Cuyama, CA/San Jose, CA) in late 1971 and in 1972; Jack Bailey at Vacaville in April 1972; Ronald Light (Lebanon, PA) at Lime Rock; and Jim Anderson (Santa Ana, CA) in the IMSA Pro FB race at Las Vegas in July 1972.
Chassis
History
Current owner
Derek Johnson (Montréal, Quebec, Canada) is reported to have raced a March 69B at Sanair on 28 May 1972, his first race since a nasty accident in August 1971 had written off his March 71BM. This may have been a loan deal, as five days later Johnson purchased a Brabham BT29, and used that for the rest of the season.
Driven by: Derek Johnson. First race: Sanair (R1), 28 May 1972. Only one recorded race.
Unknown
Ted Coconis (Weston, CT) bought a 1971 Formula B Lotus 69, chassis 71/69.7.FB and raced it in SCCA Pro and SCCA Nationals in 1971 and 1972, but at some point he acquired this second Lotus 69. In 1973, he and son Tim raced a pair of Lotus 69s, sponsored by Ted's company Graphics International Racing, but exactly how the second care was used during this time is unclear. The main car was typically entered as #88, with white numbers on a black background, so it only required a few pieces of black tape to change this into #83, #68 or #89, as required. Both cars are thought to have looked the same, but until a picture is found of them alongside each other, this cannot be confirmed. The Coconises were not seen in 1974, and when Tim returned in 1975, he used his father's original car. The subsequent history of the second car used in 1973 remains a mystery.
Driven by: Ted Coconis. First race: Trois-Rivières, 27 Aug 1972. Total of 8 recorded races.
Unknown
Formula B Lotus 69s in 1973
In 1973, Gary Gove retained his ex-William Monson's 71/69.2.FB, Bob Hebert retained 71/69.4.FB for at least one race before it went to George Liebman, Craig Hill's 71/69.5.FB was sold to Ron Shantz, Ted Coconis retained 71/69.7.FB, and Mawby retained his ex-Tetsu Ikuzawa/Reine Wisell 71/69.8.FB. The other three cars, Jacques Couture's and David McConnell's 71/69.1.FB and 71/69.3.FB and Fred Stevenson's 71/69.6.FB had all disappeared after the 1971 season. Of the two other mystery cars from 1972, Derek Johnson's was not seen again, but the second Coconis car was retained. It seems quite plausible that the Coconis family had acquired the Stevenson car, which would leave only the Couture/McConnell cars completely unknown. One mystery Lotus 69s appeared during 1973: Pat Phalan (Wilmington, DE) raced a Lotus 69B or Lotus 69 in NEDiv SCCA Regionals, and it is distinctly possible that this was one of the Couture/McConnell cars brought to the US from Canada by Fred Opert. The ex-Don Adley 1970 Lotus 59/69 was also racing in 1973, and would probably have been called a Lotus 69B, so may be a part of this picture.
In the seven SCCA Divisions' Formula B points tables, the only Lotus drivers to appear were Gove, Hebert and Oregon Region driver Ken Thomson who scored two points. A Ken Thompson of Portland, Oregon, had raced a Lotus 20 in Formula C five years earlier, but it's hard to believe he was still driving the same car. Further down the results sheets, Kent Clark of the SCCA's West Texas Region drove an unidentified Formula B Lotus at Fort Sumner in September 1973.
Chassis
History
Current owner
Pat Phalan (Wilmington, DE) raced a Formula B Lotus 69 in SCCA Regionals in 1973, starting with a Washington Region event at Summit Point on 1 July 1973, where he was accessed for his Drivers Licence. He had raced a Macon FF earlier in the season. He raced the Lotus again later in 1973, then raced it as a Lotus 69B in SCCA North Atlantic Road Racing Championship events in 1974, then again in 1975 and in 1976, winning his class in two Regionals the latter season. His full name was J. Patrick Phalan Jr, and two entry lists in 1974 record his Lotus as being black and silver. He upgraded to a newer Chevron for 1977. Subsequent history unknown.
Driven by: Pat Phalan. First race: Summit Point, 1 Jul 1973. Total of 4 recorded races.
Unknown
Formula B Lotus 69s in 1974
Another mystery Lotus 69 appeared in Northeast Division Regionals in 1974, driven by Victor Gagliano (Floral Park, NY), whose car was said to be "ex-Couture". Also John Jensen (Agincourt, Ontario) entered an unidentified Lotus 69 for the Bahamas Grand Prix PRRO event at Waterford Hills in September 1974.
Other unidentified Lotuses in Formula B in 1974 may turn out to be 69s. The only Lotus-mounted FB points scorer whose car we know nothing about across the seven SCCA Divisions in 1974 was Thomas Cooney (Indianapolis, IN) with one point in CenDiv, but this would be for his sixth position in class at Grattan Raceway in July 1974, where he was racing his March 722. It seems unlikely Cooney had a Lotus, so this reference can be ignored. Drivers of older Lotuses that scored points include Henry Roddiger (Lake St Louis, MO) who scored four points in Midwest Division for finishing 23rd at Mid-America Raceway in August in his older Lotus 41C, Bill Hallandal (Flint, Michigan) who scored three points with his 41C in CenDiv, and John Stowe (Hartford, CT) with two points at Bryar Park in an antique Lotus 32 in NEDiv.
Mike Rocke (Livermore, CA) entered an unknown Formula B Lotus in the Laguna Seca June Sprints in June 1974, and David Ahrens (E. Hartford, CT) entered an unknown FB Lotus at Lime Rock in August 1974.
Chassis
History
Current owner
An "ex-Jacques Couture" Lotus 69 bought from Joe Grimaldi by Victor Gagliano (Floral Park, NY) and Bob Silvestro (Patterson, NY). They raced the car in SCCA Northeast Division Formula B and then Formula Atlantic from 1974 to 1979, appearing at Bridgehampton, Lime Rock and Watkins Glen. The car was often entered by VAS Enterprises, Gagliano's company, which had previously been the entrant of his Formula C March 703, or by Continental Automotive. Silvestro sold the car to Keith Park (San Diego, CA) in about 1993, and later heard that Park had sold it to Dave Bean (San Andreas, CA). The car was still owned by Bean when he died in 2017. The car was with Bean's nephew Greg Lovell (Puyallup, WA) in July 2022.
Driven by: Victor Gagliano and Robert Silvestro. First race: Watkins Glen, 4 Oct 1974. Total of 13 recorded races.
Greg Lovell (USA) 2022
Formula B Lotus 69s in 1975
Pat Phalan and Victor Gagliano both still had their Lotus 69s in 1975. Also Henry Roddiger (Lake St Louis, MO) raced his FB Lotus 41C in the SCCA National at Indianapolis Raceway Park in September 1975 and was listed as a non-starter at Mid-America Raceway two weeks earlier.
Chassis
History
Current owner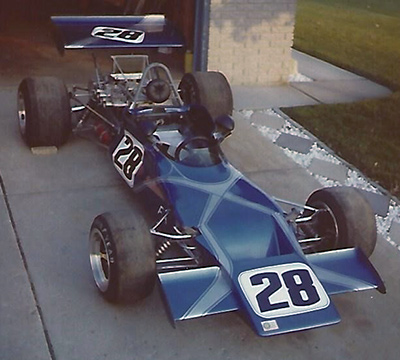 James B 'Jim' Predith, then of Fitchburg, WI, but in NEDiv in the 1970s, recalled to Lotus historian Michael Oliver in 2015 that he had bought a Lotus 69 with a slightly twisted chassis from someone in the Finger Lakes area in 1975. He said that he raced the car for one season and then sold it to someone in the Michigan Lower Peninsula area. In November 1979, Predith (Utica, MI) had advertised a "Lotus 69 FB/ATL Chassis #001" which was complete with Hart twin cam engine and Hewland FT200 gearbox. If he was remembering correctly that he had only raced it for one season, that would suggest that his purchase was a few years later, perhaps 1977 or 1978.
Unknown
Formula B Lotus 69s in the late 1970s
Pat Phalan raced his Lotus 69 at Summit Point and Pocono throughout 1976, Victor Gagliano and Bob Silvestro continued to race their shared car for the rest of the decade, and Henry Roddiger raced his Lotus 41C in SCCA Nationals at Mid-America Raceway and Indianapolis Raceway Park in 1976.
Meanwhile in England, Chris Morris (Gloucester) had a 1598cc Lotus 69 at Pontypool in June 1976, and John Wilson (Hitchin) had a Lotus 69 with 1600cc twin cam engine at Prescott in April 1978.
Chassis
History
Current owner
Peter Dragffy (Montréal, Quebec, Canada) is believed to have owned a Lotus 69 from about 1978 until 1988, when it was bought from him by John Arnold. He had the car restored by Peter Denty in 1993. When the car was advertised from Golden, Colorado in July 2009, the frame number and FT200 gearbox number both matched the factory records for chassis 71/69.9.FB. It was finished in maroon bodywork work. In 2010, the car was acquired by Pearce Raeder (River Forest IL). Raced by Raeder at Road America in July 2012, at the SVRA Spring Vintage Festival in May 2019, and the US Vintage Racing National Championship in November 2020. Still with Raeder in June 2021.
Pearce Raeder (USA) 2021
Unresolved Formula B Lotus 69s in Historic racing
A large number of Lotus 69s have appeared in historic racing, but it is hard to distinguish between F2 Lotus 69s, Formula 3 Lotus 69s, Formula B Lotus 69s, the Formula Atlantic Lotus 69s, and even Formula Ford Lotus 69s. One of these cars appears to claim the identity of a specific Formula B Lotus 69: Steve Hitchins' car was brought back from the US in 1988 and is believed to be the ex-Ian Mawby car.
Chassis
History
Current owner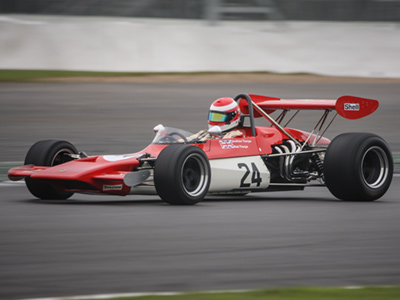 In 1989, Steve Hitchins acquired a Lotus 69 from Bobby Howlings that Howlings had recently imported from North America. The car was identified as Ian Mawby's former car, and after discussion with Mawby, Hitchins concluded it had to be chassis number 71/69/9/FB, based on Mawby's recollection that it was maroon when new. It was rebuilt by George Wadsworth's Racing Fabrications in 1989/90 with a BDA engine, and FIA papers were issued for it as "71 69 9 FB" in September 1990. At this time, the car was dark blue and wore #55. It was raced by Hitchins in HSCC events in 1991. Some years later, this "ex-Hitchins" Lotus 69 was acquired via Terry Nightingale and Racing Fabrications by Rob Harvey and raced in FORCE and HSCC events at Oulton Park in 2003, 2004 and 2006. When this car was advertised by Kelvin Jones in June 2005, it was said to be chassis "71-69/9 FB". At the time it again had a BDA engine, was all red, and wore #27. By August 2011, the car was in the hands of Andrew Thorpe, who recalled that "it belonged to Nigel Harrison" in the US. This is presumably the Nigel Harrison (Houston, TX) of "Lotus Owners of Southern Texas" who was active in Lotus circles around 2003/2004. The car was sold by Thorpe to Neil Armstrong (Rugby) some time around 2017. Advertised by Armstrong in December 2020, when still said to be "Chassis number 71/69/9/FB" and ex-Mawby/Hitchins/Harvey.
Neil Armstrong (UK) 2020
Acknowledgements
As with so many of the cars of this era, Chris Townsend has done much of the work on this model. Thanks also to Ted Walker, Simon Hadfield, Steve Wilkinson, Philippe Demeyer, Pearce Raeder, Greg Lovell, Bob Silvestro, Don Adley, Art Hebert and Gordon Brooks.
Thanks also to Richard Bunyan, John Sadler, Keith Lewcock, Bruce Stewart, Arny Spahn and Peter Viccary for allowing their photographs to be used on this page.
These histories last updated on .