March 761B car-by-car histories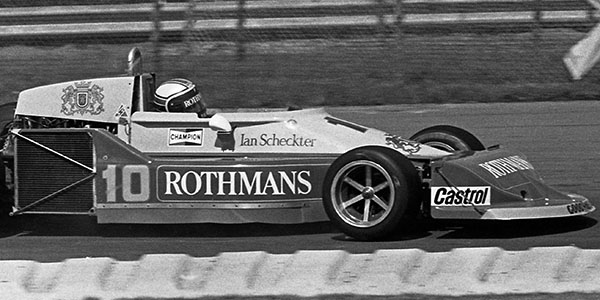 The 1977 March 761B was only a mildly-updated version of the March 761, which was itself just an evolution of the 751, and it was not enough to maintain the team's competitiveness.
March had inched their way up the grids from 1974 to 1976, but plummeted back down again in 1977. Ronnie Peterson moved to Tyrrell, and Vittorio Brambilla to Surtees, while Hans Stuck had no budget after leaving BMW. In their place came South African Ian Scheckter and Brazilian Alex-Dias Ribeiro, both of whom brought sponsorship packages worth about £80,000. This money bought the barest minimum of work to the team's March 761s, two of which were given twin-caliper Lockheed brakes, an adjustable rear anti-roll bar, a shorter wheelbase and new chassis plates. Peterson's 761/6 became Scheckter's 761B/1, and Brambilla's 761/1 became Ribeiro's 761B/2. Ribeiro's car was sold to Arturo Merzario in time for the Spanish GP and a new 761B/3 was built for the Brazilian. A number of March 761s were also sold to privateer owners, and some of these were sometimes described as 761Bs.
Scheckter could not be faulted for effort, but the season was a disaster. Ribeiro failed to qualify eight times, and Scheckter was typically on the last few rows of the grid despite wringing all he could from his car. After Scheckter was injured in a South African Formula Atlantic race, his place was taken for the next two races by Hans Stuck and Brian Henton. The best finishes by 761Bs all season were a couple of eighth places managed by Ribeiro in Germany and Canada, but he was the last undelayed runner in each race. A March 771 was also built later in the year, but proved to be even worse than the 761B.
Car
Total
Race
Starts
Grand
Prix
Starts
Grand
Prix
Wins
First Race
Present Location
11
11
Argentinian Grand Prix
(9 Jan 1977)
Used to reconstruct 761/6
8
7
Argentinian Grand Prix
(9 Jan 1977)
United States 2018
6
6
United States Grand Prix West
(3 Apr 1977)
No longer exists
March 761B/4
(no races recorded)
Louwman Museum (Netherlands) 2020
Scheckter's 761B was sold to Ronnie Peterson before the end of 1977, so that it could be returned to its original 761 specification and placed in a museum in Sweden. Merzario's 761B/2 stayed in Italy where it contributed in some way to the Merzario F1 cars before being restored to 761B specification for historic racing. According to March records, 761B/3 was used in the construction of one of the March 781s, and as a result, nothing really remains of it. A fourth 761B was also built as a show car for the March 2-4-0 six-wheel project. This car was acquired by Goodyear and after a long career as a show car, sat in a lockup in Northallerton until it was rescued in the mid-1990s. After a cursory restoration, it was sold to a museum in the Netherlands, where it has remained ever since.
These histories last updated on .