March 761 car-by-car histories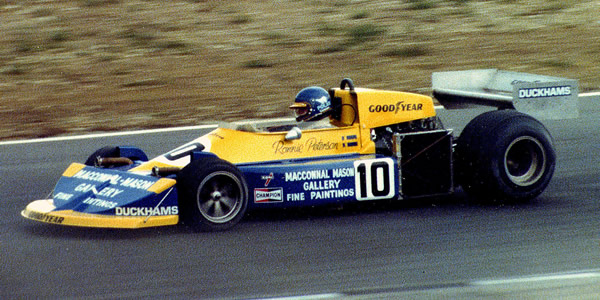 The March 761 was a development of the March 751 and proved very quick in a straight line. Ronnie Peterson took pole position at the Dutch GP and won the Italian GP in his 761.
The March 751 had proved very effective in Vittorio Brambilla's hands in 1975 and Robin Herd made only minor changes for 1976 to produce the March 761. The changes were so minor that three of the 761s were built from the surviving 751s. March retained the same line-up of drivers as at the end of 1975, with Brambilla and Lella Lombardi forming an 'A' team and Hans Stuck in a third car. Ronnie Peterson then quit the struggling Lotus team and rejoined March, evicting the unfortunate Lombardi after a single race of the season. A race later Arturo Merzario joined Stuck in the 'B' team with a fourth 761. Peterson struggled at first but eventually a broken rear bulkhead was discovered in his ex-Lombardi car – explaining Lombardi's poor performances and provoking an apology to her from Herd. From then on, the Swede was able to regularly qualify his 761 in the top six, and took pole position at the Dutch GP. Although he retired there, he won at the next race, setting fastest lap as he held off Clay Regazzoni's Ferrari in the closing stages. Another high point for the model came at Watkins Glen, where Peterson, Brambilla and Stuck all qualified in the top six.
During the course of the season, March built six 761s, but one of those was a test car and was not seen at races. Two more cars were built for customers in 1977, bringing the total to eight.
Several of the 761 were rebuilt with new monocoques during the 1976 season, but March were open about these rebuilds. By the end of 1976, 761/1 was on its fourth monocoque and was rebuilt as 761B/2; 761/2 was still on its original monocoque and was sold to BS Fabrications; 761/3 was on its third tub and was sold to RAM Racing; 761/4 on its third tub had already been sold to Karl Oppitzhauser; 761/5, the test car, was sold to Brian Henton; and 761/6 was rebuilt at 761B/1. A new 761/7 was built for Frank Williams and almost immediately needed a second tub; and 761/8 was built for RAM Racing. Nearly all of these can then be tracked owner by owner through to the present day. Even 761/3 which was rebuilt on a F2 762 tub and then rebuilt into 75A specification leaving little to connect it to its 761 origins, can be traced to the present day. The only exception is 761/4 which was in Austria in the 1980s.
Extra March 761s
Apart from the eight original March 761s, there are (by 2021) nine additional 761s that cannot be connected to any of the original entities. The first of these appeared in early 1990, and by mid-1992, there were a total of three unexplained 761s, one of which could be original. Two of these have raced regularly in Historic Grand Prix events in the US. By 2006, a fourth car had appeared in a museum in Germany. When the FIA started to allow "continuation cars", two more 761s were built in the UK in 2007/2008, and then another two in 2012/2013, bringing the total of "extra" 761s to eight. A ninth was offered by Bonhams in 2014, having been in France for some years, and is now in Italy. Rumours surfaced in May 2018 of a tenth additional 761 being constructed.
Despite strenuous attempts, it has not yet been possible to verify the claimed history of any of these nine cars. One was built openly as a replica, and one is likely to be 761/4, but the origins of the others remain unresolved.
The March 75A/761
It should be noted that the Formula 5000 March 75A was rebuilt with a 761 monocoque in 1977, and was then fitted with a Cosworth DFV engine later that year. That car still exists and also raced in Masters F1 in 2015 and 2016, still in that updated 761 specification.
These histories last updated on .