McKee Mk 8 car-by-car histories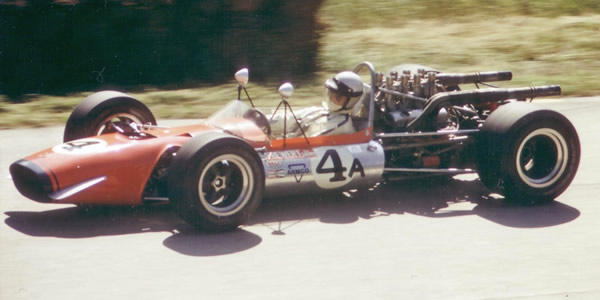 After making his name as a Can-Am builder, Bob McKee built his first single-seater, the McKee Mk 8, for the new 5-litre Formula A in 1968.
Two cars were built, the first going to Ike Uihlein for McKee regular Mak Kronn and the second to Tito Nappi for Kurt Reinold. Kronn finished third in the opening race but crashed his car at Elkhart Lake in July and did not reappear. Reinold took two more third places in the championship and another third in the ARRC at the end of the year.
McKee built new McKee Mk 12s for 1969. One of the two Mk 8s was wrecked but as there are two cars surviving today, it appears that the Kronn Mk 8 was rebuilt. Road America historian and photographer Tom Schultz remembers another Mk 8 racing at the end of 1968 which may have been the Kronn car rebuilt. Paul Dudiak, who has worked closely with Bob McKee and is probably now the expert on McKees, is confident that the Kronn car was rebuilt and is the one Linn Way owned for many years.
If you can add to our understanding of these cars, or have photographs that we can use, please email Allen at allen@oldracingcars.com.
Chassis
History
Current owner
Ike Uihlein for Mak Kronn US 1968: three starts (third at R1 CDR) then crashed at R3 Elkhart Lake 21 Jul 1968. Uihlein was president of the Joseph Schlitz Brewing Company in Milwaukee, claimed to be the largest producer of beer in the world at one time.
Road American historian Tom Schultz remembers this car well: "The Ike Uihlein Mk 8 was wrecked by Mak Kronn at Road America in July 1968. He lost control of the car at corner five, and went sideways into the guard rail. That bent the car like a banana. Uihlein never ran the car again, but apparently sold the wreckage which was rebuilt, possibly with a new frame. At Milwaukee's State Fair Park course a red Mk. 8 appeared and ran in a non-spectator SCCA Regional. I witnessed it, but unfortunately, the identity of the driver has been lost in the mists of time. I never saw that driver or red Mk. 8 again."
Bob McKee later told Linn Way that this car was rebuilt but was not used again as the team owner died in a road accident and his son died soon after. This is confirmed by genealogical data which shows Erwin "Ike" C. Uihlein Sr as having died on 20 Oct 1968 aged 82 and his only son Erwin C. Uihlein Jr as having died on 12 Nov 1968 aged just 22. Erwin Jr had been forbidden by his father to own a sports car and after his father's death had bought the new Porsche in which he was killed.
According to later owner Philip Jewell, the McKee remained unused in the estate until 1989, when it was sold to collectors Al and Linn Way (Oceanview, NJ). It was raced by Linn in Historic F5000 events at Road America and Mid-Ohoo between 1992 and 1996, and appeared in the SVRA Zippo Vintage Grand Prix at Watkins Glen up to 1999 at least. Acquired from Way by Philip Jewell (Rushcutters Bay, NSW, Australia) in December 2009. Raced by Jewell at Sydney Motorsport Park in November 2014.
Driven by: Mak Kronn. First race: Stuttgart Airport (R1), 21 Apr 1968. Total of 5 recorded races.
Philip Jewell (Australia) 2014
Tito Nappi for Kurt Reinold (Rockford, IL) US 1968: six starts (two thirds); 3rd at ARRC (replaced with a Mk 12 for 1969) - James Dunkel (Rockford, IL) US 1970 (two races); SCCA Nationals 1970 (3rd at Milwaukee 28 Jun); said to be a "Mk 1" but identified by Bob McKee as the Reinhold car.
Then raced by Charles E 'Chuck' Frederick in the 1971 US series (two races: R1 Riverside and R5 Elkhart Lake entered as "C.E. Frederick") but then sold. Advertised by Frederick's partner Keith Hardy (Denver, CO) in May 1972.
Identified by a "Team Nappi" stamping on the gearbox and its lengthened wheelbase as the car bought by Bob D'Amore (Arlington, MA) from Chuck Haines in Feb 2004. Reinold was reportedly 6'5" so the chassis was built with a 96 inch wheelbase to accommodate him, four inches longer than Mak Kronn's car. All that is known of its history is that Haines bought it from Marc Evans' New England Classic Car Company (Stratford, CT) some time in 2003. The car had been advertised by Vintage Racing Services (Stratford, CT) for some time as a 1969 McKee and is reported to have been sold by a Paul (Derby, CT) to Chuck Haines.
The car was complete but dismantled and seems to have remained largely untouched since its last race. Bob McKee, who has assisted Bob D'Amore during the restoration, recalled that this car went to Dunkel after Reinold, and Bob D has found mounting brackets added to the engine bulkhead that could have been for Dunkel's rollcage.
D'Amore (often listed in results as Robert Damore) raced the car in hillclimbs in Pennsylvania, competing at Giant's Despair in July 2006 and July 2007, Weatherly Hillclimb in Sep 2006, Pagoda Hillclimb in 2006 and 2008, Polish Mountain Hillclimb in 2009 and 2010 and Duryea in 2009. Bob competes with the car with a sprint car wing mounted on top of the roll cage. He reports that "while the wing does not represent the latest aero technology it only cost $350 and provides eminent roll-over protection, to say nothing about being a marvelous sun shade".
Retained 2011 but crashed spectacularly at the Weatherly Hillclimb Sep 2011.
Driven by: Kurt Reinold, James Dunkel and Chuck Frederick. First race: Blackhawk Farms, 26 May 1968. Total of 16 recorded races.
Bob D'Amore (USA) 2011
My thanks to Paul Dudiak, Philip Jewell, Bob D'Amore and Steve Frederick for their information on these cars. Any further help filling the gaps in these cars' histories would be gratefully received. Please contact Allen Brown (allen@oldracingcars.com) if you can add anything to our understanding of these cars.
These histories last updated on .