McKee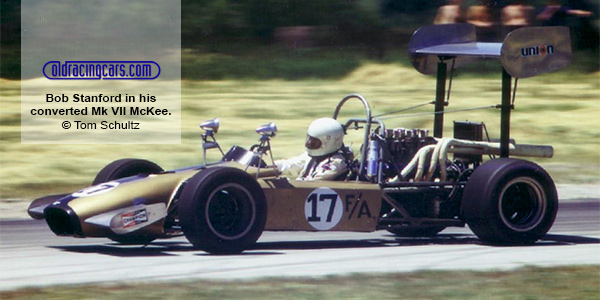 Like many American engineers, Bob McKee cut his teeth building dragsters and stock cars, before moving to Indy racing as Dick Rathman's chief crew. An early convert to the rear-engined revolution, McKee built a Cooper-Buick for Rodger Ward in 1961 and later developed his own McKee transaxle. His first five cars were one-off specials but, in 1966, he built his first production car, the Can-Am McKee Mk VI. Mak Kronn would take one of these cars to victory in the 1966 Road America June Sprints but they were not quite quick enough to make an impact in Can-Am.
After the Mk VII, another sports racer, in 1967, Bob McKee branched out and built his first single-seater, the 1968 Formula A McKee Mk 8. Although McKee's focus was on his increasingly ambitious Can-Am cars, a lightly revised McKee Mk 12 was built for F5000 in 1969 and three orders were quickly taken: Team Nappi for Kurt Reinhold, Chuck Trowbridge and Dick DeJarld. Another two cars appeared later in the season, Hamilton Vose's USAC McKee Mk 11 and Bob Stanford's converted Can-Am "Mk 7S". Four of the five appeared together at Road America: Trowbridge, Reinold, DeJarld, Vose with Stanford only appearing at the Sebring race.
Very few McKees appeared in 1970, mainly Stanford's "Mk 7", Reinold's Mk 12 and DeJarld's Mk 12, but a final F5000 design, the McKee Mk 18, would appear in 1972 and production would continue at McKee Engineering's factory at Palatine, IL, well into the 1970's. In 1977, McKee teamed up with Doug Schulz and built the Schkee Can-Am cars, also badged "McKee Mk. XX".
Type
Years
No.
built
Notes
McKee Mk VI
1966
3
Sports racers built for Judy Fritsch (for Mak Kronn), Ralph Salyer and Bud Clusseruth. The Fritsch car is now owned by Tom Simpson (Chicago, IL), the Salyer car was rebuilt into the first Mk 9 Howmet turbine car and the Clusseruth car is owned by John Alpers (Tucson, AZ) and is regularly seen in historic racing

McKee

Mk VII
1967
2
Sports racers built for Bob Nagel and a second car was used as a works entry for Skip Hudson before being sold to Ralph Salyer (for Charlie Hayes). The Nagel car was rebuilt for Formula A by Bob Stanford (see below) but is now back in Can-Am spec in historic racing. The works/Salyer car was converted into the wedge-shaped Mk 10.
McKee Mk 8
1968
2?
Built for the first season of Formula A. At least two built: for Ike Uihlein, driven by Mak Kronn; and for Tito Nappi, driven by Kurt Reinold. Road America historian Tom Schultz recalls seeing a third Mk 8 at a SCCA Regional but cannot remember the driver. FULL CAR-BY-CAR LIST AVAILABLE

McKee

Mk 9
1968
2
The Howmet TX turbine Group 6 prototype. One was the converted Ralph Salyer Mk 6, initially used as a spare, and the other was built as a Mk 9. Raced by Ray Heppenstall and others in 1968, and used to set six FIA world speed records for turbine cars in 1970. See Pete Stowe's detailed history on these cars. Pete advises that in 2021 the first car has been sold by Bruce Linsmeyer at Avon Aero to Andreas Mohringer in Austria, and the second is in Roald Goethe's ROFGO Collection. Two later built cars, both built up by McKee, are also known to exist.
McKee Mk 10
1968
1
Wedge-shaped Can-Am car built from Salyer's Mk VII. Sold to ex-Formula A racer Jerry Hodges for 1970, and raced by him until 1972. Still known to exist "but rarely seen".
McKee Mk 11
1968
1
The USAC car built for Hamilton Vose and written off at Brainerd. FULL HISTORY AVAILABLE
McKee Mk 12
1969
3?
Formula A. At least 3 cars built: the first being for Team Nappi (for Kurt Reinhold), Chuck Trowbridge and Dick DeJarld. FULL CAR-BY-CAR LIST AVAILABLE

McKee

Mk 14
1969
1
The 1969 four-wheel-drive Can-Am car with automatic transmission and a 455 ci (7500cc) twin-turbocharged alloy Oldsmobile engine that appeared just in one race, at Road America in August 1969 with Joe Leonard driving but did not start. Oldsmobile's parent company General Motors pulled the plug on the car as soon as they became aware of its existence.
McKee Mk 18
1972
1
A final F5000 design, built for Dick DeJarld. FULL HISTORY AVAILABLE
Mk XX
1977
2
Two Can-Am cars built on top of Lola T332 chassis for Doug Schulz. Some years later, in the early 1980s, one ran in Central Division SCCA races, owned and driven by McKee-addict Dick DeJarld.
One of the 1967 McKee Mk VII Can-Am cars was converted for Formula A after it was crashed heavily by Bob Nagel at Mid-Ohio. Owned by Bob Stanford (Mars, PA) and pictured above, it first raced as early as the December 1969 Sebring event, it was variously described as a "7F" or "7S". Stanford had cut off the side pods and taken the interesting route of putting the fuel cell in the passenger seat. It was sold by Stanford to Chuck Haines in the mid-1970s and was sold by Chuck to Jerry Dykhuisen (now Big Pine Key, FL) who converted it to closed wheel specification and used it in SCCA ASR National and Regional events. In 1978, Jerry sold it back to Haines. Timothy W. Mehallick (Mt Pleasant, PA) reports that he purchased the McKee from Chuck Haines circa 1980-81, and restored it with McLaren M6 bodywork. In the summer of 1987, he sold it to Mike Kalashian (Wisconsin) who raced it in historic events up to 2014. It was auctioned by Russo and Steele in January 2015. In early 2017, the car was advertised by David Neidell (Pontyclun, Wales).
All and any help would be gratefully received. Please email Allen if you can add anything.
These histories last updated on 4 November, 2021 .
Sources
Sources for this page include Road America expert Tom Schultz, Howmet historian Pete Stowe, sports car historian Martin Krejci, Ben Fritz, McKee registrar Tom Simpson, Vintage Motorsport (Sep/Oct 1993 pp47-49), Road Racing in America (Lyle Kenyon Engel, 1971) and Formula 1 Register Fact Book: Formula 5000 1968-1971.