McKee Mk 12 car-by-car histories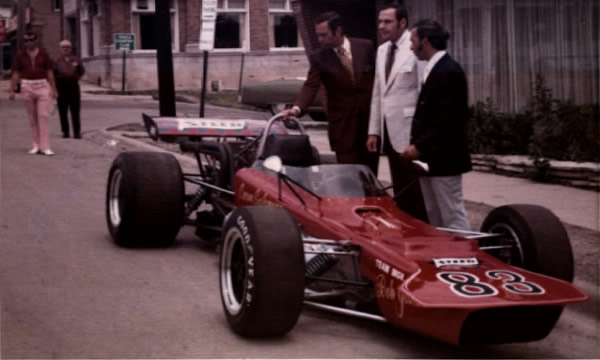 Following the promising 1968 Mk 8, a lightly revised McKee Mk 12 was built for 1969 and three orders were quickly taken: Team Nappi for Kurt Reinold, Chuck Trowbridge and Dick DeJarld.
With Eagles, McLarens and Lolas now dominating the front of the grid, the McKees were well down the grid in Pro racing, but they were successful in Central Division SCCA Formula A. As well as the three Mk 12s and the surviving McKee Mk 8, two other McKees appeared in US Formula A later in 1969: Hamilton Vose's 1968 USAC McKee Mk 11 and Bob Stanford "Mk 7S", a converted Can-Am car. McKee did not build any further cars for Formula A in 1970 or 1971, but produced a one-off monocoque FA car, the McKee Mk 18, for 1972.
The three 1969 Mk 12s had long and varied careers: two continuing through three or four seasons of racing, and the third being rebuilt twice and still racing in 1977. They were never the fastest cars available, but they were strong and safe and several drivers had reason to be grateful for that.
Paul Dudiak now has both the Reinold Mk 12 and the original ex-DeJarld Mk 12, and Linn Way has a third Mk 12, presumably the ex-Trowbridge car. A car advertised by D Finlayson in 1973 remains a puzzle.
If you can add to our understanding of these cars, or have photographs that we can use, please email Allen at allen@oldracingcars.com.
Chassis
History
Current owner
Team Nappi for Kurt Reinold (Rockford, IL) US 1969 (three races) SCCA Nationals 1969 (three wins; 4th at Runoffs); US 1970 (3 races); SCCA Nationals 1970 three wins); SCCA Nationals 1971 (two wins + 1 DNS; DNS at Runoffs) - Carmon Solomone (Woodridge, IL) by May 1972: raced at R4 Road America 1972, finishing well down and in an SCCA National at Mid-America Raceway on 24 Sep - Tony Kestian (Berwyn, Chicago, IL) October 1972: raced about 6 times in the summer of 1973 around the Midwest - Donald De Maagd (Lansing, Michigan) Feb 1974: raced at Hoosier National 18/19 Sep 1976 where Formula magazine (Dec 1976 p43) mistakenly described it as a McRae.
Retained by De Maagd until bought by Paul J. Dudiak (Peoria, IL) Oct 2005. The car was restored to its original Reinhold colours and raced in US vintage events starting at Road America July 2006. Raced in F5000 events in 2007, 2008 and 2009. Crashed badly at Road America July 2011 but repaired and back on track by 2013. Raced by Dudiak at Road America July 2013. Also appeared at Road America in July 2015, July 2016 and July 2017. Raced by Dudiak at VARAC Mosport Park 16-17 June 2018, the WeatherTech International Challenge at Road America in July 2018, Road America again in July 2020 and Watkins Glen in September 2021.
Driven by: Kurt Reinold, Carmon Solomone, Anthony Kestian and Donald DeMaagd. First race: Laguna Seca (US R2), 4 May 1969. Total of 25 recorded races.
Paul Dudiak (USA) 2021
Chuck Trowbridge (Denver, CO) US 1969: ran pretty much every race until crashing at R10 Lime Rock. According to Autoweek, Trowbridge hit a tree and a steel fence.
---
The chassis was acquired at some point by Dick DeJarld who rebuilt the car including creating a new chassis from the roll bar backwards. He advertised the car ("Mk 12D", "rebuilt using all new parts, 95% complete", "not run since 1969") and, in March 1975, sold it to Ed Midgley (Geneva, IL) who raced it in SCCA regionals and nationals until late in the 1975 season. He then had the throttle stick at turn 5 at Blackhawk and hit the end of the Armco barrier.
The car was totalled and was returned to DeJarld as part-exchange for his McKee Mk 18. DeJarld rebuilt the Mk 12 again, this time needing a new chassis from the roll bar forward. Over the winter of 1976-77 Ed and Dick prepared the car to race again. Ed drove it in the 1977 June Sprints where he had an engine explode in qualifying and had to start near the back. He was also at the "Formula SCCA Invitational" in Sep 1977 but Ed recalls that he failed to start after a second engine failure. However, the Tom Schultz picture shown here was taken at the Invitational either on or close to the final lap of the race!
The car was then retained by DeJarld until his death in 1987 or 1988. It was sold by his widow in 1989. Almost certainly the car entered by Linn Way (Oceanview, NJ) at the concours at Lime Rock in Sep 1990. Raced by Way at Watkins Glen in 1990, Road America in 1991 and at various Mid-Ohio events during the 1990s. Still owned by Way in November 2013.
Driven by: Chuck Trowbridge and Ed Midgley. First race: Riverside (US R1), 20 Apr 1969. Total of 11 recorded races.
Linn Way (USA) 2013
Built as a Mk 12A spring 1969 for Dr Dick DeJarld (Joliet, IL): SCCA Nationals and US 'Pro' series 1969; SCCA Nationals and US 'Pro' series 1970; probably the car he used at the Road America June Sprints 1971 but this may have been his Mk 18. Advertised as a Mk 12D ("pearlescent white and blue") in July 1971. To Michael Yarbrough (Morrow, GA) July 1971: SCCA Regionals and Nationals 1971, Runoffs 1971; US 1972 (R4 Road America 1972 and R6 Road Atlanta, where he managed tenth in the first heat. Yarbrough (then of Loganville, GA) advertised his Mk12D 17 Feb 1973 but it did not sell and Mike retained the car until selling it to Erroll Duren (Tampa, FL) in 1983. To Kent Painter (Fort Collins, CO) Aug 1989. To Paul Dudiak (Peoria, IL) May 2007. Still with Paul in September 2013, in unrestored form exactly as it last raced in 1975.
Driven by: Dick DeJarld and Michael Yarbrough. First race: Road America (R3), 15 Jun 1969. Total of 19 recorded races.
Paul Dudiak (USA) 2013
Mystery Mk 12s
Both the surviving Mk 12s, those of Reinold and DeJarld, continued through the 1970 season and into 1971, although it is not clear when DeJarld started racing his Mk 18 instead. The mystery McKees of Dunkel, Stanford and Frederick ran alongside them in 1971 and, at the end of that 1971 season, they were joined by Michael Yarbrough in the ex-DeJarld Mk 12D.
In 1972, another Mk 12 appears in the classified ads where "D Finlayson" has a Mk 12A or Mk 12B. As Yarbrough had the original DeJarld car and Solomone had the ex-Reinold car, this advert strongly implies four Mk 12 were built.
Chassis
History
Current owner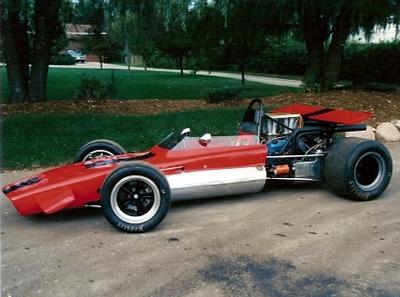 A "Bargain" Mk12A was advertised from (312) 529-1875/231-8329 on 17 Jun 1972. This is the same number as "D Finlayson"'s advert of 12 May 1973. D Finlayson (Schaumberg, west Chicago, IL) Mk12B "like new" 12 May 1973 on same number as "bargain" 12A above. Mr Finlayson (Donald?) died in 1997 but his son Robert Finlayson, the SCCA Corvette driver, advises that he his father sold the car to Tom Snellback (of The Last Detail, North Chicago, IL) who sold it on. Chris Novatny restored the car for Snellbeck in the late 1980s or early 1990s and recalls that they came from the west side of Chicago, which fits in with the location of the Finalyson's company, Vector Engineering. Subsequent history unknown.
Unknown
There was also an advert for a "'69 McKee F5000 roller" from Steve Cole (Sparks, NV) in Victory Lane Jan 1994.
Sources
Thanks to Tom Schultz, Pete Stowe, Jack Finucan, Ed Midgley, Tony Kestian, Kent Painter, Chris Solomone, Paul Dudiak, Tom Simpson, Chris Novatny, Norbert Vogel and Mike Yarbrough for their help compiling these histories.
These histories last updated on .