McLaren M14D history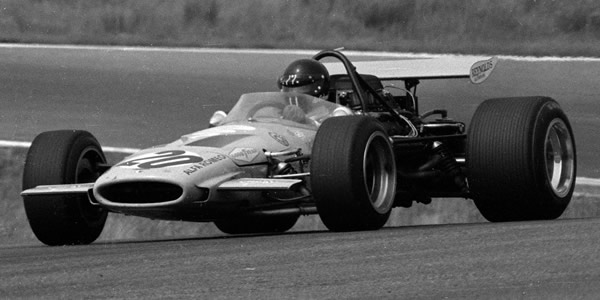 Like the McLaren M7D, the McLaren M14D was a one-off Formula 1 car built for the Alfa Romeo V8 engine. The car was briefly rebuilt to standard specification for Denny Hulme to race.
Autodelta's deal with McLaren had started with the McLaren M7D at the start of 1970, but after a few races, a more up-to-date car was built using a McLaren M14A chassis. Driver Andrea de Adamich first used this car at the Dutch GP in June and was very unlucky not to qualify. He had recorded the 19th fastest time, but a check revealed a missed time by George Eaton's BRM just 0.01s faster, and de Adamich missed out. His McLaren team leader Denny Hulme missed that race due to the burns he had received to his hands trying to qualify for the Indianapolis 500, so Peter Gethin has driving his M14A at that race, only to write it off. The M14D was quickly converted to Cosworth DFV specification for Hulme to drive until his M14A could be repaired, and De Adamich was put back into the M7D. Hulme used the car at the next two Grands Prix, qualifying well both times but he drove very conservatively at both races to protect his injured hands, finishing fourth at the French GP and third at the British. A new M14A was then ready for him to drive, so the M14D was converted back to Alfa specification.
De Adamich complained about handling and the engine not pulling properly at the German GP, and again failed to qualify. At the Austrian GP he qualified 15th of 24 starters but a decision to change engine just before the race backfired when the replacement was 1000 rpm down on the original. De Adamich really struggled for the whole race, running in last place and ending up 12th, three laps behind. A lot of work was done by Autodelta before the Italian GP to sort out the sumps, which were identified as the main problem, and De Adamich placed the M14D 12th on the 20-car grid at Monza. The car ran well for a few laps, then then dropped to last and was in the pits for the first time on lap 9, ending up seven laps behind by the finish. At the Canadian he again qualified 12th of 20, and this time started really well, the M14D being up to ninth place by lap 8. However, he had not started on full tanks, knowing that he would have to stop for more fuel at some point. He had risen back to eighth place when he retired with low oil pressure. The season ended at Watkins Glen where the Alfa engine developed a fuel leak during practice, and then a fire behind the instrument panel left De Adamich with no chance of qualifying.
Car
Total
Race
Starts
Grand
Prix
Starts
Grand
Prix
Wins
First Race
Present Location
112
5
French Grand Prix
(5 Jul 1970)
McLaren Racing Limited (UK) 2021
Autodelta took their engines to March for 1971, so the M14D was not needed again. The rolling chassis was sold to Roy Lane who equipped it with a 5.7 litre Chevrolet V8 for hill climbs and won several rounds of the British Hill Climb championship in 1972 and 1973. He sold it to Bob Rose at the end of 1973, and Rose used it to take the British Sprint Championship in 1974. He ran strongly with it in 1975 and 1976, but retired in June 1976 and sold the M14D to Bristol sprinter Terry Smith. Later that season, Smith loaned the car to Dave Harris, allowing him to clinch the championship with good results at the last two events. After one more season in the M14D, Smith sold it to Mike Allen, who used it a few times in 1979 and 1980.
The car then passed into the historic racing community until 1987, when it was acquired by Leo Wybrott on behalf of McLaren International for their collection. After restoration, it was on display in the Donington Museum for many years. The car is in M14A specification, has Denny Hulme's name and wears number 11, presumably intended as a tribute to Hulme's third place result at Monaco in 1970 in one of the M14As. It had moved to the McLaren Technology Centre by 2011, when it was spotted in a corridor, but is not regularly on display.
Please contact Allen Brown (allen@oldracingcars.com) if you can add anything, or if you spot the car when visiting the McLaren Technology Centre.
These histories last updated on .