Theodore TY02 car-by-car histories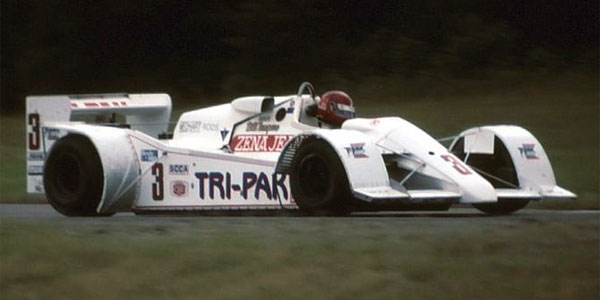 Tony Southgate produced a new car for Teddy Yip's team for 1982, the Theodore TY02. Despite a series of improvements to sidepods and suspension, the underfunded little team could not compete, and ended the season without finishing a single race.
Derek Daly signed for Theodore in 1982, and used the old Theodore TY01 for the opening race in South Africa. The new TY02 was ready for the Brazilian GP, and Tony Southgate had produced a highly conventional design, with an aluminium honeycomb monocoque with high sides to improve rigidity and much narrower at the bottom to facilitate the widest possible ground effect sidepods. Suspension was orthodox all round, and the car had air dams on either side of the body.
Daly qualified comfortably in Brazil, 20th on the 26-car grid out of 31 cars that attempted to qualify, but spun off early in the race after a puncture. He slipped to 22nd on the grid at Long Beach, where he again retired before the race was very old. Daly was then poached by the Williams team, who had lost Carlos Reutemann to unexpected retirement, and Dutchman Jan Lammers took over the Theodore. Despite new, more rigid, sidepods, Lammers was unable to qualify in Belgium, finishing qualifying 30th fastest out of 32, and narrowly missed the grid again at Monaco, where he was 22nd fastest out of 31. He then broke his thumb when a jammed throttle put the Theodore into a wall at the Detroit GP, and his place was taken by Geoff Lees for the Canadian GP. A second TY02 was ready for the Englishman to use in Montréal, and he qualified on the back row, only for his race to be cut short by the start-line accident. Lammers was back for his home GP and squeezed onto the last place on the grid, retiring just beyond mid distance. Southgate had again produced new sidepods for this race, but they did not work and he returned to his drawing board, producing yet another sidepod design for the British GP, plus a carbon fibre rear wing.
Lammers failed to qualify for the next two races, and for the German GP he was replaced by Tommy Byrne, the runaway leader of the 1982 British F3 championship. He only qualified twice in five attempts, both times in last place on the grid, and spun out of both races. Southgate continued to introduce changes, and the spare car was modified in time for the Italian GP with Brabham-style pullrod front suspension, neatly fitted to the rocker arm pivot without needing to modify the monocoque, just as Dave Kelly had done at the same time on the March 821. This worked so well that the rear suspension had to be modified in time for Las Vegas.
Car
Total
Race
Starts
Grand
Prix
Starts
Grand
Prix
Wins
First Race
Present Location
8
4
Brazilian Grand Prix
(21 Mar 1982)
Wrecked 1984
2
2
Canadian Grand Prix
(13 Jun 1982)
Eddie Claridge (USA) 2021
Teddy Yip bought Mo Nunn's Ensign team for 1983, keeping the Theodore name but using Nunn's Nigel Bennett-designed N183 cars. Southgate moved to Osella where he built the gorgeous Osella FA1E.
The TY02s were acquired by veteran F5000, Can-Am and CART racer Bill Tempero, who fitted one of the cars with a 5-litre Chevrolet V8 and fitted a minimum possible amount of bodywork to make the car eligible for the 1984 Can-Am championship. He was well off the pace in the car and ended its career when he wrote it off in practice at Trois-Rivières in September. The remaining chassis was acquired by Eddie Claridge, and was used in US Vintage racing in the early 1990s, with the sports car bodywork removed but still using a Chevrolet V8 engine. Claridge has continued to race the car for over 25 years, most regularly at the SVRA Watkins Glen Vintage Grand Prix and Le Sommet des Légendes at Mont Tremblant.
Please contact Allen Brown (allen@oldracingcars.com) if you can add anything to our understanding of these cars.
These histories last updated on .