Tyrrell 007 car-by-car histories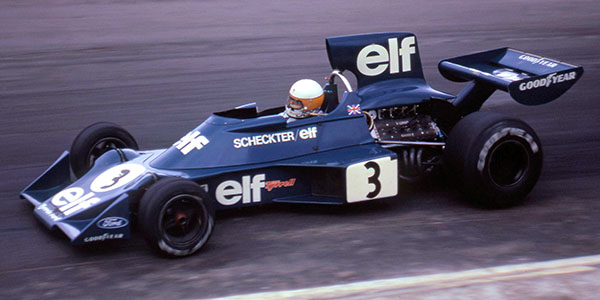 The clean and slender Tyrrell 007 took Elf-Tyrrell on from the Jackie Stewart era, with new drivers Jody Scheckter and Patrick Depailler. The model won three Grands Prix in Scheckter's hands in 1974 and 1975.
Derek Gardner's Tyrrell 007 design for 1974 was evolutionary, not revolutionary; recognisably descended from the 005/006 range, but also with strong similarities to McLaren's M23. The car used pushrod-actuated inboard torsion bar suspension all round, and all-inboard brakes. The aluminium monocoque was low and flat, with fibreglass sidepods containing the deformable structures, and a chisel nose. Jody Scheckter was allocated 007/1 and was immediately highly competitive, finishing in the top five at each of his first eight races, and winning both the Swedish and British GPs. Patrick Depailler received 007/2 at the Belgian GP but had less success, his only podium finish being when he followed Scheckter home in a 1-2 at the Swedish GP. Scheckter took over 007/3 for the Canadian GP but crashed, writing it off. Depailler also had a new car for those races, 007/4.
The 007s continued in use in 1975, but the torsion bars were replaced with coil spring/damper units all round, and the brakes moved from inboard to outboard. The 1975 cars also had short 'delta' sidepods replacing the McLaren-like sidepods of 1974. After starting the season with 007/2 and 007/4, the prototype having been sold off to South Africa, the drivers received 1975-specification 007/5 for Depailler at the Spanish GP, and later 007/6 for Scheckter at the French GP. Scheckter won the South African GP and was second in Belgium, but the team were significantly less competitive than in previous years. Two 007s were used in early 1976 before the 6-wheel Tyrrell P34s were ready, and then three 007s were sold off to privateers. The only car without a traceable history is 007/2, which Tyrrell records say was broken up and sold as spares to the private owners. Later on, Tyrrell built up a show car which wore the chassis tag "007/7". The South African car remains in a museum, but three of the other cars have been used in historic racing.
Car
Total
Race
Starts
Grand
Prix
Starts
Grand
Prix
Wins
First Race
Present Location
21
12
Spanish Grand Prix
(28 Apr 1974)
Franschhoek Motor Museum (South Africa) 2021
17
16
Belgian Grand Prix
(12 May 1974)
broken up
1
1
Canadian Grand Prix
(22 Sep 1974)
Written off, Canadian GP 1974
24
22
Canadian Grand Prix
(22 Sep 1974)
ROFGO Collection (UK) 2022
4
4
French Grand Prix
(6 Jul 1975)
Japan 2014
13
10
French Grand Prix
(6 Jul 1975)
Jody Scheckter (UK) 2018
Tyrrell 007/"7"
(no races recorded)
United States 2019
Please contact Allen Brown (allen@oldracingcars.com) if you can add anything to our understanding of these cars.
These histories last updated on .