Tyrrell P34 car-by-car histories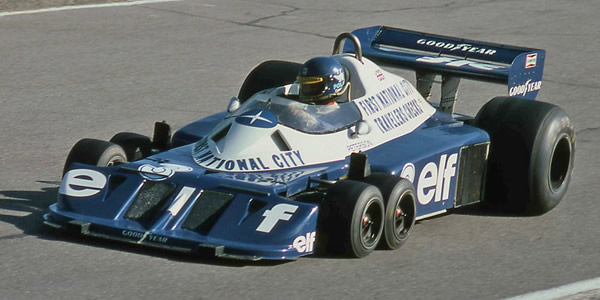 The second big surprise from Tyrrell came in 1976, with the amazing six-wheel Tyrrell Project 34. The P34 was very competitive in 1976, with one win and eight second places.
After the advanced but very conventional Tyrrell 007, Derek Gardner's 1976 design surprised the motor racing world. His aim was to address the lift created by the front wheels, a problem that had previously been addressed by using a broad, bluff nose. Changing to four front wheels had numerous advantages: the reduced front wheel size immediately reduced the lift; the doubled front discs increased braking force, the greater rotational speed improved brake cooling, and there was also more rubber on the ground to improve front end grip. The concept worked very well. Patrick Depailler qualified P34/2 third on its first appearance, the 1976 Spanish GP, well ahead of teammate Jody Scheckter in the two-year-old 007. He qualified third again in Belgium, and at Monaco the two P34s ran second and third for most of the race, albeit some significant distance behind Niki Lauda's Ferrari 312T2. They ran 2-3 again at Anderstorp for the Swedish GP, this time behind Mario Andretti's Lotus 77, and when the American's engine blew, Scheckter led home the Tyrrells in a 1-2 finish. This pattern of being second fastest in a race continued with Depailler second to Lauda in France, Scheckter second to Lauda at Brands Hatch, and Scheckter second again at the Nürburgring, this time to James Hunt. Although the Lauda and Hunt Show dominated the end of the 1976 season, the P34s also finished strongly, with Scheckter leading in Italy, Depailler finishing second in Canada, Scheckter leading much of the race at Watkins Glen but losing out to Hunt, and then Depailler leading in Japan before finishing second.
Scheckter moved to Wolf for 1977, and Ronnie Peterson was brought in to replace him. Tyrrell stuck with the P34s for 1977, building three new cars after P34/3 and P34/4 were both written off at the Brazilian GP. However, Goodyear were unable to develop Tyrrell's 10-inch tyres at the same pace as the conventional 16-inch tyres on the other cars, and the P34s were at an increasing disadvantage. The cars became heavy and unwieldy, the drivers became discontented, and Derek Gardner returned to the motor industry. An entirely new design from a new designer would be used in 1978: Maurice Philippe's Tyrrell 008.
The five surviving P34s were sold off to appear in museums: one in Britain's National Motor Museum, one in Germany, and one in Japan. A fourth went into a driver's private collection, and the fifth has spent many years on display at model maker Tamiya's head office in Japan. An extra car was built up in the 1990s using an unfinished monocoque and is listed here as "8", and then in 2020 Colin Bennett's CGA company in Warrington conducted a project to make two precise copies of a P34 with the Tyrrell family's permission.
Car
Total
Race
Starts
Grand
Prix
Starts
Grand
Prix
Wins
First Race
Present Location
Tyrrell P34/1
(no races recorded)
Auto & Technik Museum Sinsheim (Germany) 2020
14
14
Spanish Grand Prix
(2 May 1976)
Italy 2022
10
10
Belgian Grand Prix
(16 May 1976)
Written off, Brazilian GP 1977
7
7
Dutch Grand Prix
(29 Aug 1976)
Written off, Brazilian GP 1977
10
9
South African Grand Prix
(5 Mar 1977)
Italy 2022
6
6
Austrian Grand Prix
(14 Aug 1977)
Private Collection 2023
13
13
Spanish Grand Prix
(8 May 1977)
Tamiya (Japan) 2019
Tyrrell P34/"8"
(no races recorded)
United Kingdom 2018
Tyrrell P34/"9"
(no races recorded)
United Kingdom 2023
Tyrrell P34/"10"
(no races recorded)
United Kingdom 2020
Please contact Allen Brown (allen@oldracingcars.com) if you can add anything to our understanding of these cars.
These histories last updated on .