Wolverine 1970 Indy history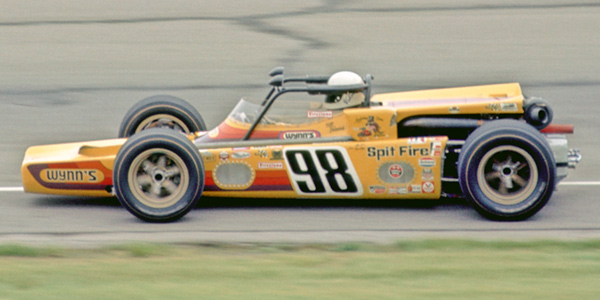 Built by Don Edmunds for JC Agajanian's Wynns-sponsored team in 1970, the Wolverine was a complete flop. It was completely off the pace at the Indy 500 in 1970, and rarely appeared again.
JC Agajanian had been a race promotor and racing car owner since the 1930s and had entered cars at the Indy 500 throughout the 1950s and 1960s, winning the race with drivers Troy Ruttman in 1952 and Parnelli Jones in 1963. His favoured entry number, #98, was a part of his legend, as was his stetson. In 1968 and 1969 he had entered a 1967 Mongoose and a Shrike for Billy Vukovich, son of two-time Indianapolis 500 winner Bill Vukovich, but the youngster's results in 'big car' events had been disappointing. For 1970, Agajanian formed a partnership with payday loans mogul Leonard Faas, who also acted as team manager and brought in his regular mechanic Edgar Elder alongside regular Agajanian chief mechanic Joe Pittman. Three cars would be entered for the Indy 500 with Wynns sponsorship, and Midget car builder Don Edmunds was commissioned to design and build a new Indy car. This was billed as a 'wedge', the then-fashionable shape for Indy cars until F1-style aerodynamics were adopted, and Edmunds claimed his new Wolverine was "a cross between a Lotus-wedge [56] and an Eagle, with bits of a Lola, Brabham and other American constructors mixed in". It must be assumed that the bits did not fit together, as the car was appallingly uncompetitive when it arrived at the Speedway, and by the final day of practice on 22 May, Vukovich was still only running at 160.7 mph, well adrift of the 166 mph pace of teammate Bruce Walkup in the team's old Mongoose. At that point, Vukovich gave up and defected to Jerry O'Connell's Sugaripe Prune team, where he was easily able to qualify their backup Hayhoe at 165.753 mph.
Bruce Walkup kept the Agajanian-Faas drive for the rest of the season and drove the #98 "Wynn's Special" at other races that season, but whether he was in the Mongoose, Shrike or Wolverine is not always clear. At Ontario in September, Walkup crashed the Wolverine during practice; it was repaired, but then crashed again by Bill Puterbaugh, ending its chances of qualifying. Walkup failed to qualify at Trenton and then the car crashed and caught fire in practice at Phoenix. It had not been a good season.
The Agajanian-Faas team bought a second-hand Colt-Lola for 1971, relegating the Wolverine to No 2 status for the Indy 500, where it was entered as #97. Walkup, Ronnie Bucknum and Bobby Johns all tried the Wolverine during practice but no attempt was made to qualify it. Since then, all involved have tried to forget about it. On Don Edmunds website, it simply said "We don't want to talk about it".
If you can add to our understanding of this car, know where the car is today, or have photographs that we can use, please email Allen at allen@oldracingcars.com.
Chassis
History
Current owner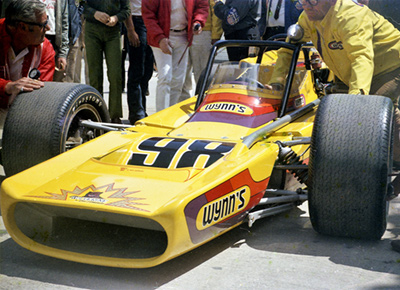 New for Bill Vukovich at the 1970 Indy 500, entered by Agajanian-Faas Racers as the #98 Wynn's Spitfire. Vukovich did not exceed 161.5 mph at any point, and left the team prior to final qualifying. The team continued with the car, but at the California 500 at Ontario in September, it was wrecked by Bruce Walkup, repaired, and then wrecked again by Bill Puterbaugh. The car continued into 1971 as the team's No 2 car, but despite a succession of drivers during Indy practice month, no attempt was made to qualify. Subsequent history unknown.
Driven by: Billy Vukovich, Bruce Walkup, Bill Puterbaugh, Bobby Johns and Ronnie Bucknum. First race: Milwaukee Mile (R5), 7 Jun 1970. Total of 5 recorded races.
Unknown
Acknowledgements
Thanks to Michael Ferner for his help with this history, and to Kenneth Lawrence and Paul Castagnoli for their photographs. Ironic thanks also to Marvel Worldwide Inc for making it impossible to use Google to locate the current whereabouts of this car.
If you can add to our understanding of this car, know where the car is today, or have photographs that we can use, please email Allen at allen@oldracingcars.com.
These histories last updated on .