Cooper T86C history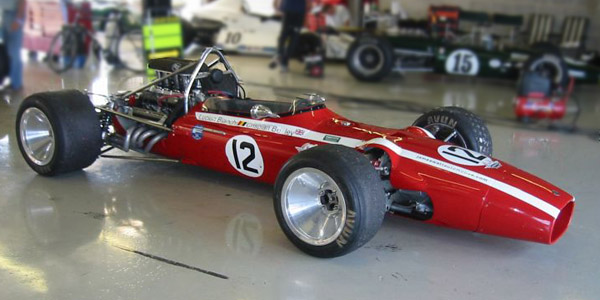 The Cooper T86C was an project by Cooper in 1968 to use an Alfa Romeo T33 V8 engine for F1. However, the plan never came to fruition, and the chassis was sold off for Formula 5000.
Cooper had used Maserati V12 engines in 1966 and 1967, but the design was old, and the engines heavy and unreliable. For 1968, an updated version of Derrick White's Cooper T86 design was produced for BRM's new V12 engine, which was lighter, more compact and less thirsty than the Maserati. This car, the Cooper T86B, would be the mainstay of the team in 1968, but Cooper also had a relationship with Alfa Romeo through their parent company, Chipstead Group, who were also Alfa Romeo Concessionaires for southern England. Alfa Romeo's competition arm, Autodelta, had produced a 2-litre alloy quad-cam 90° V8 engine in 1967 for sportscar racing and this had shown great potential, although this was disguised by Autodelta's appalling presentation, chaotic organisation and woeful reliability. The new 1968 Alfa Romeo Tipo 33/2 engine on Lucas fuel injection produced 315 bhp at 8800 rpm in 2.5-litre sportscar specification, so had the potential to be competitive in 3-litre form. A Cooper T86C was built for this engine, and was tested with the 2.5-litre version at Silverstone and Goodwood in May 1968 by Lucien Bianchi and John Rhodes, after which it was shipped out to Milan, where Carlo Chiti's Autodelta operation were supposedly working on the 3-litre version. In June it was reported that the car was sitting in Italy waiting for an engine, and although an entry was made for Bianchi to drive it at the British GP, it was not seen at any race that season. The T86C chassis was ultimately returned to England, but whether it was tested in Italy with the 3-litre unit before its return remains unclear. The 3-litre engine was eventually raced by Autodelta in 1969, and was made available to the McLaren team for Formula 1 in 1970 in the McLaren M7D.
Please contact Allen Brown (allen@oldracingcars.com) if you can add to our knowledge of this car.
Car
Total
Race
Starts
Grand
Prix
Starts
Grand
Prix
Wins
First Race
Present Location
7
Guards F5000 Championship round
(3 May 1970)
Belgium 2019
After Cooper closed down in early 1969, there was an auction of the team's remaining equipment in June, and the T86C was sold as a rolling chassis to Derek Robinson. Robinson, the owner of Motor Racing Supplies in Frome, Somerset, was an occasional dealer and even sponsor and owned several F1 cars in the late 1960s and early 1970s. He sold the Cooper on to ex-Monoposto driver Fred Place who fitted a Ford V8 for an attack on the 1970 Guards European Formula 5000 Championship. Neither his original JW-built 4.7-litre Ford engine or his replacement 5-litre Ford Boss 302 ci engine worked very well, and Place rarely finished. The car changed hands regularly over the next 20 years, never being finished by any owner, but it was fitted with a bored out Alfa Romeo Montreal engine in the late 1980s and ran at least in demonstrations using that engine. It was acquired by Masters F1 boss Ron Maydon around 2000, and was used in Masters from 2002 to 2009, also appearing at the Monaco Historics. Quite how a car that never raced was allowed into Monaco with a Montreal engine is one of life's little mysteries.
These histories last updated on .