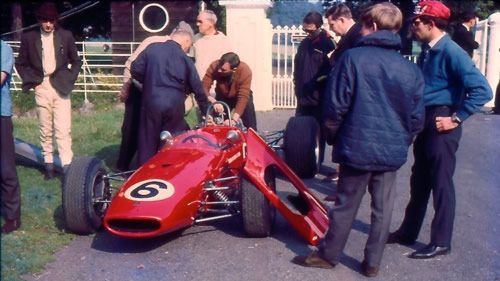 Irish libre racing 1967
Ireland moved to a 1600cc class in 1967 with an All-Ireland Championship covering races north and south of the border. The quickest 1600cc car in Ireland in 1967 was Tommy Reid's Brabham BT23-twin cam but it arrived too late for Reid to feature in the title race which was a straight battle between 20-year-old John Watson whose father Marshall Watson, a Belfast Hillman dealer, had bought a two-year-old Brabham BT16-twin cam from Robs Lamplough to replace his Crosslé sports car, and Malcolm Templeton, the Ballymena Hillman dealer, who had retained his Brabham BT14-twin cam for a third season. Libre racing continued but the the 1600cc category was nearly always the feature race.
Going into the last race Templeton led on 58 pts from Watson on 56 but with Templeton having to drop one of his scores, Watson calculated that he needed only fifth place to win the title. So it would turn out; after Watson pitted to have a plug lead replaced, he scrambled back through the field to finish fifth, albeit fourth in the 1600cc class.
Other quick cars in Ireland included the factory Crosslé Type 12F, driven by John Crosslé and by John Pollock, the sister car of David Baird, Pollock's own Lotus 27/32/35 and the pair of ex-works Brabham BT18's of Kevin Murphy and Reg Armstrong.
The races
08 Apr 1967 > Sunday News Trophy at Kirkistown
20 May 1967 > Scratch Race for Racing cars up to 1600cc at Kirkistown
10 Jun 1967 > Bishopscourt
24 Jun 1967 > Kirkistown
15 Jul 1967 > Racing & Sport-Racing Car Scratch at Bishopscourt
22 Jul 1967 > Kirkistown
26 Aug 1967 > Kirkistown
02 Sep 1967 > Bishopscourt
17 Sep 1967 > Dunlop Hawthorn Trophy and Shell BP Trophy at Phoenix Park
23 Sep 1967 > Guards Trophy at Kirkistown
All-Ireland 1600cc Single-Seater Championship events shown in bold
1967 All-Ireland 1600cc Single-Seater Championship table
1
John Watson
Brabham BT16 - Ford twin cam
61 pts
5 wins
2
Malcolm Templeton
Brabham BT14 - Ford twin cam
59 pts
3 wins
3
John Pollock
Lotus 27/32/35 - Ford twin cam
Crosslé 12F - Ford twin cam
25 pts
4
Kevin Murphy
Brabham BT18 - Ford twin cam
20 pts
5
Tommy Reid
Brabham BT23 - Ford twin cam
19 pts
6=
John Crosslé
Crosslé 12F - Ford twin cam
16 pts
6=
Andrew Fletcher
Brabham BT18 - Ford twin cam
16 pts
This first championship was held over eight rounds with the best six results counting. The points system used appears to have been 8-7-6-5 with the Dunboyne Trophy and the Phoenix Park race counting double.
Points table from Irish Wheel Magazine Nov 1967 p35. Wheel also confirms that Tommy Reid's Brabham BT23 had a twin cam engine when it first appeared at Kirkistown on 23 August, not a FVA. Simon Thomas believes the FVA engine was not initially allowed in the national formula.
A new category of racing was introduced by the 500MRCI for 1967 to replace the ageing 1172cc Ford specials. Called Formula Impala, it was for open wheel single-seaters of any spcification but restricted to the 875cc Hillman Imp engine in standard production form. Full details of this formula are in Wheel Oct 1966 p25.