March 721 car-by-car histories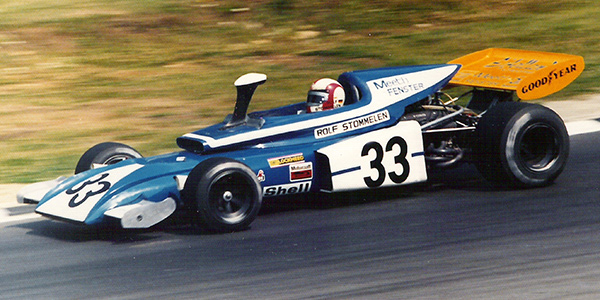 An interim car built for the start of the 1972 season, the March 721 was a minor update to the March 711. As well as two works cars, customer cars were also built from Frank Williams and for Eifelland.
March went into the 1972 season with significant optimism as the team's lead driver Ronnie Peterson had finished the 1971 season second in the championship, STP were still providing much of the budget and designer Robin Herd had an all new March 721X under development. Until it was ready, the March 711s were lightly updated and called 721 for Peterson and his young Austrian teammate Niki Lauda. Frank Williams bought a car for his driver Henri Pescarolo and Eifelland Caravans also bought a car which was to be fitted with new bodywork by Luigi Colani for Rolf Stommelen to drive.
Peterson qualified in the top ten for his two races in a 721, and scored points in both, before moving to a new 721X. Lauda had only raced once before in F1 and struggled, qualifying near the back in both races. Peterson's car was kept as a spare but the frontline careers of both works 721s was already over. Pescarolo had a dreadful season in his car, crashing repeatedly, and Stommelen set back a promising career by being involved with the incompetent Eifelland project, which was wound up after the Austrian GP.
Only one of the cars, Peterson's 721/1, had any significant career in the lower ranks, running for a couple of seasons in the South African national series. After returning to England, it was given the identity of a March 711 so that it could be raced in the HSCC's Pre-71 series and has continued with that identity until very recently, putting it on an inevitable collision course with the genuine 711 that is alive and well in Brazil. Lauda's 721/2 has yet to be found, but the Williams/Pescarolo 721/3 spent some time also masquerading as a 711 for historic racing before being restored to its proper 721 specification for a private collection, and the Eifelland 721/4 spent many years in a loft in San Francisco before being restored for historic racing. An extra car was built up as an "Eifelland tribute car" by one of the team's mechanics.
If you can add to our understanding of these cars, or have photographs that we can use, please email Allen at allen@oldracingcars.com.
These histories last updated on .