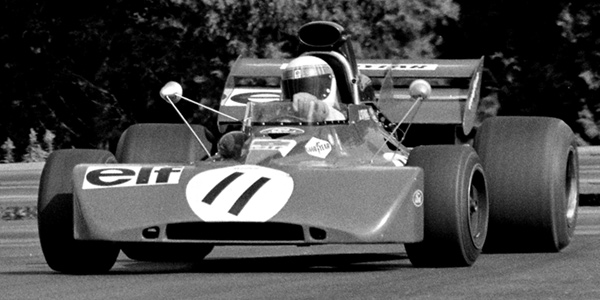 1971 Formula 1 season
The Tyrrell/Stewart combine continued to be a major force in Formula 1, but now with their own Tyrrell 002/003 cars instead of using customer cars and Stewart dominated the season. It should have been Ferrari's year, but the new Ferrari 312B2 was a step backwards from the 1970 car, and engine reliability also became a problem. BRM became the most competitive V12 team with the BRM P160 but lost both its lead drivers during the year, Pedro Rodriguez in a sports car race in July and then Jo Siffert in a non-championship race in October. March introduced a much more sophisticated design, the March 711, for their second season but Chris Amon's relationship with the team had soured and he moved to Matra, who had a very poor season. Emerson Fittipaldi could not get the Lotus 72 on the pace of the Tyrrells, McLaren floundered with the complex new McLaren M19A, Brabham failed to build on the early promise of the Brabham BT34, and Surtees went backwards after a strong start with the Surtees TS9.
As sponsorship became more critical to a team's success, it became more normal for a driver to finance a seat in a team throughout his own sponsorship deals. Rolf Stommelen took his Auto Motor und Sport and Eifelland Caravans money from Brabham to Surtees, where Rob Walker's Brooke Bond Oxo money was used to run the main works car. This was also the basis of Frank Williams' team, which returned to using customer cars in 1971, and was financed chiefly by Motul money brought by Henri Pescarolo. The structure of BRM's sponsorship deal with Yardley encouraged Louis Stanley to expand from three to four cars, and even to five at the Watkins Glen race, stretching the team's resources to the limit.
Nearly all the major F1 teams were also involved in racing in other categories, and most partly supported themselves through the production of customer cars (Brabham, Lotus, March, McLaren and Surtees), but this was starting to change, as more money was now available from sponsorship and the established F1 teams soon extracted themselves from customer racing car production, Lotus after 1971, McLaren after 1972, Brabham after 1973 and Surtees after 1974, although McLaren continued to build Indy cars until the end of the 1970s.
The races
24 Jan 1971 > Argentinian Grand Prix at Buenos Aires
06 Mar 1971 > South African Grand Prix at Kyalami
21 Mar 1971 > Race of Champions at Brands Hatch
28 Mar 1971 > Questor Grand Prix at Ontario Motor Speedway
09 Apr 1971 > Spring Trophy at Oulton Park
18 Apr 1971 > Spanish Grand Prix at Montjuich Park
08 May 1971 > International Trophy at Silverstone
23 May 1971 > Monaco Grand Prix at Monte Carlo
13 Jun 1971 > Jochen Rindt Trophy at Hockenheim
20 Jun 1971 > Dutch Grand Prix at Zandvoort
04 Jul 1971 > French Grand Prix at Paul Ricard
17 Jul 1971 > British Grand Prix at Silverstone
01 Aug 1971 > German Grand Prix at Nürburgring
15 Aug 1971 > Austrian Grand Prix at Österreichring
21 Aug 1971 > Gold Cup at Oulton Park
05 Sep 1971 > Italian Grand Prix at Monza
19 Sep 1971 > Canadian Grand Prix at Mosport Park
03 Oct 1971 > United States Grand Prix at Watkins Glen
24 Oct 1971 > World Championship Victory Race at Brands Hatch
World Drivers' Championship events shown in bold
1971 World Drivers' Championship table
All cars are 3-litre Formula 1 cars unless otherwise noted.