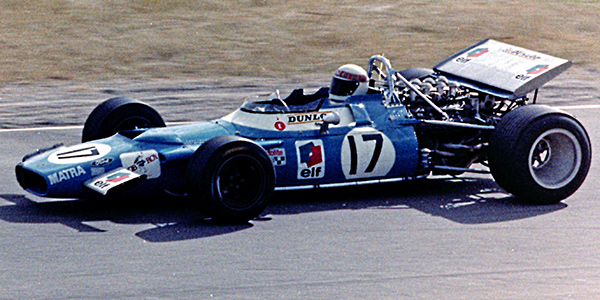 1969 Formula 1 season
The dominance of the Cosworth DFV had reshaped Formula 1 as the 1969 season began, with the new Matra team of Ken Tyrrell and the nearly-new McLaren team joining Lotus as the top teams. Eagle had withdrawn during 1968, and Cooper could not find the funding to return for 1969. Honda also withdrew, as even John Surtees could not make their overweight cars competitive, and Matra temporarily withdrew their works team to focus on the Matra MS80 for Ken Tyrrell and driver Jackie Stewart. Brabham continued, but replaced the Repco engine in the Brabham BT26 with Cosworths. As the Cosworth became more readily available, new teams moved into F1, the most notable being Frank Williams, who ran a Brabham for Piers Courage. Other privateers included Rob Walker, who continued to run a Lotus 49B for Jo Siffert, Colin Crabbe's Antique Automobiles with a McLaren M7A for Vic Elford, and Silvio Moser's tiny operation with a Brabham BT24.
The only teams left not using the Cosworth DFV were BRM and Ferrari, and both needed fresh thinking as the BRM P139 and Ferrari 312/69 were off the pace. BRM's hand was forced by Surtees, who moved from Honda, and soon insisted on the departure of long-time chief engineer Tony Rudd and killed off his resource-sapping H16 engine project. Ferrari were working on a flat-12 engine, but this would not be ready until the end of the season, leaving the team to run a single V12 car for Chris Amon.
Many of the teams were distracted during 1969 by four-wheel-drive projects, and Colin Chapman's insistance that the Lotus 63 was the way forward may have undermined his team's chance of retaining its title. Jacky Stewart only used his 4WD Matra MS84 in practice and focused on the orthodox Matra MS80, dominating the season and winning the title by 26 points.
The races
01 Mar 1969 > South African Grand Prix at Kyalami
16 Mar 1969 > Race of Champions at Brands Hatch
30 Mar 1969 > International Trophy at Silverstone
13 Apr 1969 > Gran Premio de Madrid at Jarama
04 May 1969 > Spanish Grand Prix at Montjuich Park
18 May 1969 > Monaco Grand Prix at Monte Carlo
21 Jun 1969 > Dutch Grand Prix at Zandvoort
06 Jul 1969 > French Grand Prix at Clermont-Ferrand
19 Jul 1969 > British Grand Prix at Silverstone
03 Aug 1969 > German Grand Prix at Nürburgring
16 Aug 1969 > Gold Cup at Oulton Park
07 Sep 1969 > Italian Grand Prix at Monza
20 Sep 1969 > Canadian Grand Prix at Mosport Park
05 Oct 1969 > United States Grand Prix at Watkins Glen
19 Oct 1969 > Mexican Grand Prix at Mexico City
World Drivers' Championship events shown in bold
1969 World Drivers' Championship table
All cars are 3-litre Formula 1 cars unless otherwise noted.