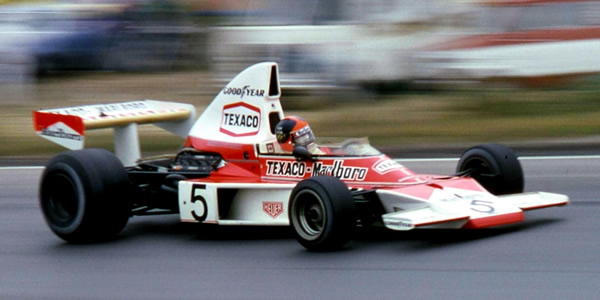 Formula 1 World Drivers Championship 1974
After Jackie Stewart's retirement, Formula 1 became much more competitive in 1974, with four teams vying for wins, and a total of seven different drivers topping the podium. Lotus's new Lotus 76 was a flop, but a quick return to the Lotus 72E allowed Ronnie Peterson to win three races. His former teammate Emerson Fittipaldi had moved to McLaren, where the McLaren M23 was highly competitive, the Brazilian winning three races and veteran teammate Denny Hulme a fourth. Ken Tyrrell recruited Jody Scheckter and Patrick Depailler to replace Stewart and Francois Cevert, and produced a new Tyrrell 007 following the template of the Lotus 72 and McLaren M23. Scheckter won two Grands Prix. The Ferrari team also returned to form with ex-BRM drivers Clay Regazzoni and Niki Lauda, and Mauro Forgieri's hugely improved Ferrari 312B3/74. Gordon Murray's Brabham BT44 was the other leading car of the season, Carlos Reutemann winning three races.
Behind these four teams, James Hunt had a very strong season in the new Hesketh 308, leaving BRM, Surtees, Shadow, March, Williams and Embassy-Lola as distinctly midfield runners.
When the European season started at the Spanish GP, three new teams appeared: Trojan Racing had built their own car; Chris Amon had done the same; and Bretscher Racing had a customer Brabham, bringing the regular entrants up to 29. John Nicholson's Lyncar was also running, but was yet to attend a GP. This finally gave F1 more cars than were needed, and there were two failures to qualify in Spain, for the first time since the 1972 Italian GP, and only the fourth time since Monaco in 1971. With more teams taking spare cars to races, there were 40 cars present in Spain, beating the record of 37 set in France in 1972. The new Token team then joined in at the Belgian GP, as did Leo Kinnunen with a privately run Surtees, and Brabham joined McLaren and BRM in running a third car, so the numbers rose to 41 at Monaco, 42 in France, and then a massive 50 at the British GP, when the hopeless Maki joined the circus. Many of these smaller teams had no hope of success, and some should really have been sent home. Later in the season, Penske and Parnelli joined F1, with highly professional operations.
The races
13 Jan 1974 > Argentinian Grand Prix at Buenos Aires
27 Jan 1974 > Brazilian Grand Prix at Interlagos
03 Feb 1974 > Grand Prix Presidente Medici at Brasilia
17 Mar 1974 > Race of Champions at Brands Hatch
30 Mar 1974 > South African Grand Prix at Kyalami
07 Apr 1974 > International Trophy at Silverstone
28 Apr 1974 > Spanish Grand Prix at Jarama
12 May 1974 > Belgian Grand Prix at Nivelles-Baulers
26 May 1974 > Monaco Grand Prix at Monte Carlo
09 Jun 1974 > Swedish Grand Prix at Anderstorp
23 Jun 1974 > Dutch Grand Prix at Zandvoort
07 Jul 1974 > French Grand Prix at Dijon-Prenois
20 Jul 1974 > British Grand Prix at Brands Hatch
04 Aug 1974 > German Grand Prix at Nürburgring
18 Aug 1974 > Austrian Grand Prix at Österreichring
08 Sep 1974 > Italian Grand Prix at Monza
22 Sep 1974 > Canadian Grand Prix at Mosport Park
06 Oct 1974 > United States Grand Prix at Watkins Glen
World Drivers' Championship events shown in bold
1974 World Drivers' Championship table
All cars are 3-litre Formula 1 cars unless otherwise noted.