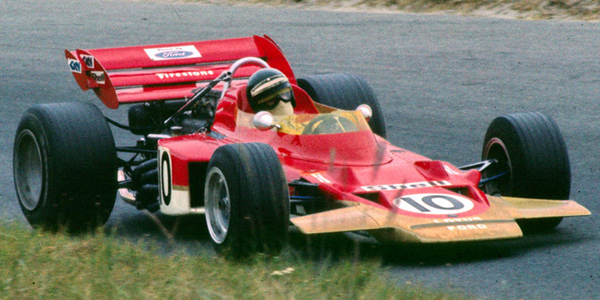 1970 Formula 1 season
1970 saw a boom in Formula 1, as new teams took advantage of the readily available Cosworth DFV engine and Hewland DG300 gearbox and a flurry of new marques appeared. The biggest new entrant was March, formed by Max Mosley and designer Robin Herd, and with ambitious plans to run cars in F1, F2, F3 and Can-Am. John Surtees, after two seasons of struggle with Honda and BRM, formed his own team and produced the Surtees TS7. Two other privateers took the same path, Frank Williams facilitating new cars built by De Tomaso, and Silvio Moser arranging for a car built by Bellasi.
Ken Tyrrell split from Matra over the French constructor's insistence that only Matra's V12 engine could be used in Matra cars, and shocked the motor racing world by buying cars from the upstart March. Stewart won one race but the March 701 kept breaking, and before the end of the season Tyrrell revealed the team's own car, the Tyrrell 001.
Ferrari and BRM both bounced back from transitional seasons in 1969. Ferrari's flat-12 engine was a great success, and from mid-1970 to mid-1971, the Ferrari 312B was the car to beat. The revitalised BRM team had the BRM P153 from the pen of new designer Tony Southgate, as well as Tim Parnell as team manager and Louis Stanley taking over from Alfred Owen as team principal.
Lotus introduced a ground-breaking new car, the Lotus 72, and after some difficulty getting it working properly, proceeded to dominate the middle of the season, Jochen Rindt winning four races in succession. Rindt died in an accident at Monza but his points lead was sufficient for him to become motor racing's only posthumous world champion. With Bruce McLaren and Piers Courage having also died earlier in the season, Jackie Stewart led calls for improved safety standards.
The races
07 Mar 1970 > South African Grand Prix at Kyalami
22 Mar 1970 > Race of Champions at Brands Hatch
19 Apr 1970 > Spanish Grand Prix at Jarama
26 Apr 1970 > International Trophy at Silverstone
10 May 1970 > Monaco Grand Prix at Monte Carlo
07 Jun 1970 > Belgian Grand Prix at Spa-Francorchamps
21 Jun 1970 > Dutch Grand Prix at Zandvoort
05 Jul 1970 > French Grand Prix at Clermont-Ferrand
18 Jul 1970 > British Grand Prix at Brands Hatch
02 Aug 1970 > German Grand Prix at Hockenheim
16 Aug 1970 > Austrian Grand Prix at Österreichring
22 Aug 1970 > Gold Cup at Oulton Park
06 Sep 1970 > Italian Grand Prix at Monza
20 Sep 1970 > Canadian Grand Prix at Mont-Tremblant
04 Oct 1970 > United States Grand Prix at Watkins Glen
25 Oct 1970 > Mexican Grand Prix at Mexico City
World Drivers' Championship events shown in bold
1970 World Drivers' Championship table
All cars are 3-litre Formula 1 cars.