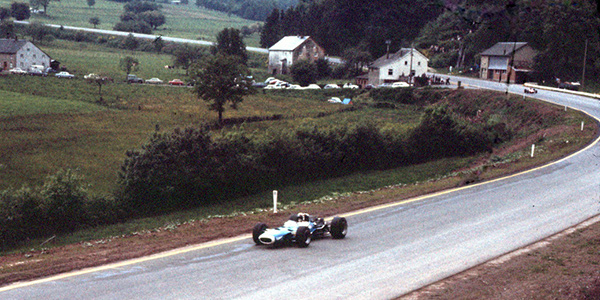 1968 Formula 1 season
If 1967 was the dawn of the Cosworth DFV, then 1968 was the season it took over. As well as Lotus's well-developed Lotus 49B, McLaren moved to the DFV for Robin Herd's McLaren M7A, and Ken Tyrrell's new team used DFVs mated to Matra MS10 chassis. Other teams collapsed around them. Brabham's new Repco 860 engine in the Brabham BT26 barely finished a race all season, and John Surtees' Honda RA301 was hardly any better. Dan Gurney's Eagle only finished one race before he abandoned the project completely. Cooper moved from Maserati power to BRM's V12 in the Cooper T86B, but with the team's star drivers gone, Cooper sunk to the back of the grid.
BRM and Ferrari continued to build their own engines, but found it very hard to compete. BRM finally abandoned the heavy and overcompicated H16 engine and brought in Len Terry's company to briskly design and build the BRM P126 for the V12 engine, which BRM then developed into the BRM P133 and BRM P138, allowing Pedro Rodriguez to post some good results in the early part of the season before the team fell behind in the race to adopt aerodynamic devices. Jacky Ickx demonstrated the ability of Ferrari's 312/68 V12 with a win in France and pole position in Germany, and teammate Chris Amon won three pole positions. Apart from Tyrrell, the other new team was Matra's own works team, but Matra's V12 engine in the Matra MS11 was clearly not as effective as the Cosworth, and Matra temporarily withdrew at the end of the season.
The sport was rocked by Jim Clark's death in an F2 race in April, when he looked clear favourite to win the championship. Teammate Graham Hill won three races, but he needed to win the final race to seize the championship from Jackie Stewart in the Tyrrell Matra and Denny Hulme in the McLaren.
The races
01 Jan 1968 > South African Grand Prix at Kyalami
17 Mar 1968 > Race of Champions at Brands Hatch
27 Apr 1968 > International "Daily Express" Trophy at Silverstone
12 May 1968 > Spanish Grand Prix at Jarama
26 May 1968 > Monaco Grand Prix at Monte Carlo
09 Jun 1968 > Belgian Grand Prix at Spa-Francorchamps
23 Jun 1968 > Dutch Grand Prix at Zandvoort
07 Jul 1968 > French Grand Prix at Rouen-les-Essarts
20 Jul 1968 > British Grand Prix at Brands Hatch
04 Aug 1968 > German Grand Prix at Nürburgring
17 Aug 1968 > Gold Cup at Oulton Park
08 Sep 1968 > Italian Grand Prix at Monza
22 Sep 1968 > Canadian Grand Prix at Mont-Tremblant
06 Oct 1968 > United States Grand Prix at Watkins Glen
03 Nov 1968 > Mexican Grand Prix at Mexico City
World Drivers' Championship events shown in bold
1968 World Drivers' Championship table
All cars are 3-litre Formula 1 cars unless otherwise noted.