Matra MS11 car-by-car histories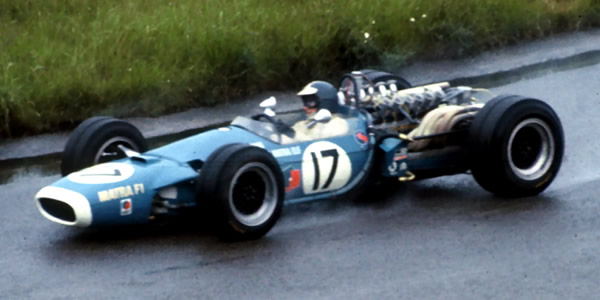 Designed and built alongside the MS10, the Matra MS11 was equipped with Matra's MS9 V12 engine. Beltoise had little success with the car, and Matra's works team temporarily withdrew from F1 at the end of 1968 to focus on sports car racing.
George Martin had designed the original Type MS9 V12 engine, but it suffered from a number of problems, the most intractable being its overheating, but it was also thirsty, underpowered and unreliable. Also, unlike the Cosworth DFV used in the Matra MS10, the V12 could not be used as a stressed chassis member. Matra regular Jean-Pierre Beltoise was employed to drive it, and had two cars at his disposal, the original MS11-01 test car and a brand new MS11-02. Apart from deafening a few people, the MS11's key achievement was second place in the rain at Zandvoort for Beltoise in MS11-01, where Dunlop's wet weather tyres gave the Matras a significant advantage. For the three North American races at the end of the season, a second car was run for Henri Pescarolo, who had driven the MS630 sports car so heroically at Le Mans that summer. He was given a new car MS11-03, which carried the chassis plate from MS11-02 and appears to have been a complete rebuild of the older car. Beltoise used the old MS11-01 test car at these races.
Matra temporarily pulled out of F1 at the end of 1968, focusing their effort on sports car racing while providing F1 chassis for Ken Tyrrell's team to be powered by Cosworth DFV engines. The prototype MS11 was fitted with an interim MS12 engine and used as a test hack for that engine during 1969. It was then used in French hillclimbs in 1970, with Beltoise winning at Mont Dore and Urcy, and Pescarolo winning at Beaujolais. That car remained in Matra's possession and is generally on display at the Musée Matra, still with its MS12 engine, and wearing the number 90 from Beltoise' victory at Mont Dore. In 2016, it was on loan to the Cité de l'Automobile at Mulhouse, still better known as the Schlumpf Collection. The other surviving car went to Antoine Raffaëlli with the MS9 and the two MS10s, and later became part of Abba Kogan's magnificent collection of Matras. A fourth MS11 was built in 2007 by French Matra specialists EPAF, led by Jean-Paul Humbert, and appears regularly at French historic events.
Car
Total
Race
Starts
Grand
Prix
Starts
Grand
Prix
Wins
First Race
Present Location
8
5
Belgian Grand Prix
(9 Jun 1968)
Musée Matra (France) 2021
5
5
Monaco Grand Prix
(26 May 1968)
Rebuilt as MS11-03
2
2
Canadian Grand Prix
(22 Sep 1968)
Private Collection (United Kingdom) 2019
Matra MS11-"04"
(no races recorded)
France 2017
The puzzle of MS11-02 and MS11-03
It would appear that chassis MS11-02 was completely rebuilt as MS11-03 before the Canadian Grand Prix, but the evidence for this remains sketchy. Beltoise crashed out of the German GP in MS11-02 when he left the road at Höhe Acht, but the damage does not appear to have been significant. Motoring News said that he "charged backwards up a bank" but referred to the damage as "none to serious" saying that Beltoise "decided not to continue". Other sources only mention damage to the fuel system. The next race was the Italian GP, when the team only brought one MS11, but this was not particularly unusual. The difficulty at Monza is that our various sources disagree over which MS11 was present, Autosport and Speedworld International saying MS11-01, and Motor Sport and Motoring News saying MS11-02. If it was actually MS11-01, then it could be that the damage to MS11-02 at the 'Ring was greater than expected and it was in the process of being rebuilt into what would emerge as a new car. At the next race, the Canadian GP, Beltoise was driving MS11-01 but there was a difference of opionion again over Pescarolo's mount: The second Matra MS11 was numbered MS11-03 according to Motor Sport, Speedworld International and Auto Italiana, but MS11-02 according to Autosport and Sport Auto. However, the only source to state that the car was new was Auto Italiana, which said "La Matra France ha portato una teza vettura, appena finita di costruire, per Pescarolo. La MS 11 003, non differisce molto dalle macchine precedenti, salvo che nella diversa foggia dei serbatoi laterali, e per l'assenza del radiatore olio sul motore, che in seguito pero, e stato applicato." ("Matra France has brought a third car, just completed, for Pescarolo. The MS 11 003 does not differ much from the previous machines, except in the different shape of the side tanks, and for the absence of the oil cooler on the engine, which was subsequently added.").
Please contact Allen Brown (allen@oldracingcars.com) if you can add anything to our understanding of these cars.
These histories last updated on .