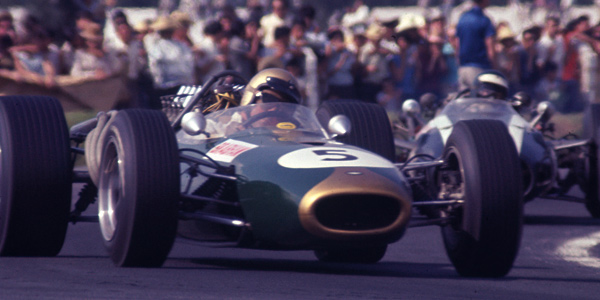 1966 Formula 1 season
The "Return to Power" created significant upheaval as teams scrambled to find engines for the new formula. Coventry Climax, one of only two engine manufacturers to make their engines widely available to customers, withdrew, leaving only BRM, who decided to make a 3-litre engine by bolting two 1500cc V8s on top of each other to make an H16 for the new BRM P83. Lotus also opted for the BRM engine, for the Lotus 43, and as between them BRM and Lotus had won all the races in the 1965 season, much was expected from this engine. Unfortunately for both teams, it turned out to be underpowered and enormously heavy.
Of the challengers, Brabham were the best prepared, having arranged with Australian company Repco to build an engine based on the Oldsmobile alloy V8. This was first fitted into the Brabham BT19 for Jack Brabham, and then into a new Brabham BT20 for Denny Hulme. Ferrari naturally built their own engine, and had a suitable 3-litre sports car V12 to use as a starting point for the Ferrari 312/66. Cooper Cars' business relationship with Maserati led to an arrangement for an update to the late-1950 Maserati V12 engine to install in the bulky new Cooper T81. Honda also created a V12 engine in-house for the Honda RA273, but it arrived late and was again much too heavy.
Of the newcomers, Eagle commissioned an alloy-block V12 engine from Weslake and would use 2.5-litre Climax engines until that was ready, the interesting new McLaren M2B was let down by its modified Ford quad-cam Indy car engine, and Shannon did not have the funding to develop the 1950s Climax FPE V8 engine. For the privateers, the old 4-cylinder 2.5-litre Climax FPF engine was a viable but uncompetitive option, and 2-litre versions of the BRM and Climax V8 engines remained in use all season.
Monaco was not a representative venue to start the championship, as Jackie Stewart was able to win using one of BRM's 2-litre Tasman BRM P261s. John Surtees won in Belgium in the Ferrari, but then fell out with Ferrari management and moved to Cooper. That left Jack Brabham able to dominate the summer, and the championship was secure before Ferrari, Lotus and Cooper could return to competitiveness.
The races
01 Jan 1966 > South African Grand Prix at East London
01 May 1966 > Gran Premio di Syracusa at Siracusa
14 May 1966 > International Trophy at Silverstone
22 May 1966 > Monaco Grand Prix at Monte Carlo
12 Jun 1966 > Belgian Grand Prix at Spa-Francorchamps
03 Jul 1966 > Grand Prix de l'ACF (French Grand Prix) at Reims
16 Jul 1966 > British Grand Prix at Brands Hatch
24 Jul 1966 > Dutch Grand Prix at Zandvoort
07 Aug 1966 > German Grand Prix at Nürburgring
04 Sep 1966 > Italian Grand Prix at Monza
17 Sep 1966 > Gold Cup at Oulton Park
02 Oct 1966 > United States Grand Prix at Watkins Glen
23 Oct 1966 > Mexican Grand Prix at Mexico City
World Drivers' Championship events shown in bold
1966 World Drivers' Championship table
1
Jack Brabham
3-litre Brabham BT19 - Repco 620 V8
42 pts
4 wins
2
John Surtees
3-litre Ferrari 312/66 - V12
3-litre Cooper T81 - Maserati V12
28 pts
2 wins
3
Jochen Rindt
3-litre Cooper T81 - Maserati V12
22 pts
4
Denis Hulme
2.7-litre Brabham BT22 - Climax FPF 4
3-litre Brabham BT20 - Repco 620 V8
18 pts
5
Graham Hill
2-litre BRM P261 - P60 V8
3-litre BRM P83 - P75 H16
17 pts
6
Jim Clark
2-litre Lotus 33 - Climax FWMV V8
3-litre Lotus 43 - BRM P75 H16
16 pts
1 win
7
Jackie Stewart
2-litre BRM P261 - P60 V8
3-litre BRM P83 - P75 H16
14 pts
1 win
8=
Michael Parkes
3-litre Ferrari 312/66 - Ferrari V12
12 pts
8=
Lorenzo Bandini
2.4-litre Ferrari 246T/66 - Tipo 228 V6
3-litre Ferrari 312/66 - V12
12 pts
10
Ludovico Scarfiotti
2.4-litre Ferrari 246T/66 - Tipo 228 V6
3-litre Ferrari 312/66 - V12
9 pts
1 win
11
Richie Ginther
3-litre Cooper T81 - Maserati V12
3-litre Honda RA273 - V12
5 pts
12=
Dan Gurney
2.7-litre Eagle 'T1F' - Climax
3-litre Eagle 'T1G' - Weslake V12
4 pts
12=
Mike Spence
2-litre Lotus 33 - BRM P60 V8
4 pts
14=
Bob Bondurant
2-litre BRM P261 - P60 V8
2.7-litre Eagle 'T1F' - Climax
3-litre Eagle 'T1G' - Weslake V12
3 pts
14=
Jo Siffert
2-litre Brabham BT11 - BRM P60 V8
3-litre Cooper T81 - Maserati V12
3 pts
14=
Bruce McLaren
3-litre McLaren M2B - Ford 406 V8
3-litre McLaren M2B - Serenissima V8
3 pts
17=
Peter Arundell
3-litre Lotus 43 - BRM P75 H16
2-litre Lotus 33 - BRM P60 V8
2-litre Lotus 33 - Climax FWMV V8
1 pt
17=
Jo Bonnier
3-litre Cooper T81 - Maserati V12
2.7-litre Brabham BT22 - Climax FPF
1.5-litre Brabham BT7 - Climax FWMV V8
1 pt
17=
Bob Anderson
2.7-litre Brabham BT11 - Climax FPF 4
1 pt
17=
John Taylor
2-litre Brabham BT11 - BRM P60 V8
1 pt