BRM P126 car-by-car histories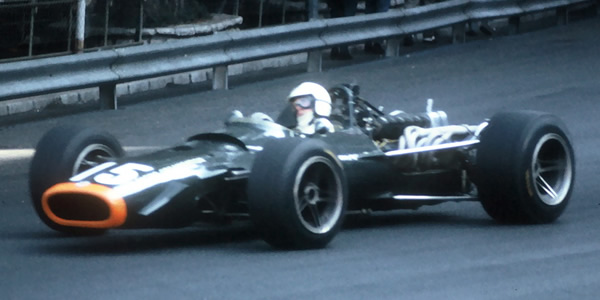 BRM started a new era in 1968, with the new V12 engine and a set of cars designed and built outside the factory by Len Terry.
Len Terry's reputation rested on the highly successful Lotus 38, which Terry had designed for Colin Chapman's team and had won the 1965 Indianapolis 500. The key distinction between the 38 and earlier Lotuses was its 'full' monocoque structure, in that the top panel was an integral skin, instead of being a detachable body panel on 'bathtub' monocoques, and Terry never again designed a bathtub structure. Terry then moved to Eagle for 1966, where he designed both the F1 and Indy Eagles, and would remain in steady employment for the rest of the 1960s producing variations on this very successful theme. During 1967, he was commissioned by BRM's Sir Alfred Owen to produce a new car to carry the team's new V12 engine, which had originally been designed for sportscar racing. The car was designed and built by Terry at Transatlantic Automotive Consultants, a joint venture between Terry and Frank Nichols, and based near Terry's home in Hastings. The P126 was smaller and significantly sleeker than the tubby Eagle, as it was designed to fit Jackie Stewart and needed to carry less fuel, but otherwise similar, with inboard springs actuated by rocker arms at the front, and Terry's parallel link rear suspension.
The first two cars were fitted with a 2.5-litre version of the V12 engine and driven in the 1968 Tasman series by Bruce McLaren and Pedro Rodriguez, Jackie Stewart having decided to leave BRM for Ken Tyrrell's F1 team. McLaren won at Teretonga before handing his car over to Richard Attwood, but generally the cars were off the pace of the Lotus 49s. For the European F1 season, BRM built their own versions of the P126, called the P133, and the team operated two cars for Rodriguez and Mike Spence, while one of the ex-Tasman P126s was handed over to Tim Parnell to run for Piers Courage. Spence qualified on the front row at two non-championship races, but was then killed driving a Lotus 56 at Indianapolis, and was replaced in the BRM team by Attwood. Rodriguez led the Spanish GP, and Attwood finished second and set fastest lap in Monaco, but performances faded later in the season.
One of the P126s was written off by Bobby Unser at Watkins Glen, leaving two at the factory after 1969. One of these went into a succession of private collections, before emerging and being rebuilt for historic racing in 2002. The other was bought by Robs Lamplough in 1971, and run at the Jochen Rindt Trophy in June 1971 by Bernd Terbeck. This car ran in historic racing throughout the 1990s, but was retired from competition in 2004.
Please contact Allen Brown (allen@oldracingcars.com) if you can add anything to our understanding of these cars.
These histories last updated on .