BRM P153 car-by-car histories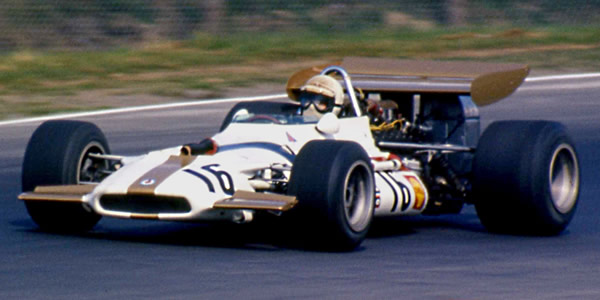 Tony Southgate's first design for BRM was the BRM P153, a low bathtub monocoque with bulbous sides that was a complete change to previous designs. This design returned the team to competitiveness with Pedro Rodriguez winning the Belgian GP.
There had been something of a revolution at BRM during 1969, with chief engineer Tony Rudd leaving, and Tony Southgate coming in from Eagle to take his place in charge of chassis design and development. Southgate designed an entirely new car for 1970, the P153, which followed his ideas at Eagle by having a very low centre of gravity. The fuel was concentrated around the centre of the car by means of a low bathtub monocoque with double-curvature sides that bulged out toward the back, a shape compared to a Coke bottle. Southgate was not the first to bring this shape to F1, Bernard Boyer's 1969 championship-winning Matra MS80, having a very similar layout, but the P153 had a distinctly onion-shaped profile compared with the more cylindrical Matra. The car's suspension was highly conventional with outboard springs all round, and the main radiator was in a standard wedge nose similar to the Surtees TS5 nose that had been used on John Surtees' BRM P139 in 1969. Aubrey Woods' heavily revised V12 engine was only partially stressed, so a triangular framework connected the back of the monocoque to the rear suspension/gearbox mounting plate. BRM continued to build its own gearboxes, and the P153 was fitted with a 5-speed P131 transmission designed by Alex Stokes, a BRM stalwart with 23 years' service. The car sat on 13-inch wheels front and rear, with 10.5-inch diameter Girling brakes shrouded inside the wheels. The magnesium uprights were all new. Bodywork was produced by Specialised Mouldings Ltd.
John Surtees had left to set up his own F1 team, so BRM's drivers for 1970 were Jackie Oliver, Pedro Rodriguez and George Eaton, the latter driving a third car at most races. The P153 was not especially reliable, due in no small part to issues with the engine oil system, but the power of the BRM V12 meant it was especially competitive on faster circuits and Rodriguez won the Belgian GP at Spa in June. He also took second place at Watkins Glen at the end of the season, having qualified in fourth, the best grid position the P153 achieved.
Southgate introduced an improved BRM P160 for 1971, but P153s continued in use for most of the season. Jo Siffert replaced Oliver in the team, and Howden Ganley drove the No 3 car, financed by his F5000 sponsor Barry Newman, not receiving his P160 until the Austrian GP. As the team expanded to a regular four drivers in 1972, poor Helmut Marko was still driving a P153 as late as the Belgian GP that year.
Of the seven cars built, only two were lost to accidents. Howden Ganley acquired one P153 in lieu of wages in November 1972, and another three went to various friends of the team. One car was kept as a show car, and was auctioned by Christie's as part of "The Owen Collection" in October 1981.
These histories last updated on .