McNamara T501 car-by-car histories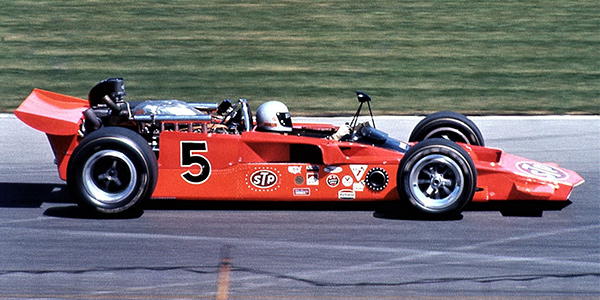 The second McNamara Indy car design was lower and lighter than the 1970 model, but suffered from chassis flexing and driver Mario Andretti struggled with it at the Indy 500. The relationship between STP and McNamara quickly came to an end.
Designer Jo Karasek's new McNamara T501 was a quite different design to his preceding McNamara T500, with a wide, flat, straight-sided monocoque and Lotus-style rocker-arm front suspension. The weight was expected to be between 1380 and 1400 pounds, compared with 1460 for its predecessor, the weight reduction having been achieved through the use of titanium in the hubs, gearshift lever and some of the bolts. The resulting car was three inches longer than the T500, at 99 inches, and four inches lower. As well as the suspension changes, Popular Mechanics reported that it was fitted with inboard rear brakes, which it referred to as "a first on championship cars", although they were also fitted to the 1971 McLaren M16. One of the major design limitations of the car was the use of the very wide Ford V8 engine, which compromised the aerodymanics. Karasek used three-tiered spoiler on the sides of the T501, but the car was unable to match the speeds of cars using the more compact Offenhauser engine. Karasek won the Society of Automotive Engineers' Louis Schwitzer Award for design innovation on the T501.
Andretti had considered leaving after the 1970 season, but was convinced to stay when his former mechanic Jim McGee was lured from Clint Brawner's team to replace Vince Granatelli as Andretti's chief mechanic for 1971. Vince Jr was assigned as mechanic on the second STP car, for the highly-rated Steve Krisiloff. It became evident that the deal also involved Andy Granatelli staying out of the Andretti-McGee garage. The new car was being completed in Lenggries in February, and it was ready for testing in the US in early March. Andretti drove the prototype at Phoenix and Trenton while a new car was built for him to drive at the Indy 500. A third car was also built for the Speedway after Krisiloff's 1968 Hawk was wrecked at Trenton. Andretti qualified ninth at the Speedway, his worst ever starting position in the 500, and later commented that the car was flexing badly, making it difficult to set up. The race went no better as Krisiloff's McNamara dumped oil on the track when its engine failed and Andretti hit the oil and spun into the wall.
Rumours persisted through the summer that Andretti and McGee would be leaving STP to join a new team set up by John Mecom. However, Andretti stayed to drive the one intact McNamara T501 and STP absorbed Grant King's team to run his two 1970/71 Kingfish as #20 and #40 for Krisiloff and Larry Dickson. Andretti's Indy 500 car was rebuilt in time for Pocono with completely revised aerodynamics, along McLaren M16 lines, and proved more competitive. By mid-July, a completely new car, intended for Andretti to use at the Ontario 500, was being constructed by Chuck Looper, Wayne Guyer and McGee at Grant King's shop. This retained the McNamara's suspension but had a significantly strengthened monocoque to overcome the chassis flexing the team had experienced at the Indy 500. The fuel tanks and oil cooler were mounted lower in the chassis to lower the centre of gravity.
If you can add to our understanding of these cars, or have photographs that we can use, please email Allen at allen@oldracingcars.com.
Chassis
History
Current owner
The end
On 26 May, a few days before the race, McNamara took STP to court to try to retrieve payment due for materials and services, by putting a restraining order on the Speedway from paying any prize money to STP. When both cars exited the race early, any chance of repairing the relationship was gone and the end came for McNamara Racing very quickly and quite tragically. McNamara's wife Bonnie died unexpectedly in June 1971 and with Granatelli aggressively disputing McNamara's claim that any money was outstanding, McNamara Racing was soon put into liquidation.
In June 1971, just a fortnight after the Indy 500, The American Consumers Union issued a report saying that STP was "a worthless oil thickener that may violate a new car's warranty". Despite Andy Granatelli's best effort to fight back, the "snake oil" association stuck, and STP shares tumbled from $53 the day before the report's publication to just $3.75 two years later. In an attempt to bolster sales, Granatelli diversified STP's marketing expenditure away from the Indy 500 and for 1972 arranged to sponsor both the March F1 team and a stock car driver, Richard Petty, a relationship that would last longer at STP than Granatelli would.
Andretti was not staying for 1972, as had been obvious for a while, and he joined the Parnelli team to drive a third car alongside Al Unser and Joe Leonard. Andy and Vince Granatelli had to start again from scratch with the Indy 500 and would buy Lola T270s for 1972. Vince Granatelli Sr was put back in charge, so it would be another poor season.
How many McNamara T501s were built?
After the prototype car that was unveiled in March was raced by Andretti at Phoenix and Trenton, two new cars were built for the Indy 500, where it was mentioned that the "old No 5" (i.e. the prototype) was present but did not get on track. If we call the prototype '1', the two Indy 500 cars were '2' and '3', both heavily damaged during the race. As Krisiloff's car was built up rapidly after Trenton and arrived at the Speedway after Andretti's new car, it is reasonable to call Andretti's '2' and Krisiloff's '3'. We know Andretti then used '1' at Milwaukee, as it was reported to be the car he used at Trenton. For Pocono, a rebuilt car was produced which press reports said had been rebuilt from Andretti's Indy 500 wreck (i.e. '2'). Then a much longer car was built for Ontario, which is therefore logically '4', but it is distinctly possible Jim McGee and his crew had started from Krisiloff's Indy 500 wreck and fabricated a new monocoque perhaps using existing bulkheads. STP and McNamara Racing had fallen out by this time, so it is highly unlikely that another monocoque had been provided since the Indy 500. Either way, the Ontario car deserves to be seen as a new car. After Ontario, Andretti mentioned in the press that he was going to race the Pocono car at the last two races so that only leaves the identity of the car wrecked by Krisiloff in testing at Phoenix in October as a puzzle. As Andretti used the Pocono car ('3') in that race and the long-chassis car ('4') still exists today, it is very likely that he was using the original prototype ('1').
The many serious accidents - two at Indy and Krisiloff at Phoenix - and the split from the McNamara operation after the Indy 500 would suggest that the STP team only had two T501s left at the end of the season, the Pocono car and the Ontario car. Neither was seen in 1972, when STP used one of the 1970 cars as a backup at the Indy 500. The Ontario car has been seen on display a few times since 1971 but the whereabouts of the Pocono car are presently unknown.
Sources
My thanks to 'Mac' McNamara for his recollections, to marque expert Prof Dr Peter Schroeder, to Simmo Iskül and 'gbl' for their help identifying the McNamaras used by STP between 1970 and 1972, and to Paul Castagnoli, Jim Stephens and Rex Miller for their photographs. Also of significant use were Popular Mechanic May 1971 p85, and George Moore in the Indy Star 25 July 1971 Section 4, page 6 where he described the new car being built for Ontario. Prof Dr Peter Schroeder's book 'McNamara Racing' (published by VIEW GmbH, Bonn, 2015; ISBN 978-3-945397-03-9) is highly recommended and tells the story in more detail and with greater insight than can be told here.
If you can add to our understanding of these cars, or have photographs that we can use, please email Allen at allen@oldracingcars.com.
These histories last updated on .