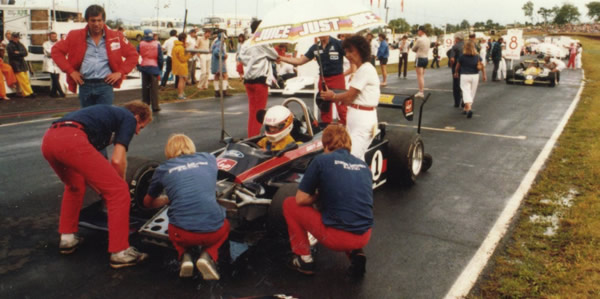 New Zealand International Formula Pacific
New Zealand's International series had formed one half of the Tasman Cup from 1964 to 1975, but had become an independent series in 1976, when Australia and New Zealand chose to go in different directions. During 1976, MANZ led efforts to agree the adoption of Britain's Formula Atlantic across Japan, Southeast Asia and Australasia, with varying degrees of success. Formula Atlantic required 1600cc production engines running on carburettors and was dominated by the 4-valve Ford BDA, designed by Cosworth. The rules used by the Southeast Asian races at this time was for 1600cc racing engines, and was dominated by the Cosworth BDM, a version of the BDA that used larger valves and fuel injection. These differences looked minor, but Kiwi Graeme Lawrence was one decided not to get involved in the new Kiwi category because of the work required to change his engine.
The Kiwi's kicked off the new "Formula Pacific" with a Gold Star race at Manfeild in October 1976, and then ran a first International championship for these cars in January 1977. The Southeast Asian races, including Macau, adopted Formula Pacific for 1978, and a series was also started that year in Japan. The New Zealand series started very well, future World Champion Keke Rosberg winning the title in 1977 and 1978, another future worldwide star Teo Fabi winning the title in 1979, and Roberto Moreno taking the 1982 title on his way to a F1 drive with Lotus. Like all the Formula Atlantic/Pacific series, the Kiwi series was seriously impacted by the FIA's ill-judged attempt to replace Atlantic and Pacific with a global Formula Mondiale in 1983, and when the dust settled from that disaster, British Formula Atlantic and Japanese Formula Pacific had both gone, the Macau GP had moved to Formula 3 and the North American series had been reduced to club racing on the west coast. Although the New Zealand series rebounded somewhat, it never quite reached its early peaks, only Dave McMillan of the local stars ever using it as a launchpad to success overseas.
The International series did attract visitors from the US series as it grew back during the late 1980s and the Kiwis followed the US to a Toyota-engined formula from 1990 onwards. The final New Zealand series was in 1993, after which it moved to the Australian Formula Brabham, which became Formula Holden a couple of years later. The January 1995 International series was the last to be held.