Shadow DN8 car-by-car histories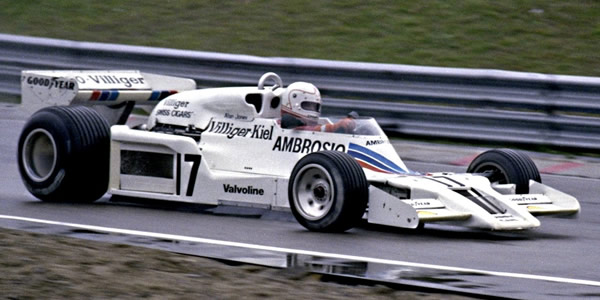 A further refinement of Tony Southgate's series of Shadow F1 designs, the Shadow DN8 gave the team its only GP victory, but Alan Jones' win in the rain in Austria was a rare moment of competitveness.
Shadow's main sponsor, UOP, left after the 1975 season so Shadow were forced to delay Southgate's DN8 project and started the 1976 season with updated Shadow DN5Bs. Southgate left in June, leaving his former deputy Dave Wass to complete the car from Southgate's drawings. The new car followed the layout of the DN5, with a low monocoque and high cockpit, rocker arm suspension at the front, and parallel links and radius arms at the rear. The main radiators were again at the side, but angled in cowlings, and the oil radiator was in the nose. The car was immediately successful, Tom Pryce qualifying third on its debut at the Dutch GP, and although he found it twitchy and prone to understeer during the race, the Welshman finished in a fine fourth place. The team only ran a single DN8 for Pryce for the rest of the year, and a lack of straightline speed combined with problems with traction, understeer and overheating kept it outside the top places.
Wass designed a 'Mk 2' version of the DN8 which appeared at the South African GP in 1977, with oil radiators moved behind the front wheels and "streamliner" bodywork. Pryce was driving this car when he was tragically killed during the race, after a young marshal attempted to run across the track carrying a fire extinguisher and was hit by Pryce's Shadow. Both men died instantly.
Alan Jones was recruited to take Pryce's position, and the hapless Renzo Zorzi was replaced in the second car by F3 star Riccardo Patrese. Both drivers were very impressive, but the DN8s continued to be dogged by handling problems. In June 1977, after a year at Lotus, Southgate returned to Shadow and immediately penned a 'Mk 3' version of the DN8. This returned to the DN8s original nose oil radiators and low sidepods with the main radiators now positioned vertically in front of the rear wheels. Jones tried the revised car in practice in Germany, and then elected to race it in Austria. Heavy rain before the Austrian race acted to mask the DN8s deficiencies, and the aggressive Jones was fastest of all in the pre-race warm-up, with stand-in teammate Arturo Merzario second. Jones overtook car after car during the race, and was running second behind James Hunt's McLaren when its engine blew up and Jones inherited the lead. Despite Niki Lauda's best efforts to catch him, Jones stayed in front to register a surprise first victory for Shadow.
Car
Total
Race
Starts
Grand
Prix
Starts
Grand
Prix
Wins
First Race
Present Location
15
14
Dutch Grand Prix
(29 Aug 1976)
United States 2023
1
1
South African Grand Prix
(5 Mar 1977)
Written off, South African GP 1977
12
12
United States Grand Prix West
(3 Apr 1977)
Not disclosed
4
4
Austrian Grand Prix
(14 Aug 1977)
Not disclosed
9
9
British Grand Prix
(16 Jul 1977)
Not disclosed
2
2
United States Grand Prix
(2 Oct 1977)
* Written off, Canadian GP 1977
Shadow DN8 '2A-R'
(no races recorded)
* Italy 2023
Even with both cars in 'Mk 3' form, the Shadows returned to the middle of the grid, interrupted only by Jones having another barnstorming race to finish third at Monza. He cashed in his enhanced profile by signing for Frank Williams' new team for 1978. As soon as the season was over, there was a major schism at Shadow, with Jackie Oliver taking most of the personnel with him to create a new team, Arrows. Southgate and Wass, as well as team manager Alan Rees, sponsor Franco Ambrosio and driver Patrese went with him, leaving Southgate with a loyal group including works manager Jim Eccles, chief mechanic Barry Evans and sponsor Henri Villiger. New drivers Hans Stuck and Clay Regazzoni were recruited, and started the 1978 season with old DN8s, while new designer John Baldwin completed Southgate's Shadow DN9 design.
Following a series of accidents towards the end of the 1977 season, only three of the six DN8s were complete when they were retired. One of these, DN8/1A, was left in England as a show car before returning to Nichols and being restored to 'Mk 1' specification for historic racing. Two other cars were converted to DN10 specification for the Can-Am series in 1978, after which Nichols stored them. A fourth car appeared in the mid-1980s built on a new monocoque, and a fifth emerged in the early 1990s as a scruffy and apparently original rolling chassis. The two DN10s were finally converted back to F1 specification in the 2010s. However, some uncertainty still surrounds the identity of two of these cars, and the subject is being actively researched.
* A note on 'DN8/6A': The car sold to Italy in early 2023 as 'DN8/6A' is the car listed above as "DN8/2A-R". This car was sold by Don Nichols as a rebuild of DN8/2A on a different monocoque which was later described by Nichols as being "the sixth monocoque", implying DN8/6A. However, detailed photographs show that its tub is not that of DN8/6A. The car has a provenance back to Nichols and has a tub that appears to be original, but it is not possible to be certain which DN8 it is. Only a detailed examination of the monocoques of all the surviving DN8s and comparison with photographs of the original cars will allow it to be identified.
Please contact Allen Brown (allen@oldracingcars.com) if you can add anything to our understanding of these cars.
These histories last updated on .