Shadow DN9 car-by-car histories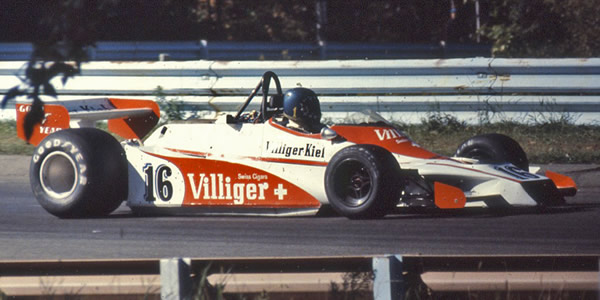 A 'wing car' based on the concept of the Lotus 78, the Shadow DN9 was designed in late 1977 by Tony Southgate before he left for Arrows. The DN9 only scored a handful of points in 1978. Southgate also designed the virtually identical Arrows FA1 for his new team, which was banned after a court case.
Tony Southgate returned to Shadow in August 1977 after a year at Lotus, and started work on a new Shadow design, based on his experience of the Lotus 78. Rather than having the radiators inside the wing-profile sidepods, as used on nearly all ground effects designs to follow, he put the main radiators at the back of the sidepods and retained the nose radiator that he had introduced to the Lotus 77, and had been retained on the Lotus 78. The chisel-shaped sidepods were also familiar from his Shadow DN8 design. However, before the DN9 design was complete, Jackie Oliver led almost all of Don Nichols' key staff away to form his new Arrows F1 team, with only works manager Jim Eccles and chief mechanic Barry Evans remaining loyal. Main sponsor Henri Villiger also stayed with Nichols, who brought in Jo Ramirez as team manager, the Mexican having spent four thankless years trying to make the Fittipaldi team work properly. Tony Southgate's role as Chief Designer was taken by former Lotus and Parnelli designer John Baldwin, who would be responsible for completing and developing the DN9. Southgate, meanwhile, used exactly the same ideas in his new Arrows FA1, which was banned for copyright violation after a court case brought by Nichols.
With money very short, the first DN9s were ready in time for the International Trophy in March. New drivers Hans Stuck and Clay Regazzoni were assigned DN9/1A and DN9/2A respectively, while a third car was being completed for Danny Ongais to drive for Interscope Racing. The team struggled to make sense of the DN9, and the only time one qualified better than 14th was when Stuck placed his eighth on the grid in Canada, the last race of the season. With contract negotiations clearly in mind, he made a blinding start up to sixth place, but went off at the chicane on the first lap. The DN9's best results that season were Regazzoni's fifth place in Sweden and Stuck's fifth at the British GP. Both drivers left at the end of the season.
Car
Total
Race
Starts
Grand
Prix
Starts
Grand
Prix
Wins
First Race
Present Location
10
9
International Trophy
(19 Mar 1978)
Rebuilt as DN9B
1
International Trophy
(19 Mar 1978)
Written off, International Trophy 1978
(United States Grand Prix West)
(2 Apr 1978)
Not disclosed
6
6
Belgian Grand Prix
(21 May 1978)
Rebuilt as DN9B
5
5
German Grand Prix
(30 Jul 1978)
Rebuilt as DN9B
Shadow DN9 '2A-R'
(no races recorded)
United States 2021
During the 1978 season, the DN9s suffered a number of accidents which required new monocoques. The first of these was at the International Trophy, when Regazzoni spun off in DN9/2A on the opening lap, and the parked Shadow was badly damaged two laps later when Andretti's Lotus 79 spun off into it. Regazzoni then damaged the brand new replacement DN9/4A when he clipped the barrier during a pre-race test session at Monaco; despite the damage being described at the time as light, the car had a new or extensively rebuilt monocoque in time for the Belgian GP. Later in the season, DN9/4A was rebuilt on another new monocoque prior to the Dutch GP, but no reason was given for the rebuild. Finally, DN9/4A was heavily damaged when Regazzoni was innocently involved in Ronnie Peterson's accident at the start of the Italian GP. Regazzoni also had a heavy accident in practice for the Canadian GP, but that damage was repairable before the race. So DN9/4A was on its fourth monocoque by the end of the year. However, only the damage at the Italian GP was major, so it is distinctly possible, given the team's finances, that damaged tubs were repaired and reused in rebuilds later in the season. Also, it should be noted that the DN9Bs required a number of rebuilds in 1979, so we should not suppose that all of the tubs from these 1978 accidents were simply put into long-term storage.
For the 1979 season, the DN9s were redeveloped as DN9Bs, and the three intact factory DN9s at the end of 1978, DN9/1A, DN9/4A and DN9/5A, were renumbered as DN9/1B, DN9/2B and DN9/3B, but it is important to point out that Shadow did not state which DN9 became which DN9B. We may never know.
When the Shadow team was sold to Theodore Racing in April 1980, the three remaining DN9Bs at the Northampton factory transferred to Teddy Yip and did not return to Don Nichols. However, Nichols did still possess a variety of damaged monocoques from previous accidents to DN9s and DN9Bs, as well as whatever was left over from the transfer of Arrows FA1 monocoques to Shadow, as time went by, these monocoques were repaired and used to build up additional Shadows. By the end of 2022, two 1978-specification DN9s existed, one of which was an authentic DN9B that had been rebodied and one had been built up from one of Nichols unidentified monocoques that had been reskinned by Marc Bahner.
Please contact Allen Brown (allen@oldracingcars.com) if you can add anything to our understanding of these cars.
These histories last updated on .